Rava Uttapam
हिन्दी में पढ़ें
Rava Uttapam or semolina uttapam is a very popular South Indian dish. Uttapams are made with fermented batter. These are thick pancakes. Traditionally onions, bell pepper, and tomatoes are added in the batter. Uttapams are served with typical South Indian accompaniments like; Sambhar, coconut chutney and tomato onion chutney. This is a complete meal and has protein, vitamins, carbohydrate, calcium, iron, and many other nutrients our body needs. This is a low fat dish.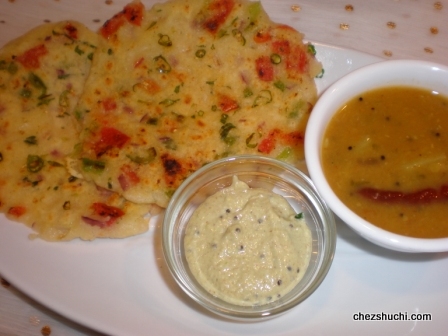 Ingredients

(makes 10)
Semolina (sooji/rava) 1 cup
Salt 1 tsp
Yogurt (dahi) 3/4 cup
Water about ½ cup
Fruit salt (Eno/Alka-Seltzer) ½ tsp
Tomato 1 small
Onion 1 small
Bell pepper (capsicum) 1 small
Green chilies 2
Chopped coriander leaves 1 tbsp
Oil 1½tbsp
Method of preparation
In a bowl take semolina, salt, and yogurt. Mix all the ingredients well. Now add water, and mix well again. Leave the batter for 10 minutes.
Semolina will absorb the water. Now check the consistency of the batter - it should be easy to pour.
Remove the stem of the green chili, wash and chop it finely.
Peel off, wash and finely chop the onion. Wash and finely chop the tomato. Wash and cut the bell pepper into halves. deseed the bell pepper and finely chop it.
Now add chopped green chilies, coriander leaves, tomato, onion and bell pepper in the semolina batter. Mix well .
Now add fruit salt and pour 1 tsp water on top of fruit salt (Eno/ Alka-Seltzer). Mix well thoroughly.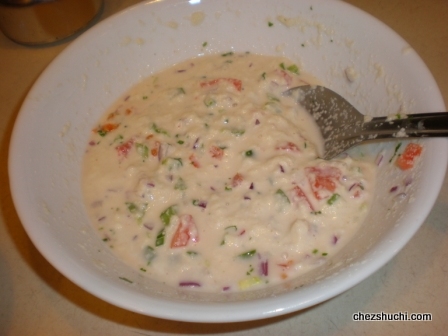 Heat a flat griddle or tawa on medium heat. Clean the griddle with a wet cloth or kitchen towel.
Now take one ladle full of batter and pour it onto the center of the griddle and spread out with the help of ladle, in circle of about 4-5 inch diameter. The uttapams are usually thicker than cheelas.
Sprinkle a little oil, and cook it from both sides till it gets golden reddish dots.
uttapam after spreading in a circle uttapam after turning the sides
Serve hot uttapam with coconut chutney and sambhar.
:If you have a big griddle, you can make 4-5 uttapams at a time. This is very convinient for big parties.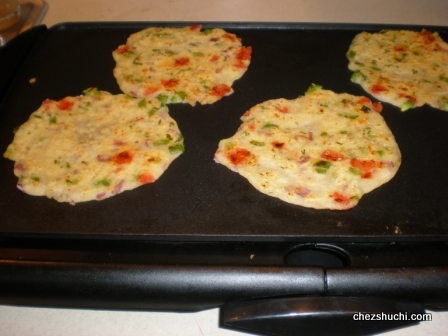 Some other South Indian recipes
Suggestions For Kid's Lunch box:
Uttapam is an ideal meal for Lunch box ..You can also add more veggies / paneer as per your kids taste. With uttapam, you can also pack some coconut chutney or green chutney as per your kids taste. There are some grapes and a granola bar/ cereal bar has also been packed with uttapam to make this lunch delicious and complete for our kids.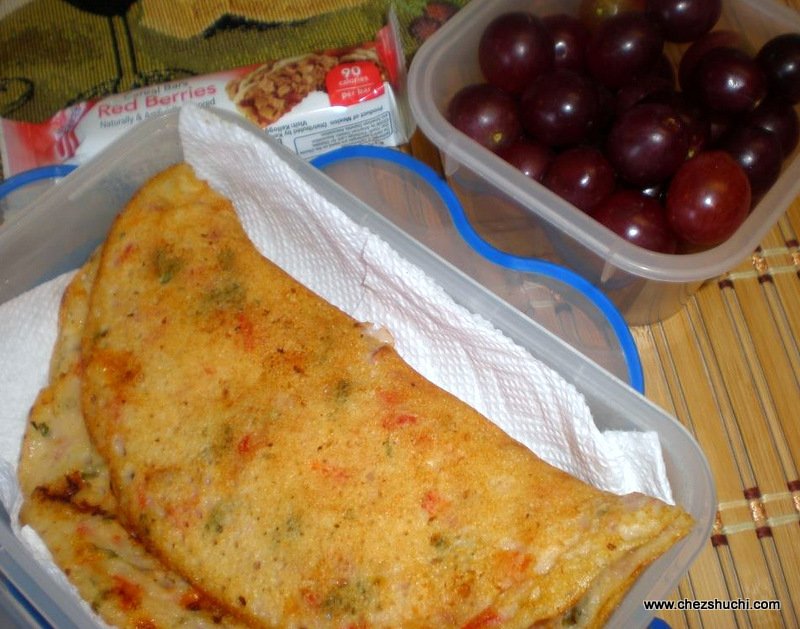 Some other Kid's Lunch box ideas
---