हिन्दी में पढ़ें
Homemade Paneer
About Paneer!
Paneer is a kind of Indian cottage cheese prepared from fresh cow or buffalo milk. To prepare paneer, some kiond of acids, usually lemon juice/ vinegar/ citric acid / yogurt is added to boiling hot milk to separate the curds from the whey. Paneer is an important ingredient of many Indian dishes. No party, festival and get together can be planned without paneer preparations. Paneer is used in various starters, main courses and in desserts (in the form of chenna) as well. Paneer is a good source of proteins, carbohydrates and calcium. If you live outside India you can easily found Paneer in Indian stores in most of the countries but nothing can beat homemade. I like to make fresh paneer at home and it is very easy to make . Here is an easy to follow step by styep recipe to make paneer at home. Please do try this recipe and as always do share your comments. happy cooking, Shuchi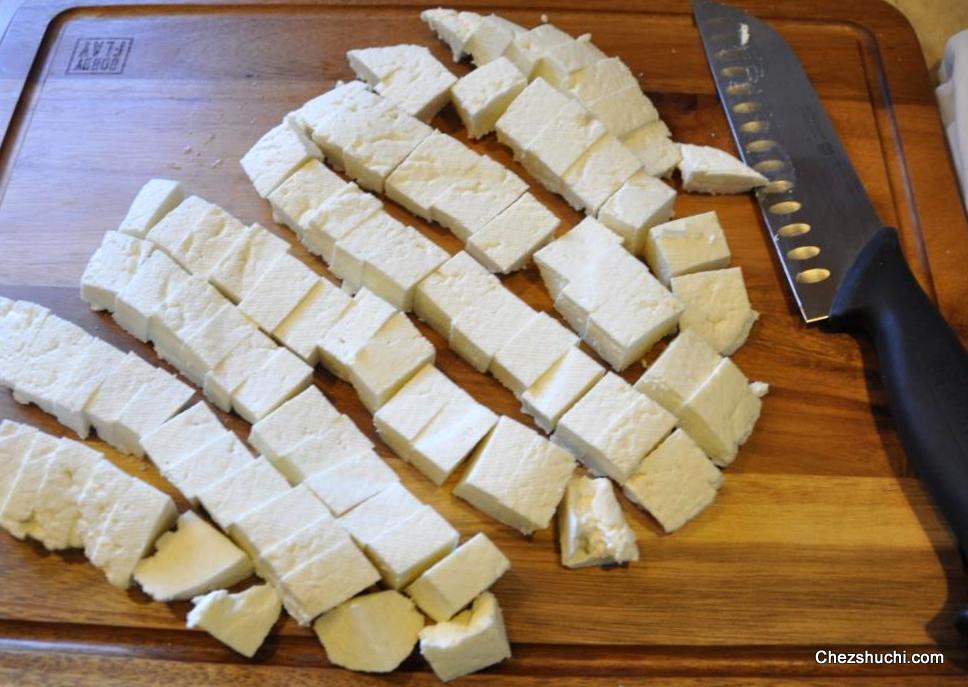 Ingredients
(yields 300 gms Paneer)
2 Lts/ /½ gallon fresh whole cream milk (cow's/buffalo's)
25- ml vinegar/lemon juice
Two additional items needed:
soup sieve
½ meter square of cheese cloth/ muslin cloth
Method of preparation:
In a sauce pan bring the milk to boil. Reduce the heat and add vinegar/lemon juice. Stir well and increase the flame for 10-15 seconds. Now you will see that milk has curdled and there is greenish whey. Turn off the heat. add 1 cup cold water so the curdeled milk binds together. Leave for a minutes.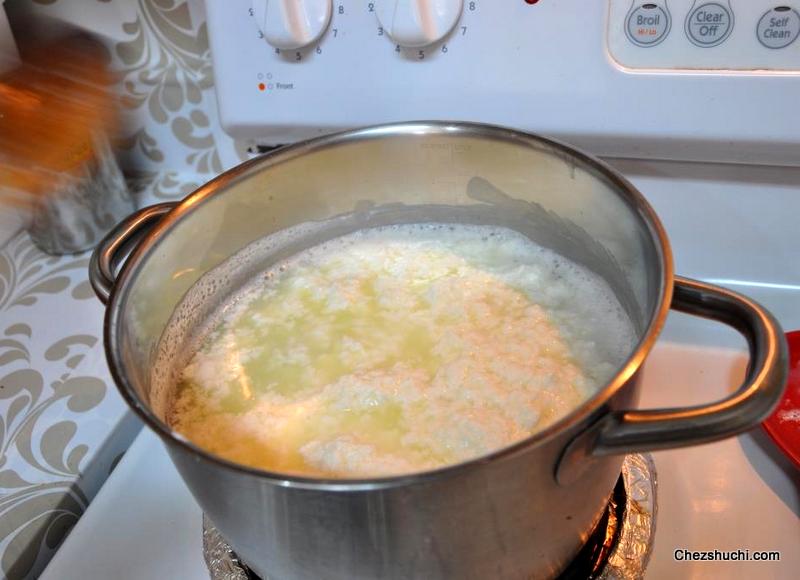 After adding vinegar to the milk
Set the muslin on the sieve, pour the curdled milk onto the clean muslin cloth. This is Paneer.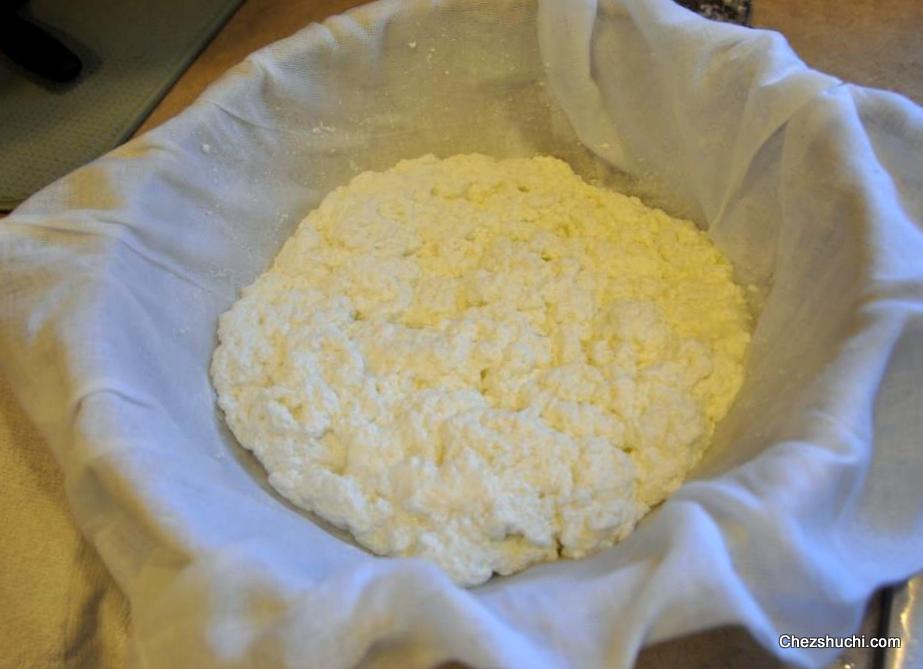 Press the paneer to remove the whey. Cover the cloth from all the side and press paneer with heavy flat dish. You can use granite/stone traditional rolling round for this. Keep aside for about half an hour to remove the extra water/whey.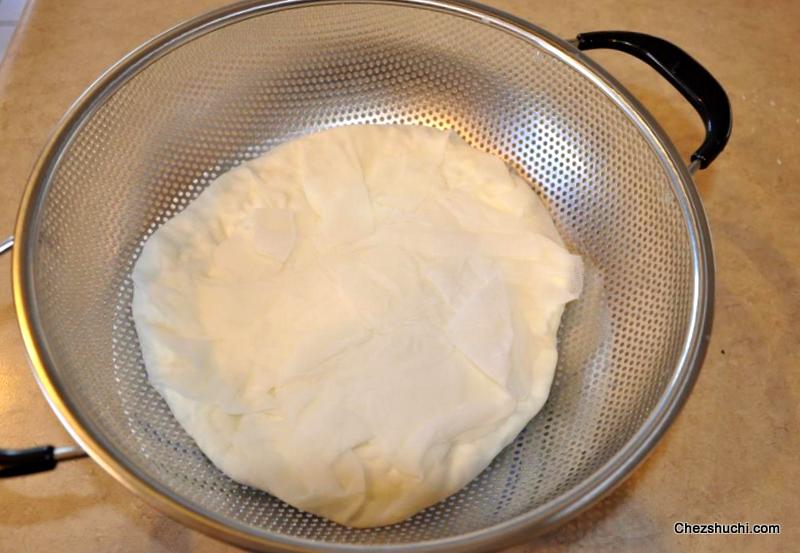 Transfer the paneer on a chopping board. Cut it into desired shape.
Paneer is ready to use. You can make variety of dishes. Please click on this link to know more about paneer preparations.
You can store paneer in fridge for a couple of days.
You can also freeze it and use it later.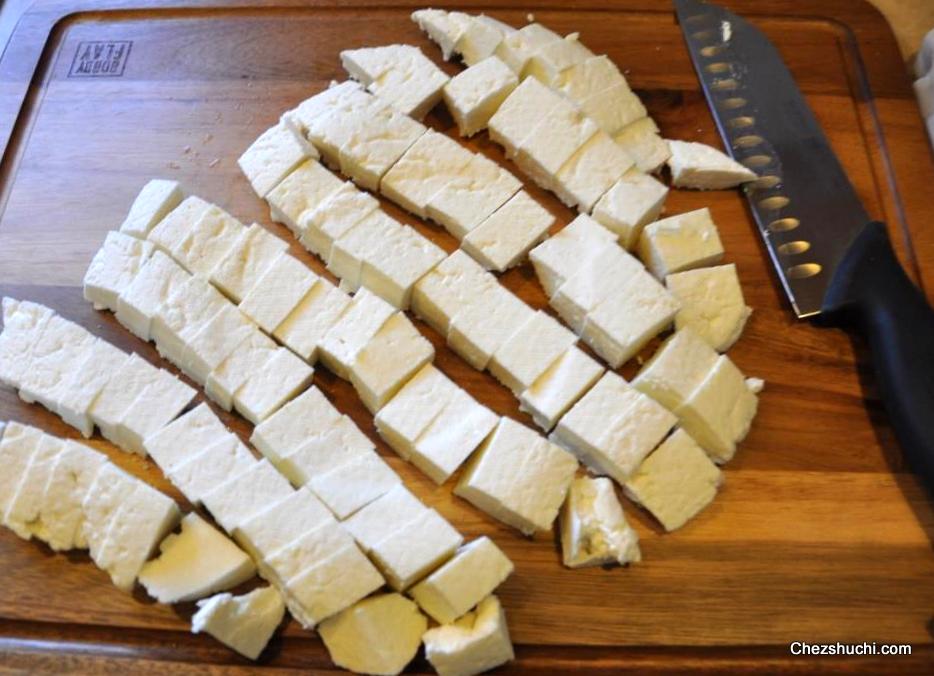 Some Tips/ Suggestions:
You can also use butter milk/ yogurt instead of vinegar or lemon juice to make paneer.
The whey can be used in dough making, soup or  rice preparations.
soup sieve with small holes can be used directly in case if you do not have cheese cloth or muslin cloth.
---