हिन्दी में पढ़ें
Methi Paneer Pulav
Methi paneer pulav is a delicious rice delicacy. Methi (fenugreek) leaves are mildly bitter in taste, having significant medicinal values. Methi is a little bitter in taste and paneer has a very soft taste, so they go together very well. This pulav is made with a combination of methi and paneer to balance the flavor. You can also add some corn kernels to enhance the flavor of this dish. Serve methi paneer pulav with raita (a yogurt preparation) to make a perfect combo…….as always please do share your comments ….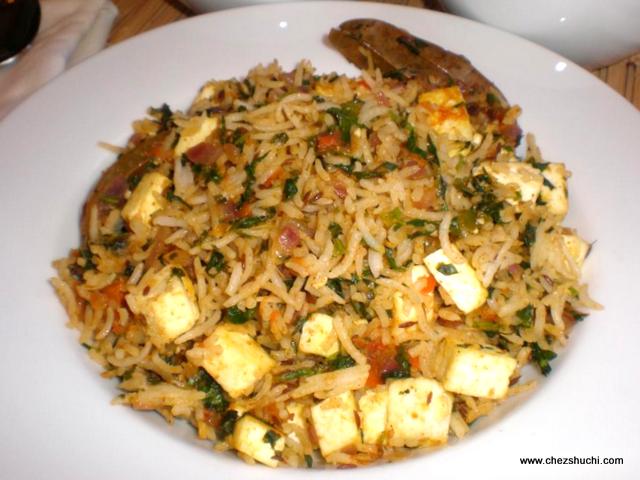 Ingredients (serves 4)
Basmati rice (Amazon Link for Basmati Rice) ¾ cup
Methi leaves (fenugreek leaves) 1½ cups finely chopped
Paneer 150 gms/ 1 cup cut into small cubes
Onion 1 medium
Tomato 1 medium
Ginger 1 inch piece
Green chili 1-2
Cumin seeds 2 tsp
Bay leaves 2
Whole red chili 2
Garam masala 1 tsp
Salt 1 tsp
¼ tsp sugar
Oil/Ghee 3 Tbsp
---
Method of preparation:
Clean, wash, and soak Basmati rice in 1

½

cups of water for 30 minutes.
Cook the rice in microwave or in the pan until they are almost done but not overcooked. Keep the cooked rice aside to cool down.
Remove the thick stems of methi leaves. Wash the leaves thoroughly and leave it on the colander to remove the extra water. You can also wipe the extra water with kitchen towel. Now finely chop methi leaves.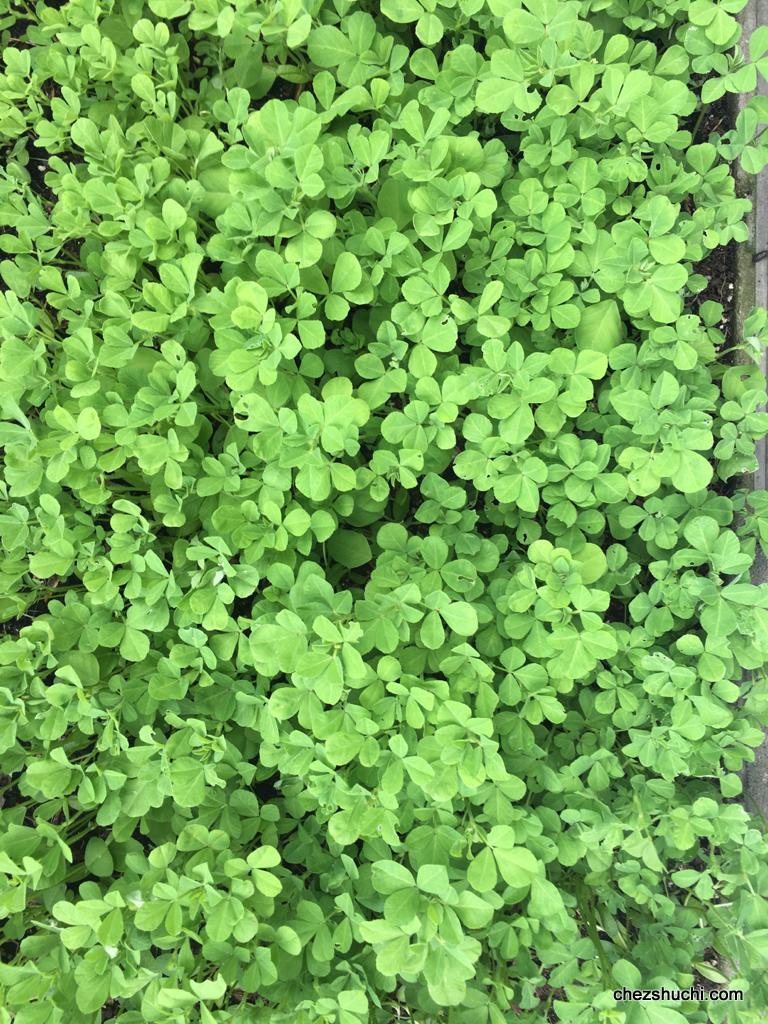 Peel, wash, and finely chop the onions, and ginger. Wash, and finely chop the tomato. Remove the stem, wash and finely chop green chili.
In the wok, heat oil/ghee. Add cumin seeds; when cumin changes color, add bay leaves and whole red chili. Fry for a few seconds. Add chopped onions. Fry onions until they are transluscent (takes about 2-3 minutes). Add chopped green chili and ginger. Fry for 30 seconds. Add chopped tomatoes. Fry for a couple of minutes.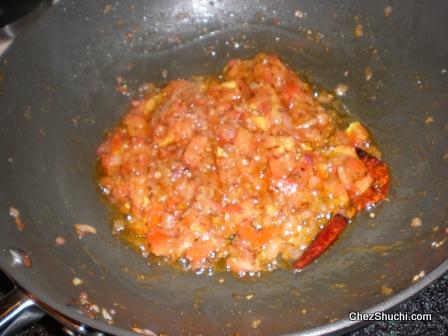 Add finely chopped methi leaves. Mix well and cook for a few minutes. Add garam masala, salt, and a hint of sugar. Cook for another minute.
after adding methi leves to the fried onion and tomato masala
Separate the rice with fork. Add cooked rice to the masala. Mix the rice gently with the masala. Cook for a couple of minutes.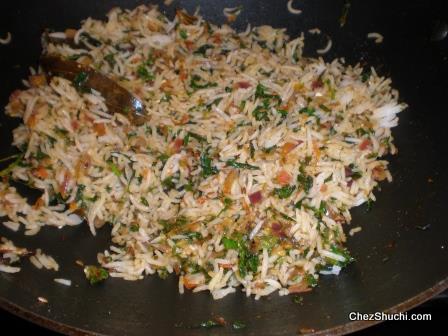 Add paneer. Mix well and cook for another minute. Turn off the heat and cover the lid so that the rice absorbs the aroma of the spices.
Delicious Methi Paneer Pulav is ready. Serve delicious pulav with the Raita of your taste, or with curry. I like to serve it with Boondi Raita.
Some Tips/ Suggestions:
You can sauté paneer separately befor adding it to the pulav.
You can also use leftover rice from previous day.
I like to add a little bit of sugar in this preparation to cut the bitterness of methi and enhance the flavor.
---
---