Tomato Rice
हिन्दी में पढ़ें
Tomato Rice is a very popular rice preparation from Southern India. I have eaten so many different versions of Tomato Rice at my friends' places... This is an easy to follow recipe for Tomato Rice. I have used homegrown heirloom variety of tomatoes but you can follow the same recipe for any variety of tomato you get in your part of the world....Tomato rice can be served with Sambhar or with chutney......
Ingredients

(serves 4)
Basmati rice (Amazon Link for Basmati Rice) 1 cups
Onion  1 medium
Tomatoes 2 medium/300 gms
Grated ginger 1 tsp

Ghee /oil  3  tbsp
Mustard seeds 1 tsp
Peanuts 2-3 tbsp
Asafoetida 2-3 pinches
Curry leaves 7-8
Salt 1½ tsp/ to taste
Chopped coriander leaves  2 tbsp 
For dry masala
oil  1  tsp
Chana dal 1tbsp
Udad dal 1 tsp
Whole red chili 2-4
Coriander seeds 2 tsp
Fenugreek seeds ¼tsp
Grated coconut 4 tbsp
Method of preparation
Clean, wash, and soak rice in two cups of water for 20 minutes.
Cook the rice in microwave or in the pan until they are almost done but not overcooked. Keep the cooked rice aside to cool down.
Heat 1 tsp oil in a wok. Add chana dal, fry for a minute. Add udad dal, whole red chili, coriander seeds, and fenugreek seeds. Fry on medium heat until the masala is aromatic. Add grated coconut and fry for a few seconds. Keep the masala aside to cool down. Dry grind the masala in the grinder.
Peel off, wash, and cut the onion into thin slices. Wash and finely cut the tomatoes.
Heat ghee in a pan, add mustard seeds. When seeds crackle, add peanuts. Fry peanuts on medium heat for a minute. Add asafoetida, and curry leaves. Fry for a few seconds. Add onions, and fry for 2-3 minutes or until the onion has changed the color..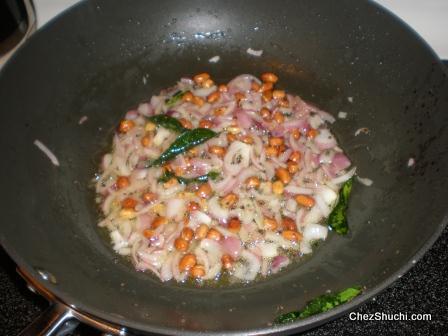 onion frying
Add chopped tomatoes, grated ginger, ground masala, and salt. Cook until the masala leves the ghee.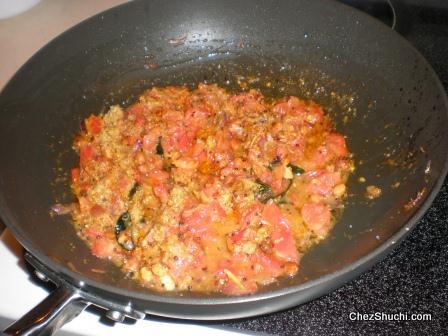 Separate the cooked rice gently with the fork and add it to cooked tomato mixture. Mix well gently and cook for 2-3 minutes. Turn off the heat and cover with the lid so that rice absorbs the flavor.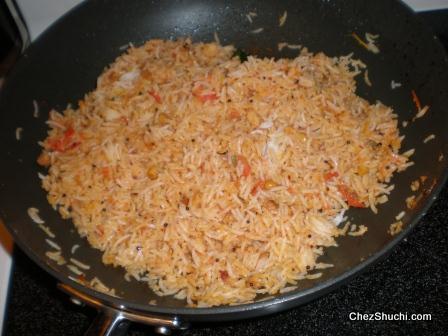 Garnish the Tpmato Rice with chopprd coriander leaves.
Serve with coconut chutney or tomato onion chutney. You can also serve tomato rice with sambhar.
Suggestions For Kid's Lunch box:
Tomato rice is a good option for kids lunch boxes. With Tomato Rice you can also pack some salad and a small portion of dessert in your kids lunch bags.
Some other Kid's Lunch box ideas
---