हिन्दी में पढ़ें
Sambhar
Sambhar or Sambar is a South Indian lentil preparation. It is a delicious and very nutritious dish, as it has, vegetables, lentils, tamarind juice and spices in it. Sambhar is made in different ways in each state of Southern India. Sambhar is served with plain rice, idli, Dosa, Uttapam appam etc.
For South Indian cuisine, I have two South Indian gurus, Indumathay and Reena. I met Indu in France and she taught me how to make tradional sambhar masala and sambhar at home. Then when we moved to the USA I met Reena and she shared her version of Sambhar. My Sambhar preparation has the influence of Indu and Reena's recipes and is somewhere between Karnataka (Indu) and Malayalam (Reena) style of Sambhar. I am extremely thankful to my friends who share their threasure of recipes with me.
I hope you like this traditional recipe of Sambhar. Please try it and do share your thoughts. Happy cooking, Shuchi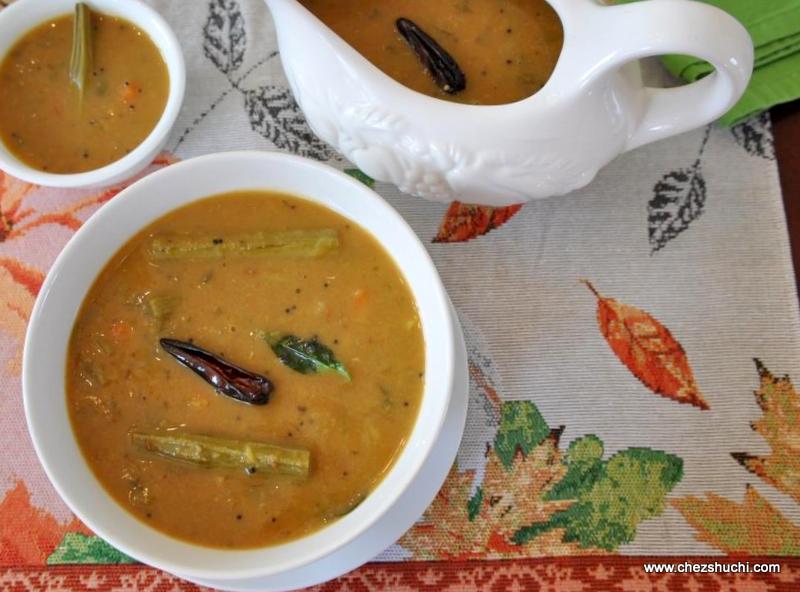 Ingredients (serves 4)
½ cup arhar dal
1 cup lauki (bottle gourd), cut into an inch pieces
1 medium carrot, cut into an inch long pieces
5-6 (about 3 inch long) drumstick pieces, I have used frozen
1 medium tomato
6-7 Small onions (baby)
1½ tbsp sambhar powder
1 tbsp tamarind paste/ 20 grms tamarind
1½ tsp salt
a hint of jagger or sugar (optional)
1 tbsp chopped coriander leaves 1 tbsp
Ingredients for Seasoning:
2 tbsp oil/ghee
1 tsp mustard seeds
¼ tsp asafoetida
2 whole red chilies
8-10 curry leaves
1 tsp chana dal
1 tsp udad dal
Method of preparation:
Clean Wash and soak the toor/arhar dal in one and half cups of water for 20 minutes.
Add 1 chopped tomoato, 1 tsp salt and ½ tbsp sambhar masala in the soaked dal and cook it until it is completely mashed or take a whistle in the pressure cooker.
Soak about 20 grms of tamarind in ½ cup water and mash it thoroughly and strain it. Keep the tamaring juice aside and discard the fibers and seeds.
Mash the boiled dal thoroughly to make a fine paste .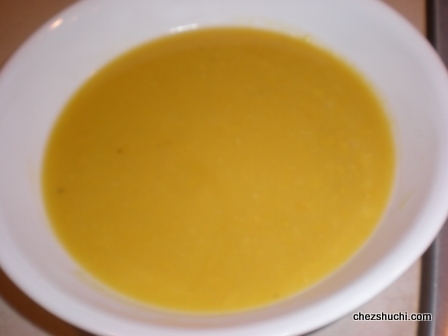 boiled and mashed arhar dal
Add tamarind paste/tamarind juice in the mashed dal and some water to get the required consistency and cook the lentil paste for a couple of minutes.
In a wok heat 1 tsp oil. Add onions and fry for a minute.
Add all the vegetables you are using (lauki, carrots, and drumsticks). Fry them for a couple of minutes. Add ½ tsp salt , 1 tbsp sambhar masala and a pinch of sugar (optional) and mix well. Add 1 cup water. Cook for a few minutes or until veggies are cooked. Make sure that veggies are not over cooked.
Add these cooked vegetables in the lentil mixture. Add water if needed to get the required consistency.
Cook for 8-10 minutes.
Method of preparation for Seasoning :
In a wok/pan heat ghee/oil on medium heat. Add mustard seeds. When seeds pop up, reduce the heat and add curry leaves, whole red chili, ¼ tsp of asafoetida, chana dal and urad dal. Fry for a minute. Turn off the heat
Pour the seasoning to the sambhar. Mix.

Garnish the sambhar with chopped coriander leaves

.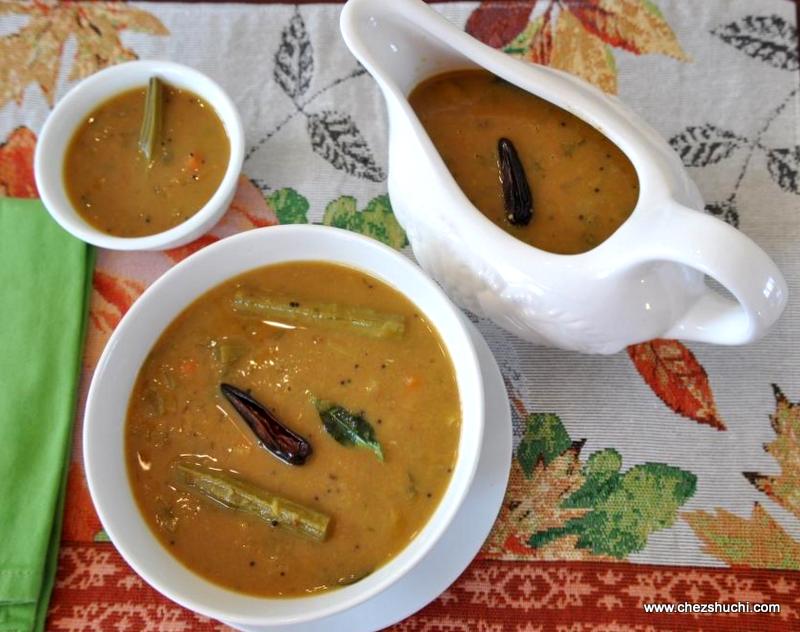 Serve delicious sambhar with idly, dosa, medu vada or uttapam or even with plain rice.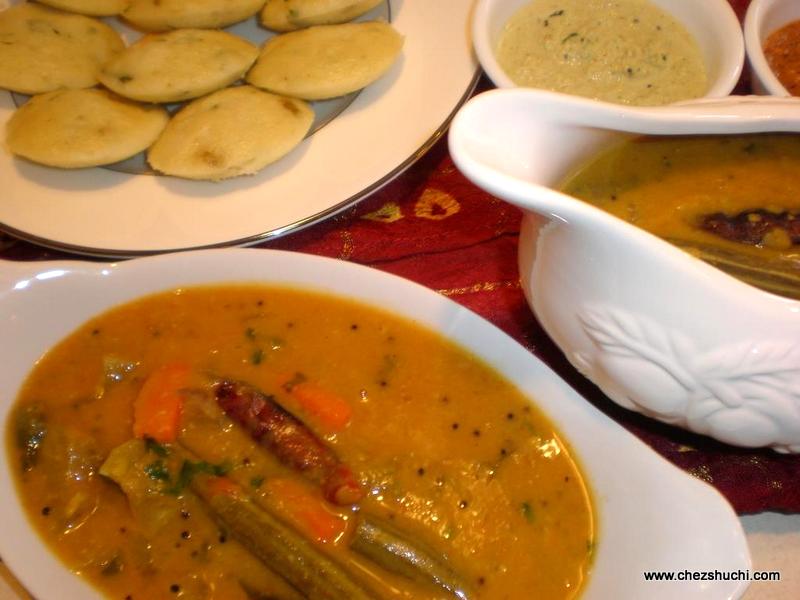 Some Tips/ Suggestions :
The selection of vegetables can be made as per taste.
You can make Sambhar masala at home. or use store bought masala.
---
Some Other South Indian delicacies:
---
---