Idlis
(Steamed rice and lentils dumplings)
हिन्दी में पढ़ें
Idlis are steam cooked savory cakes of fermented batter of rice and lentils. This is a healthy and filling meal. Usually in South India Idlis are served with Sambhar and chutneys for breakfast. This is a very delicious preparation and is very popular throughout India. It is an ideal option for lunch box also. Try out this healthy South Indian delicacy and please do share your comments. Happy cooking, Shuchi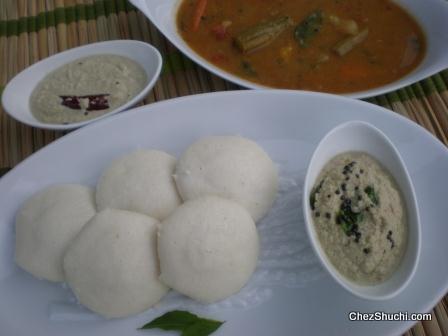 Ingredients

(makes 20-24)
Small grain rice 1 cup
Urad dal ½ cup
Oil to grease the idli stand
Salt  3/4 tsp
To serve
Idli Stand

In this stand 16 idlies can be made at a time.
This stand fits in pressure cooker.
Microwav safe Idli stands can be easily found in India.
Method of preparation
Clean, wash, and soak the rice in about 3 cups water for about 6 hours.
Clean, wash, and soak the urad dal in about 2-3 cups of water for 4-5 hours.
Drain the urad dal and grind it to a fine paste in the food processor/ grinder. Transfer the lentil paste in a big glass bowl.
Drain the rice and grind it in the food processor. Transfer to the lentil paste bowl.
Stir thoroughly the lentil and rice paste in one direction. The batter should have a pakori or pancake like consistency.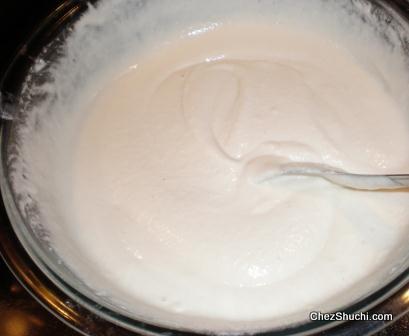 Cover the lid and keep the batter bowl in a warm place to ferment. It takes about 15 hours to ferment the batter. The fermantion process also depends on the weather. After the fermentation the batter will almost double in size, and will be light/fluffy.
In the pressure cooker heat 1½ cup water .
Grease the idli trays.
Add salt in the fermented batter and gently stir it. Pour the batter into the idli trays. Fit the trays in the stand and close it. Do not overfill the trays with batter.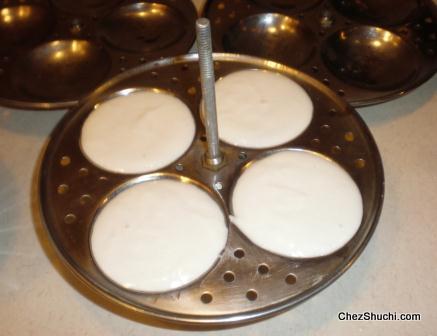 Set the stand in the pressure cooker, close the lid. Remove the whistle of the lid as we want to steam-cook the idlis. Steam for about 12-14 minutes.
Take the idli stand out. Let it cool for couple of mintues before you take out the idlies.
Repeat the process with the remaining batter.
Idlis are ready to serve. Serve with Sambhar, tomato onion chutney, and coconut chutney.
Some Tips/ Suggestions:
If you want to ferment the batter quickly, soak ½ tsp fenugreek seeds (methidana) with the lentils.
All my South Indian friends grind this batter in a special groundstone machine, instead of regular food processor. I just have a heavy motor regular blender which also works fine for rice grinding.
Suggestions For Lunch boxes:
Plain idlies with coconut chutney and clementines for kids linch box.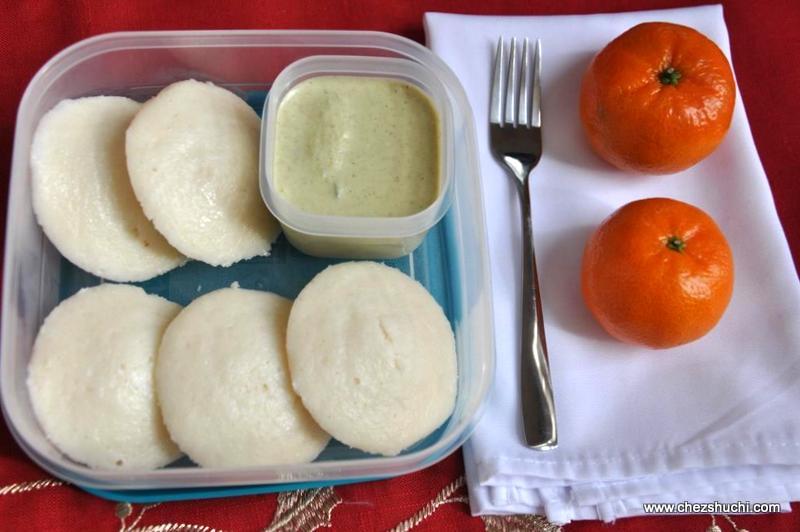 Masala idlies are ideal lunch for kid's lunch box as well as adults. For that, cut each steam cooked idli into four pieces. In a nonstick pan heat about 1 tbsp oil, add 1 tsp mustard seeds when seeds stop crackling add 1 tsb sesame seeds. Now add curry leaves and 1 red chili broken into two parts.. Fry for a few seconds. Add idlies and little bit of red chili powder, salt and idly chutney powder. Mix well and fry on medium heat for a couple of minutes. Idlies are ready to go ! You can garnish it with chopped coriander leaves.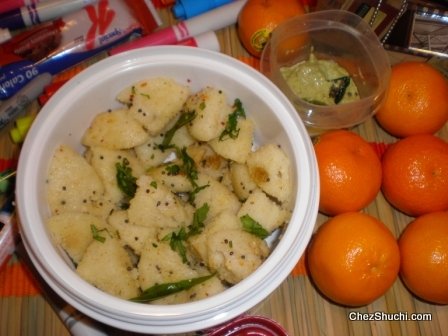 My daughter likes a hint of tomato chili sauce in her idlies so I add 2 tbsp. of tomato chili suace as well.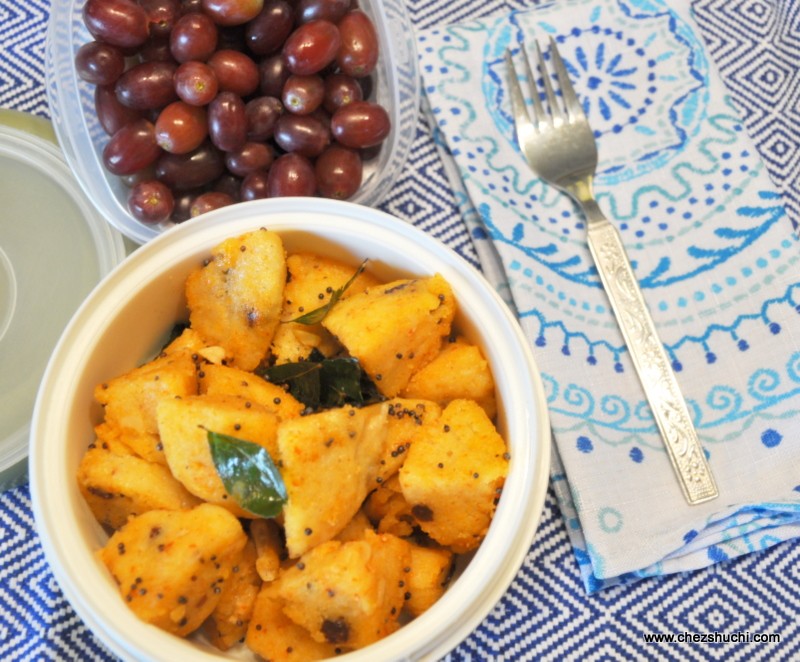 Some other Kid's Lunch box ideas
Some other South Indian Delicacies
---