Bombay Biryani
हिन्दी में पढ़ें
I had this delicious Bombay Biryani the very first time in France at my Pakistani friend's place. Her Biryani was just mind blowing, and we all loved it. My friend shared the recipe of this vegetarian version of the original Bombay Biryani delicacy. Vegetarian Bombay Biryani is made with deep fried baby potatoes, rice, and an aromatic blend of spices. This is a complete single dish that can be served with raita . Hope you enjoy this. Please do share your thoughts...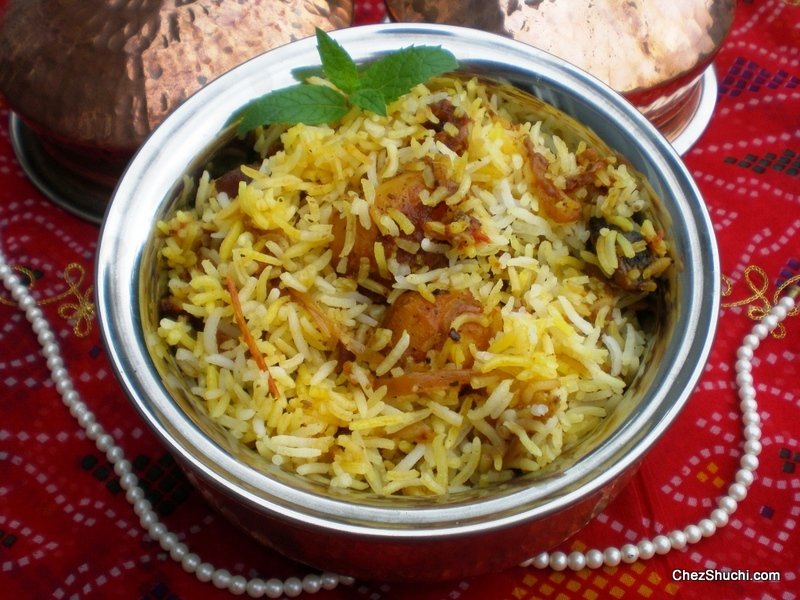 Ingredients

(serves 4)
For rice boiling
For Potato frying
Baby potatoes 10
Oil to deep fry
Spices for dry grinding
Bay leaves 1 big
Green cardamoms 3
Cinnamon 2 small stick
Black cardamoms 1
Fennel seeds ¾ tsp
Cumin seeds ½ tsp
Cloves 4
Black pepper 7-8
Whole red chili 1
Coriander seeds 1 tsp
Fenugreek seeds ½ tsp
Carway seeds ¼ tsp
For Bombay biryani assembling
Onion 1 big
Tomato 1 medium
Ginger 1½ inch piece
Yogurt 2-3 tbsp
Dried plums 5-6
Turmeric powder ¼ tsp
Salt 1 tsp
Ghee 4 Tbsp
Method of preparation
Clean, wash, and soak the rice in the water for 30 minutes.
Boil 5-6 cups of water in a big sauce pan. When water starts boiling, add salt and soaked rice. Boil until rice is cooked a little more than half. Make sure that rice is not completely cooked for Biryani as it will get cooked with masala as well. Drain the rice in the sieve. Let it cool down.
Peel off the baby potatoes and wash them thoroughly.
Heat oil in a wok, and deep fry the potatoes on medium heat until golden brown. It takes about 10 minutes to fry the potatoes. Take out the potatoes on a kitchen paper. Keep aside.

Dry roast the spices (bay leaves, cinnamon, cardamons, cloves, black pepper, fenugreek seeds, fennel seeds, cumin, shahi cumin seeds) for a minute. Coarsely grind the roasted spices and keep aside. This spice proportion yields 1½ tbsp ground spice mixture.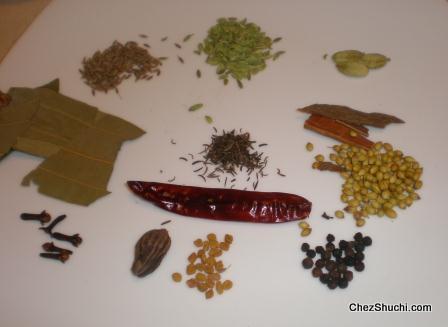 spices for biryani
Peel, wash, and cut the onions into julienne. Wash and finely chop the tomatoes. Peel, wash, and finely chop the ginger. You can also use ginger paste.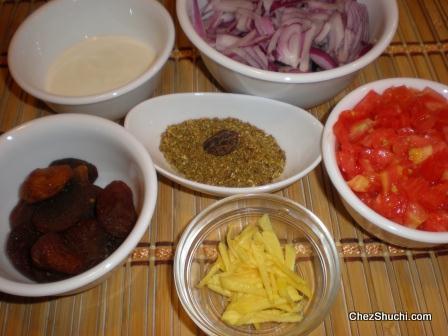 Heat ghee in a wok. Add onion juliennes and fry until onions are golden brown. (takes about 5 minutes)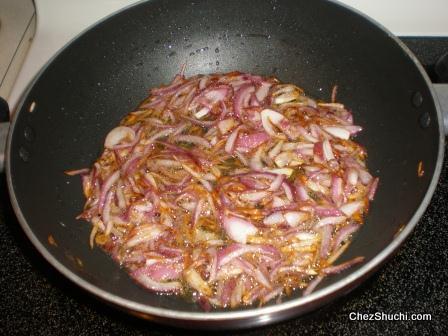 Now add finely chopped tomatoes, ginger juliennes, ground spice, salt, and turmeric powder. Fry until masala leaves the sides of the pan. (takes about 4-5 minutes)
Now add yogurt (dahi/curd), and dried plums, and fry until masala leaves the sides of the pan. (takes 1 minute).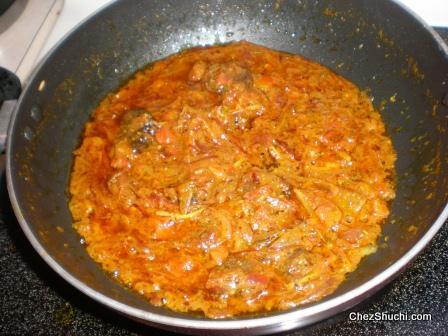 Add fried potatoes in the masala. Mix well. Cook the potatoes in the masala for a minute.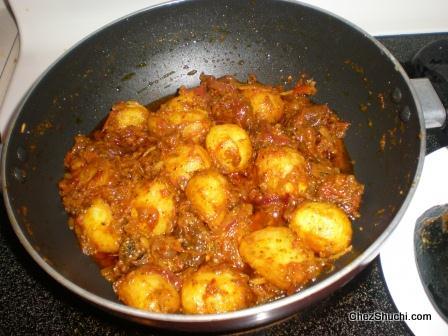 Add boiled rice on top of the masala. Mix very gently in the masala. Cover the lid . Cook biryani on very low heat for about 15 minutes.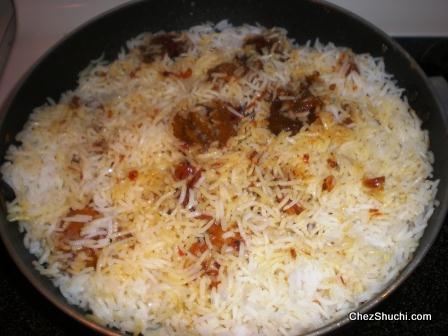 cooked biryani
Bombay Biryani is ready. Serve delicious biryani with the Raita of your taste. I like to serve it with cucumber raita.
Some Tips/ Suggestions:
If you like spicy food add a chopped green chili with ginger. If you eat garlic, add in with ginger.
Rice should be just a little more than half cooked for biryani - they get completely cooked when being heated with the masala.
---