हिन्दी में पढ़ें
Paneer 65
Paneer 65 is a very popular appetizer from South India. For this dish, paneer is marinated in a spicy batter and then deep fried. I am not very sure about the origin of the name paneer 65 but can assure you that it is a mouthwatering snack and can be a great finger food for the parties. So let's make this delicious dish and please do not forget to share your comments…..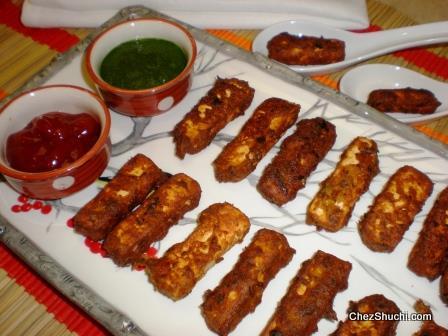 Ingredients (serves 4)
Paneer 250gms/ ½ lbs
Green chilies 2-4
Ginger 1" piece
Curry leves 10-15
Coriander leaves/ Cilantro, chopped 2 tbsp
Yocurt/ curd 2 tbsp
Rice flour 2 tbsp
Salt 1 tsp
Red chili powder ½ tsp
Lemon juice 1 tsp
For serving
---
Method of preparation:
Cut paneer into 2" long and

½" thick (finger shape)

pieces. keep aside.
Peel, wash and roughly chop ginger. Remove the stem, wash and chop green chilies. Wash curry leaves.
Grind together ginger, green chilies, curry leaves, and coriander leaves. Add a little water if needed.
In a glass bowl take this green paste. Add rice flour, yogurt, salt, red chili powder, and lemon juice. Mix well.
Add paneer pieces in the marinade and coat each piece well with the marinade. Keep aside for 20 minutes.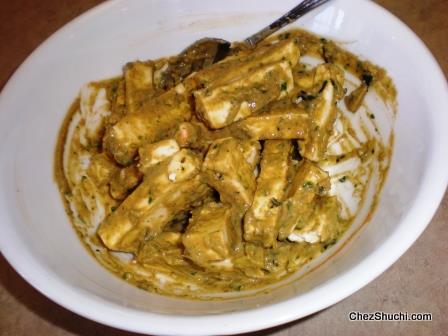 paneer pieces in the spicy marinade
In the wok heat oil. Deep fry marinated paneer on medium to high heat.
Take out the crispy paneer 65 on the kitchen paper.
paneer 65 with green chutney
Crunchy paneer 65 is ready to serve. Serve hot with coriander chutney and tomato ketchup.
Some Tips/ Suggestions:
Increase the amount of green chilies and red chili powder as per taste.
The batter should not be very thick so add 1 spoon of water if needed.
Please feel free to cut paneer in your preferred shape.
---