Chili Paneer
Chili paneer is a very popular Indo Chinese delicacy. As the name shows this is a hot and spicy dish made with paneer, bell peppers (capscium), onions, and a lots of green chilies. I have used only green bell pepper in the pics but I do use colored bell peppers like, orange, red, and yellow bell peppers along with green bell peppers. So feel free to use colored bell peppers. Chili paneer is one of the most famous Indo Chinese dish and since it so popular in North India, in most of the restaurant chili paneer is in the menu under paneer dishes. Even though chili paneer is an Indo Chinese dish, due to its popularity it is usually served with butter naan. For this dish, paneer is usually deep fried but if you are health conscious you can avoid the frying part. Here I am sharing my recipe of Chili paneer. Please do try this dish and as always share your valuable comments. Happy cooking, Shuchi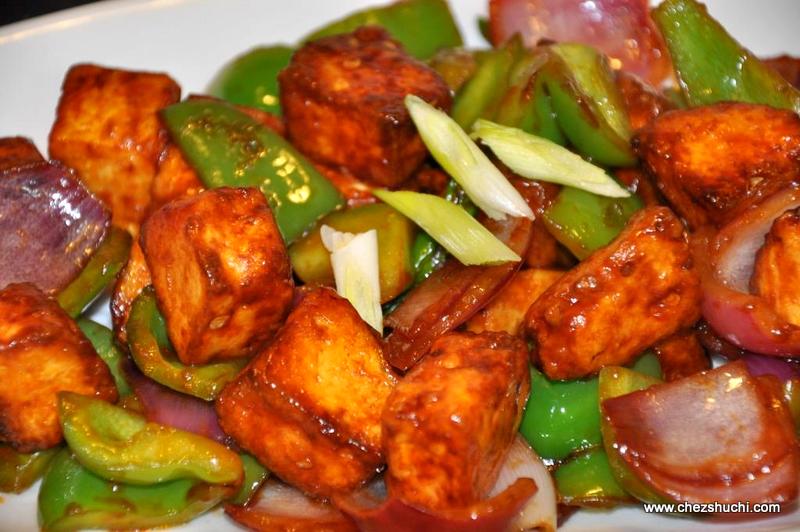 Preparation time : 5 minutes
Cooking time:25 minutes
about 250 calories in each serving
Ingredients (serves 4)
Paneer (Indian cottage cheese) ½ pounds/250 gms
All purpose flour (maida)2 tbsp
Corn starch 2 tbsp
Ginger chili paste 1 tbsp
Green chilies 7-8, split them lenghtwise
Onion 1 large
Bell pepper (capsicum) 2 medium
Spring onions 2-3 cut into an inch pieces
Salt 2 tsp or to taste
Red chili podwer to taste
Blackpepper freshly ground to taste
Red chili flakes to taste
Dark soy sauce 2 tbsp
Tomato ketchup/tomato chili sauce 1 tbsp
White vinegar 1 tsp
Oil to deep fry+ 2 tbsp
Method of preparation
Cut paneer into one inch cubes.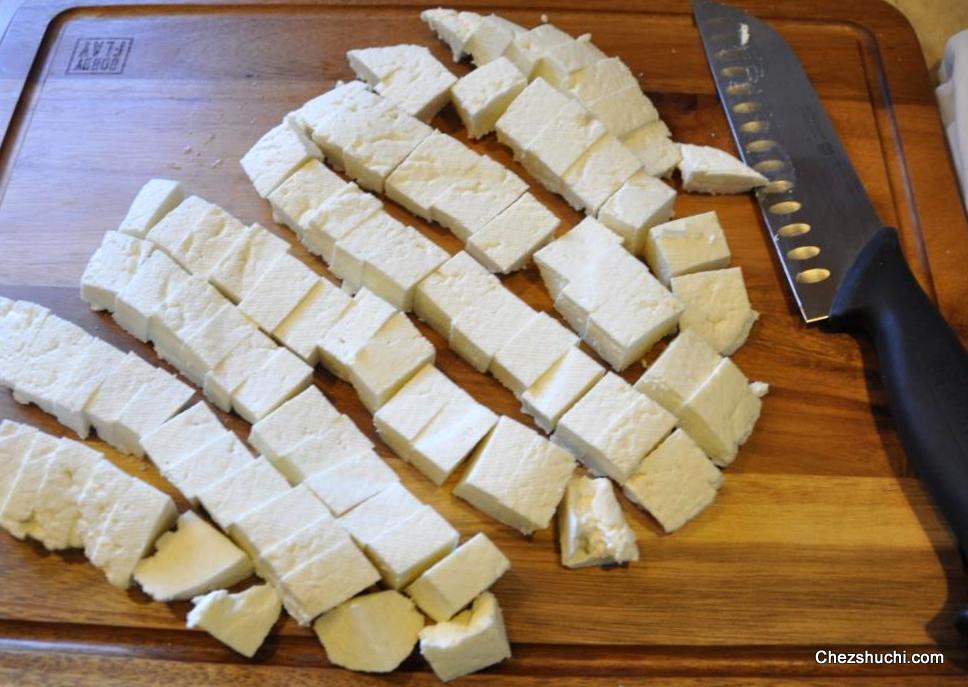 paneer cubes
Peel and wash and cut the onion into an inch square pieces. Wash and cut spring onions diagonally into an inch pieces.
Remove the stem, wash and split the green chilies.
Wash the bell pepper (capsicum), cut into halves, remove the seeds and then cut the bell pepper  into an inch squares like onion.
In a bowl take all purpose flour, corn starch, half tea spoon salt, 2 tsp ginger chili paste and red chili powder. Add about 4 tbsp water and make thick paste. Mix well.
Heat oil in a wok; roll the paneer pieces in the corn starch and flour mixture and deep fry on medium heat until paneer is red. It takes about 4 minutes to fry each round of paneer. Drain onto kitchen paper. Keep aside the fried paneer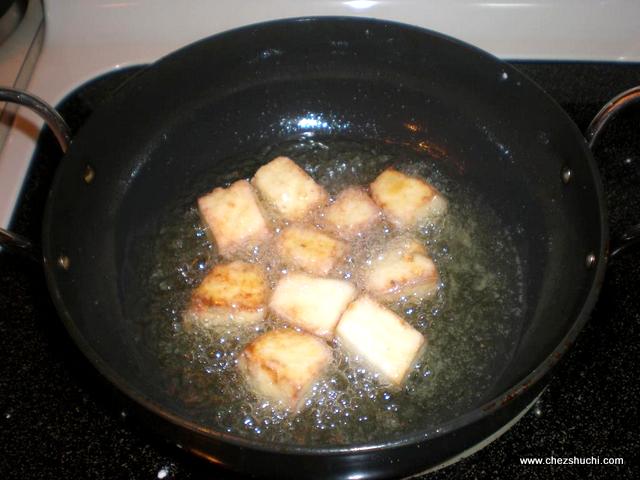 paneer frying
Remove the extra oil from the wok and leave about 2 tbsp oil. Add ginger chili paste and fry for a few seconds.
Add red onions pieces and half of the spring onions and stir fry for a minute
Add bell pepper (capsicum) and  green chilies and fry for a couple of minutes.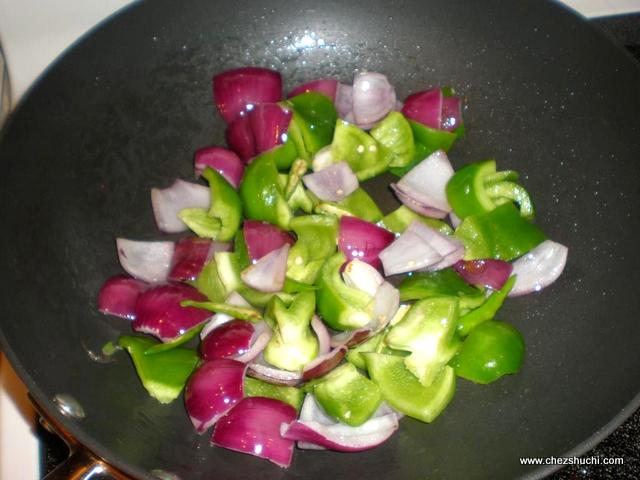 onion and bell pepper frying
Now add fried paneer, salt, soya sauce, black pepper, red chili flakes and tomato ketchup. Mix well all the ingredients. Stir for a couple of minutes. Add white vinegar. Mix well. Turn off the heat. Chili paneer is ready.
Garnish the Chili Paneer with remaining spring onions.
Deliciuous Chili paneer is ready to serve. Serve with veg chowmein or fred rice or with Indian cuisine like naan and dal makhani.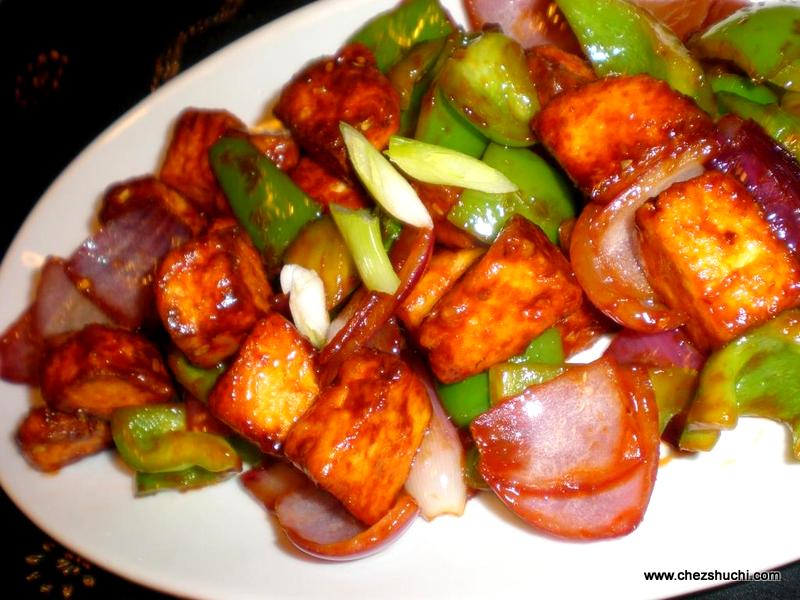 Some Tips/ Suggestions:
If you want to avoid deep frying, arrange panner in a bking tray and bake for 5 minutes at 400F temp. You can also cook them in hot griddle/tawa for a couple of minutes.
If you eat garlic, add in chopped garlic before frying the onions. You can also add garlic while making ginger chili paste.
Increase or decrease the amount of chili as needed
Do not overcook bell peppers as they taste better when they are crunchy.
For deep frying, I avoid filling the wok with oil as repeated use of fried oil is unhealthy.
---