हिन्दी में पढ़ें
Hot And Sour Veg Noodle Soup
This recipe is for a nutritious, healthy, delicious, and easy to make Chinese style Hot and Sour Veg Noodle soup. I have used carrots, bell pepper (capsicum), green beans, and cabbage along with wheat noodles to make this hot soup. Please feel free to add more veggies and more chili to make it hotter as per taste......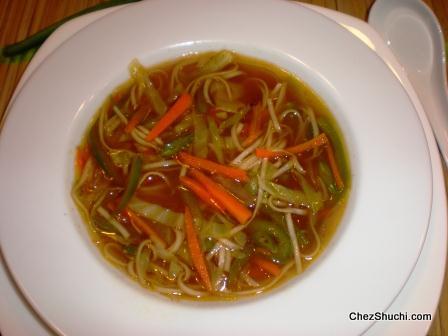 Ingredients
(serves 4)
1 tbsp oil
1 small onion, finely chopped
1 green chili, finely chopped
½ inch ginger, finely chopped
7-8 French beans, diagonally cut into 1" pieces
1 medium carrot, cut into 2" long thin juliennes
½ green bell pepper (capscium) cut into 2" juliennes
½ cup shredded cabbage
Salt to taste
Black pepper to taste
3 cups veg stock
25 gms noodles
1 tbsp soy sauce
1 tbsp white vinegar
1 tsp green/ red chili sauce
A hint of brown sugar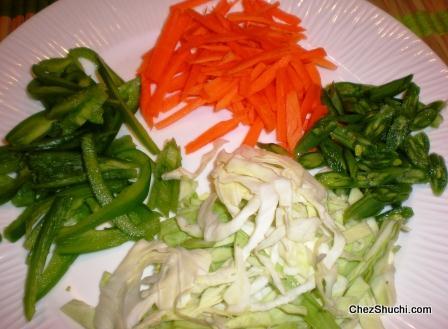 veggies for hot and sour veg noodles soup
Method of preparation:
Heat oil in a non stick saucepan. Add chopped onions. Sauté for a couple of minutes.
Add chopped green chilies and ginger. Mix well and Sauté for 30 seconds.
Add carrot juliennes, and green beans. Sauté for a minute.
Add bell pepper juliennes. Sauté for another 30 seconds.
Add cabbage, salt, and black pepper. Mix well.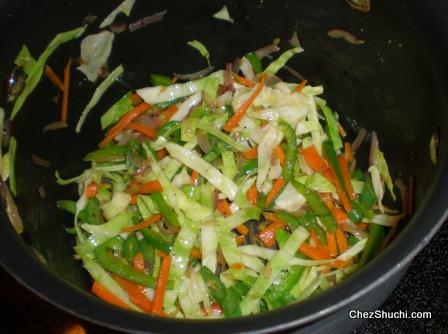 Add about 3 cups of vegetable stock. Take a boil.
Now add noodles and boil for a minute or until noodles are done.
Add chili sauce, and sugar. Stir well. Turn off the heat
Add white vinegar. Stir well. Taste and adjust the seasoning as per taste.
Delicious hot and sour veg noodle soup is ready to serve...Serve immediately.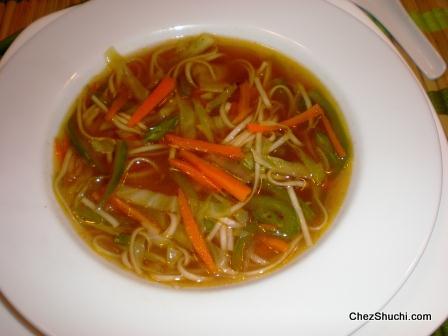 Some Tips/ Suggestions:
You can also use store-bought vegatable stock. In case if you do not have any veg stock add hot water instead. Adjust the seasoning as per taste.
Some other veggies such as mushrooms, bamboo shoots, broccoli, etc. can also be added in this soup.
If you eat garlic add in crushed garlic cloves first before frying the onions.
---
---