Minestrone
हिन्दी में पढ़ें
Minestrone is a rich, thick soup made with assorted veggies, beans, a kind of pasta, and herbs. The word minestrone has actually come from the Latin word "minestrare" meaning "to serve" or "to dish up". This soup is a perfect combination of vitamins, protein, and minerals.  So try out this Italian soup and please do not forget to leave your valuable suggestions...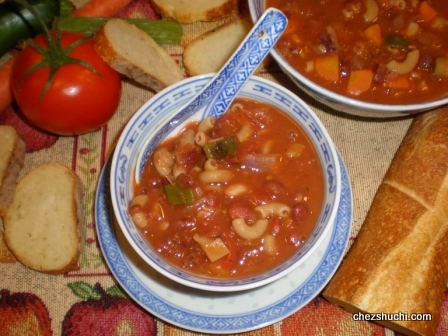 Ingredients

(serves 4)
Kidney beans in between ¼-½ cups
Zucchini 1 small
Celery stalk 1
Carrot 1 small
Potato 1 small
Onion 1 small
Basil leaves 4-5
Tomatoes 2 medium
Elbow macaroni ½ cups
Tomato juice ½ cup
Olive oil ¾ tbsp
Salt 1 ½ tsp/ to taste
Freshly ground black pepper to taste
Oregano ½ tsp

Water about 2-3 cups



Method of preparation
Clean, wash, and soak the kidney beans in about one and a half cups water for overnight.
When beans are well soaked, boil them with ½ tsp salt till they get tender. Best way to do this to take 2-3 whistles in the cooker.
Wash and chop the tomatoes. Wash and finely chop the celery stalk. Wash and dice the zucchini and carrots.
Peel off, wash, and dice the potato.
Peel off, wash, and mince the onions.
Wash and tear the basil leaves.
veggies for minestrone" zucchini/courgette
Mash the boiled beans slightly.
Boiled kidney beans Elbow wheat macaroni
Heat a saucepan, add olive oil and add minced onion. Sauté for a minute. Now add all the veggies including herbs. Mix well and sauté for a minute.
Now add mashed beans, oregano, salt, and pepper. Stir well.
Add water and bring to a boil. After the first boil reduce the heat and let it cook for about 30 minutes. Stir occasionally.
veggies after adding, boiled beans, veggies, and herms
When the veggies are cooked, the soup will look like the picture below.
Now it is time to add macaroni and tomato juice. (if the soup is too thick add a little hot water to get the required consistency). Mix well and cook on low heat for another 12-15 minutes or until the macaroni is done.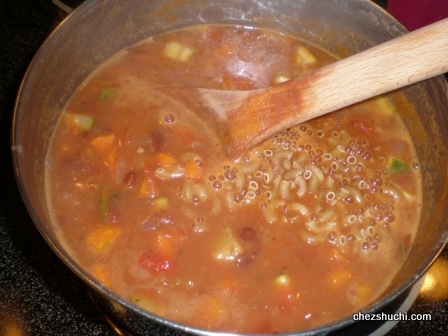 after adding elbow macaroni
Delicious, thick and rich minestrone is ready to Serve . Serve with your choice of bread. I like to serve it with French bread (Baguette).
Tip :
The vegetables selection can be done on the basis of availability.
You can also use some other kind of pasta like, shells, spirals, broken spaghetti, penne, etc...
Add minced garlic if you like to.
Adjust the amount of salt, pepper, and oregano to taste.
---