Tamarind Rasam
हिन्दी में पढ़ें
Rasam is a very popular South Indian Soup. There are many varieties of Rasam . This recipe of Tamarind rasam comes to you from one of my very dear Mallu friends. Traditionally Tamarind Rasam does not have tomato as an ingredient but to enhance the flavor and maintain the consistency my friend adds tomato and she is my Guru of South Indian delicacies ! So I followed her instructions… You can choose to add tomatoes if you wish to ... I prefer it this way ....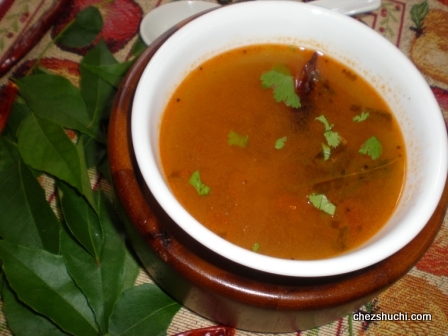 Ingredients

(serves 4)
Tomato 1 small

Tamarind a small ball lime size/ 10 gms
Salt 1 tsp or to taste
Rasam Powder        1 tbsp
Sugar/ Jaggery 1 tsp
Oil/ghee 2 tsp
Mustard seeds  1 tsp
Dry red chilly  2
Curry leaves 5-6
Asafoetida powder 2 pinches
Water about

2 ½

cups
Chopped coriander leaves to garnish 2 tsp (optional)
Method of preparation
Following are the main ingredients of the Tamarind rasam along with 1 grated tomato.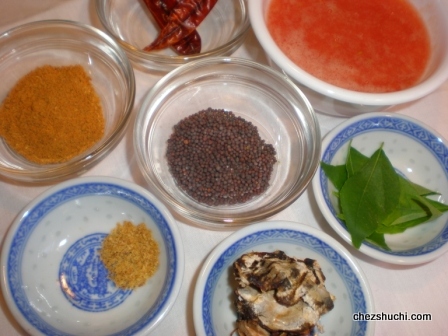 Wash the tamarinds and soak them in 1/4 cup warm water for 10 minutes.
Remove the seeds and the fibers of the tamarind. Keep the pulp aside.
Heat oil/ghee in a small pan, add mustard seeds. When seeds pop up , add asafoetida. Now add curry leaf , and whole red chilies. Fry for a few seconds .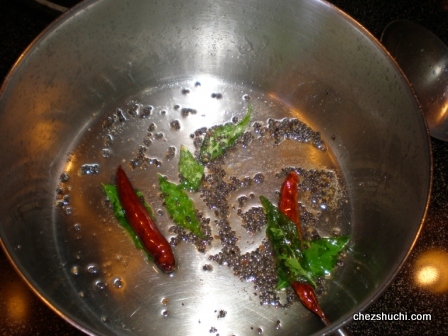 Now add grated tomato and fry until the tomato paste leaves the oil. Add rasam powder to it and fry for a few seconds.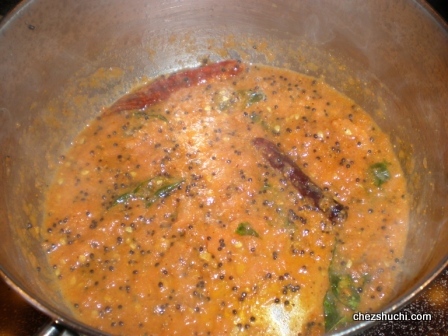 Add water to the fried tomatoes, tamarind paste, and salt and take a boil. After the first boil reduce the heat and let it cook for 8-10 minutes.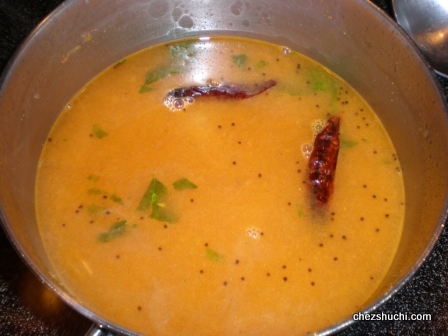 Add sugar/ jaggery and mix well. Rasam is ready.
Tamarind Rasam is ready to serve. Garnish with chopped coriander leaves and serve hot.
Some Tips
The original recipe also asks for 3 crushed garlic pods to be added to this preparation. I do not use garlic in my cooking but if you like you can add garlic pods after adding asafoetida.
---