Rasam
हिन्दी में पढ़ें
Rasam is a very popular South Indian dish or in simple words soup. There are so many different variants of rasam like tomato rasam, tamarind rasan, lemon rasam, dal rasam etc. Here we are making lentil/dal rasam. Rsam is usually a very spicy and thin in consistency but I prefer to make a mild spicy and thicker version of rsam so kids can also enjoy it. Here is my recipe of lentil/dal rasam. For the preparation of rasam a combination of few spices dry roasted and ground together to make rasam powder. Rasam powder is made with a combination of spices like, cumin seeds, black pepper, red chilies, fenugreek seeds etc. Now a day this spice powder is available in stores. You can make rasam powder at home or can buy it. Please try this healthy, low fat, vegan rasam/ lentil soup recipe and please do share your feedback. Happy cooking, Shuchi .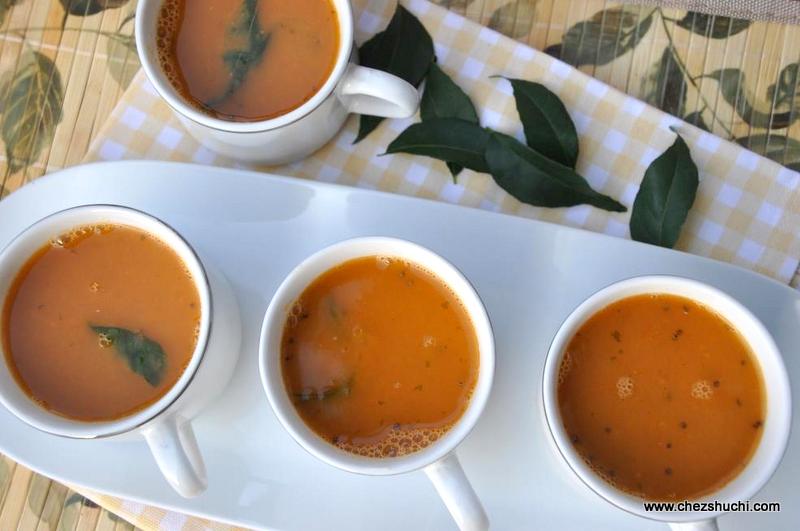 Ingredients (serves 4)
Arhar dal/ toor dal( pigeon peas) ½ cup
Tamarind paste 1 tbsp
Salt 1½ tsp or to taste
Rasam Powder 2 tsp
Jaggery ¼ tsp
Ingredients For Seasoning:
Oil/ghee 2 tsp
Mustard seeds  1 tsp
Dry red chilly 1-2
Curry leaves  7-8
Asafoetida powder 2 pinches
Method of preparation:
Wash and soak the arhar dal in 2 cups of warm water for 10 minutes. 
Boil arhar dal with salt and half of the rasam powder until it becomes tender.  
Blend the lentils or mash it very well (add water according to the required consistency).
Add tamarind paste, jaggery, and the remaining half rasam powder and cook it for around 10 minutes on medium heat. 
For Seasoning
Heat oil/ghee in a small pan, add mustard seeds. When seeds pop up , reduce the heat and add curry leaf , whole red chili, and asafoetida. Fry for a few seconds and turn off the heat.
Add the seasoning in the Rasam (lentil soup).
Delicious and healthy lentils soup/ Rasam is ready to serve.
Rasam can also be served with plain rice.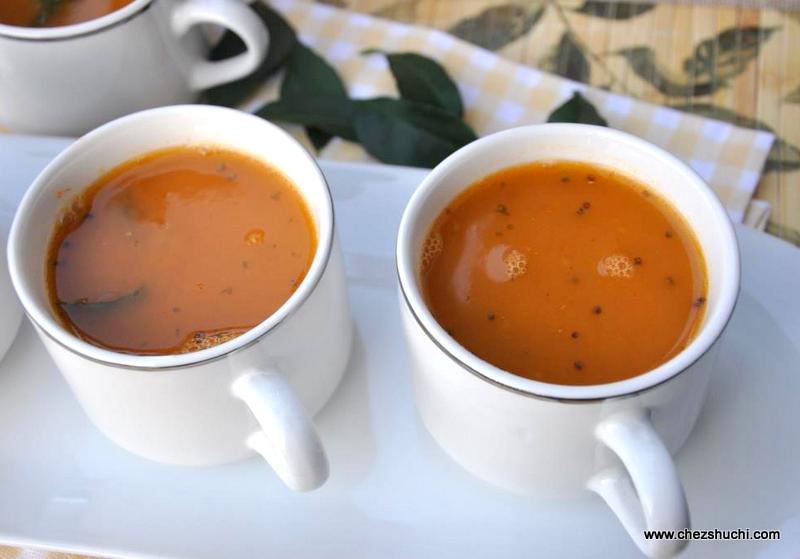 Some suggestions/ Tips
Rasam powder is a combination of some spices dry roasted and ground togeher.Rasam powder is a little different then sambhar powder. You can make rasam powder at home or can buy a good brand rasam powder from store.
Rasam is a spicy preparation so ussually store bought rasam powder has ore chili powder. If you want to make mild rasam use less spces.
---