हिन्दी में पढ़ें
Mix Veg Soup
Mix veg soup is a hearty soup for cold winters. This is a nutritious, healthy, delicious, and easy to make soup. I have used carrots, cauliflower, green beans, and corn kernels, along with slivered almonds and paneer (Indian cottage cheese) to enhance the taste of this soup. Please feel free to add more veggies as per taste......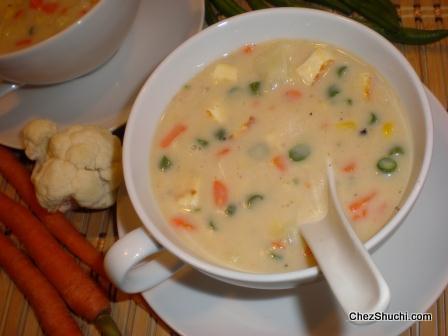 Ingredients
(serves 4)
1½ tbsp butter
2 bay leaves
12 french beans/ ½ cup diced
1 medium carrot/ 1/3 cup diced
½ cup small florets of cauliflower
½ cup corn kernels
1½ tbsp slivered almonds
½ tsp Salt
Black pepper to taste
A hint of Garam masala to taste
2¼ cups hot water
1 tbsp corn starch
¾ cup warm milk( I have used 2% milk)
½ cup diced paneer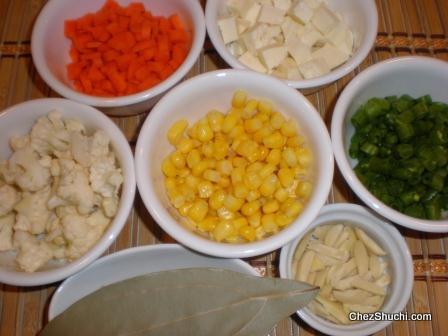 Ingredients for mix veg soup
Method of preparation:
Heat a non stick saucepan. Grease the pan and sautée diced paneer for a minute on medium heat. Set aside.
Add butter in the saucepan. When butter starts bubbling, add bay leaves. Fry for a few seconds.
Add diced carrots and green beans. Fry for 30 seconds.
Add cauliflower. Mix well and fry all the veggies for a minute.
Add corn kernels, and slivered almonds. Mix well. Add salt, black pepper, and garam masala. Mix well.
Add about 2 cups hot water in the fried veggies. Take a boil.
Mix 1 tbsp corn starch in ¼ cup water. Mix well so there are no lumps left.
Mix corn starch mixture in the boiling soup. Stir constantly so that the soup does not stick to the bottom. Boil for a couple of minutes on medium heat.
Now gradually add warm milk in the soup. Stir continuously so that no lumps form.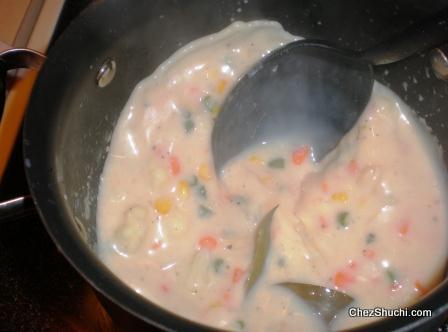 Add paneer. Mix well and turn off the heat. Taste and adjust the seasoning as per taste.
Delicious Mix Veg soup is ready to serve...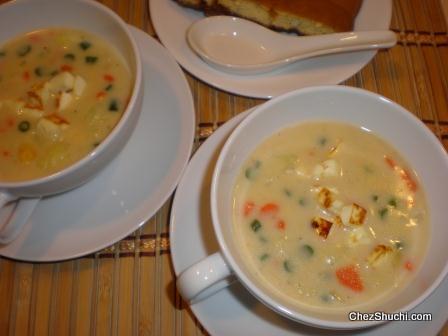 Some Tips/ Suggestions:
You can also add some other nuts in this soup preparation..
You can also use other vegetables as per taste for this soup.
---
---