Sweet Corn Soup
Sweet corns are good source of vitamins, proteins and dietary fibers. This is a very easy and quick recipe for delicious and healthy sweet corn soup.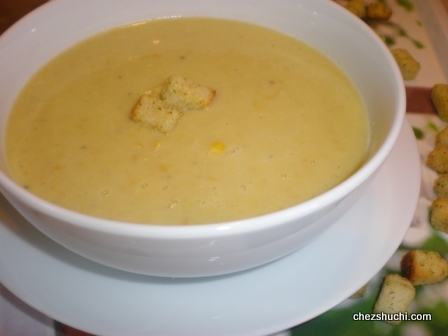 Ingredients

(serves 4)
Corn Kernels fresh/ frozen 3

½

cups 
White salt   1 tsp
Black pepper    ¼ tsp
Butter  1 tbsp
Water about 4 cups
Method of preparation
Wash the corn kernels. Heat butter and fry the corn kernels on medium heat for 2 minutes. Now keep about 2 table spoons of corn kernels aside and add water to the rest of the kernels. Boil the corn kernels in water with salt until they get absolutely tender. Takes about 10 minutes.
Allow them to cool. Blend the corn kernels in the blender. Add more water if needed to get the required consistency.
Once again boil the blended kernels for 5-6 minutes. Add black pepper .
Top hot corn soup with some fried corn kernels at the time of serving.
Enjoy hot sweet corn soup. Serve with bread sticks or croutons...
---