Vegetable Stock
हिन्दी में पढ़ें
Vegetable stock can be bought in cans, but I will advise you to give this recipe a try and see how good the real thing taste……
Ingredients

(makes about 4 cups)
Carrots 2 medium
Cabbage ½ cups, cut into big pieces
Red onion 1 small
Green onions 1
Celery 2-3 inch stalk
Ginger 1 inch piece
Peppercorns ½ tsp
Salt 1 tsp
Water 4 cups
Method of preparation
Peel off, wash and slice the carrots.
Peel off, wash and slice the red onions. Wash and cut the green onions.
Peel off wash and creush the ginger.Wsah and cut the celery into small pieces.
Take all the ingredients in a pan add 4 cups of water and bring to boil.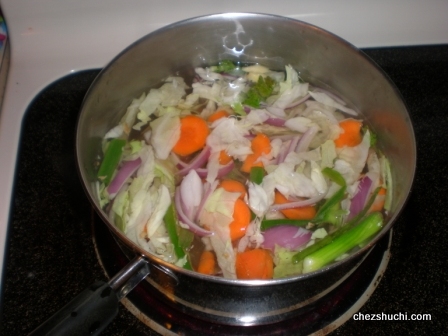 veggies are boiling in the water
After the first boil reduce the heat and let the vegetables boil in for fifteen minutes. Strain the stock . Keep in the refrigerator till the further use.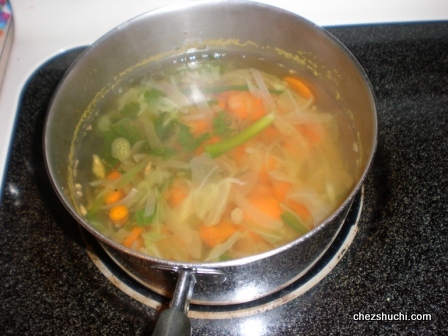 vegeeis after 15 minutes of boiling
The vegetables can be used for the preparation of Pav Bhaji.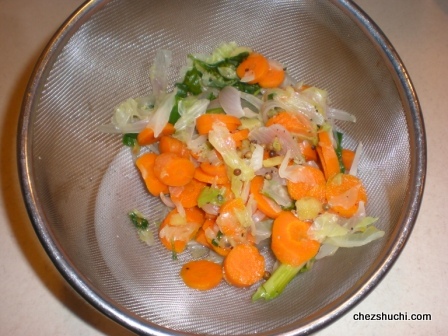 keft over vegetables after straining the veg stock
The Vegetable Stock is ready to use..
Tip:
I like to recycle and reuse as many thing as possible. That is the reason, why I use the veggies for bhaji preparation. But if you want it can be discarded too.....
---