हिन्दी में पढ़ें
Pav Bhaji
Pav Bhaji is a very popular combo from Western India, especially from Maharashtra. Bhaji is cooked vegetables in diced onion and tomato masala with spices and Pav is a variety of bread . This combo is very popular all around India and it can be an ideal dish for weekend parties, big gathering, kids birthdays, etc.... Make the bhaji in advance and just fry the buns at the time of serving. you can also serve a desi drink with this well known combo to make it a complete meal....As always please do share your comments and suggestions.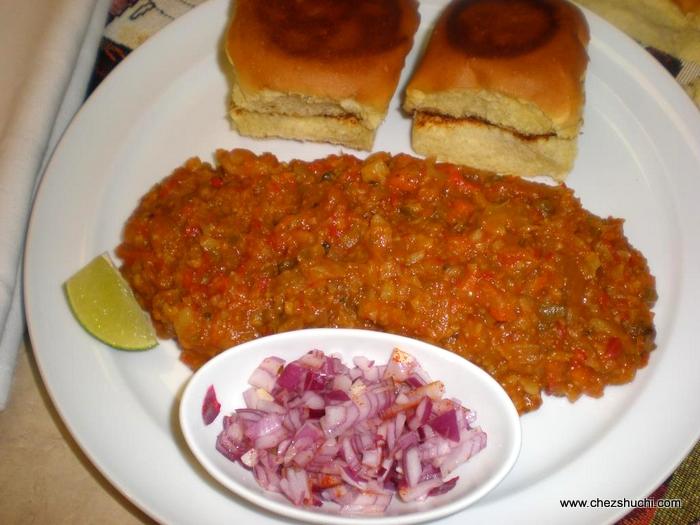 Ingredients ( serves 4)
Potatoes 4 medium
Bell pepper (capscium) green1 big
Red bell pepper 1 medium
Carrots 2
Cauliflower 1 cup chopped
Green peas 1/2 cup
Onion 2 medium
Tomatoes 4 medium
Ginger 1 ½ inch piece
Green chilies 2
Salt 1½ tsp
Pav bhaji masala 2-3 tbsp
Lemon juice 1 tbsp
Chopped coriander leaves 2 tbsp
Oil/butter 3 tbsp
Ingredients to serve:
Pav 500 gms pck
Butter 1 tbsp for Bhaji+ to butter the pav
Onion rings or chopped onion to taste
Lemon to taste
Method of preparation:
Peel off potatoes, wash, and chop them into small pieces, wash bell peppers and cut them into halves, remove the seeds and chop into small pieces. Scrap the outer skin of the carrots, wash , and chop them into small peices.

Heat 1 tbsp oil in the wok. Add potatoes, bell pepper, carrots, and cauliflower, mix well .Add 1 tsp salt and 1 tbsp pav bhaji masala, mix well . Fry for a minute add about half cup water . Cover the lid cook the vegetables. Cook until the veggies get tender. (takes about 15 minutes) You can also take a pressure in the pressure cooker.

Mash the cooked veggies wirh a wooden masher or potato masher.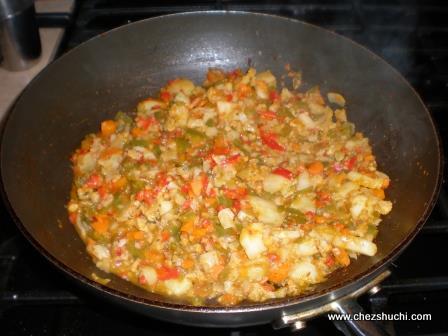 While veggies are cxooking- Peel off onions, wash and finely chop them. Remove the thick stem of the green chili, wash and finely chop it. Remove the skin of ginger, wash and finely chop the ginger.
Wash, and finely chop the tomatoes.

Heat 2 tbsp oil/ butter in another wok. Add chopped oniond. Fry onion until golden (takes 4-5 minutes). Do not over fry the onions for this recipe as they will be shown off in bhaji. Now add chopped green chilies, and ginger, fry for another minute.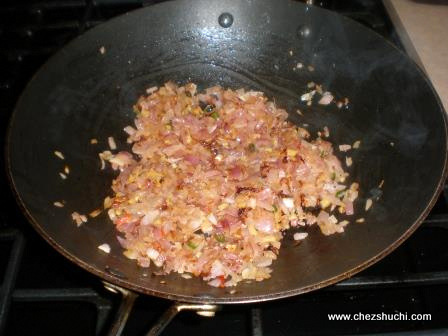 onion frying for pav bhaji
Add, chopped tomatoes, ½ tsp salt, and 1 tbsp pav bhaji masala. Mix well and fry until the masala leaves the sides of the pan. (takes about 7-8 minutes)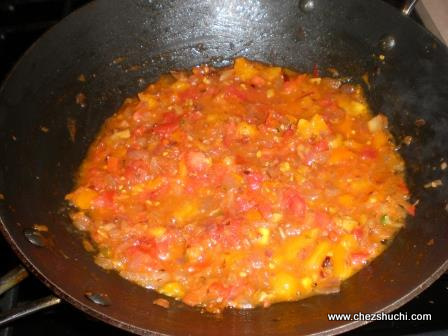 after adding chopped tomatoes in the fried onions
Boil the green peas in 1 cup water for 2 minutes. You can also add 1/4 tsp sugar and a pich of salt to mailntain the green color of peas. Strain and keep aside.
Add the cooked and mashed vegetables, and boiled green peas in the onion tomato masala. Mix well. If bhaji is very thick add in a little water. Now cook for about 8-10 minutes on medium heat.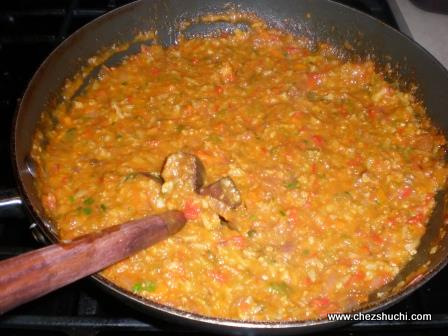 Bhaji is ready. Taste and add more pav bhaji masala if needed. Add chopped coriander leaves. You can also A\add lemon juice.
Serving Suggestions:
Add some butter in the middle of the bhaji, and little bit chopped coriander leaves at the time of serving.
Heat the griddle/flat pan, cut the buns into halves, buttered the buns, and cook from both the sides for a few seconds. Serve hot buns with hot bhaji.
Chopped onion, and a wedge of lemon can also be served with the pav bhaji if you like raw onions.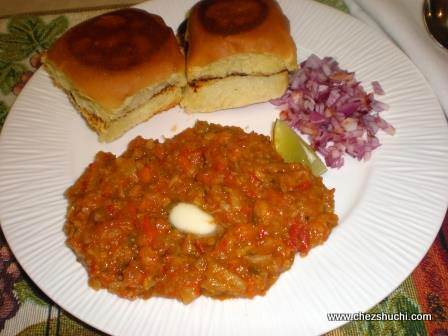 Serve Pave Bhaji as Finger food for Big Parties:
Cut bread or bun into small circles with cookie cutter.
Heat griddle/ tawa . Grease tawa and slightly toast the buns.
Put a layer of bhaji on top of buns.
Put a layer of chopped and flavored onions on top of bhaji and sprinkle a little bit of chopped coriander.
Serve immediately.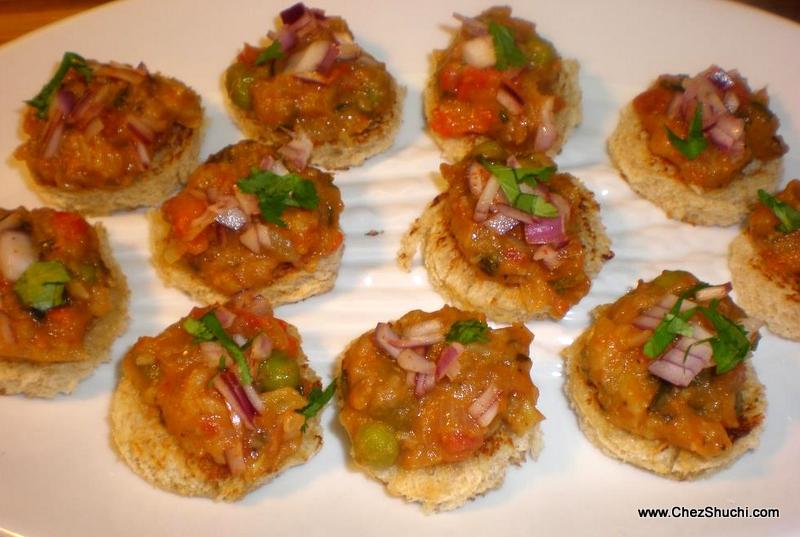 Some Tips/ Suggestions:
You can add more seasonal veggies in the bhaji.
If you like spicy food add more grren chilies.
Bhaji can be cooked in butter or oil as per taste .
You can also add some cooked chickpeas, kidney beand or some other variety of beans to this bhaji for a change.
---