Kadhi Pakaudi
हिन्दी में पढ़ें
Kadhi is a tangy curry preparation made with gram flour and sour yogurt (दही). Kadhi is very popular in Northern and Western India. There are different kind of kadhis like kadhi pakodi, mangodi ki kadhi, Sindhi kadhi, Gujarati kadhi, Rajasthani kadhi etc. Here I am sharing Kadhi pakaud recipe.
Kadhi Chawal is a very popular lunch combo from North of India. About 40 kms away from Nainital, there is a small and quaint town, Naukuchiyatal- this dish is served in every big or small hotel in Naukauchiyatal. Kadhi is also served during festivals. This Kadhi preparation comprises deep fried balls of gram flour paste, dipped in yogurt based gravy. Kadhi goes very well with plain rice (chawal). You can also serve roti, salad and papad with kadhi chawal to make it fancy and complete meal. Hope you like this recipe. Please try this recipe and share your comments. Happy cooking, Shuchi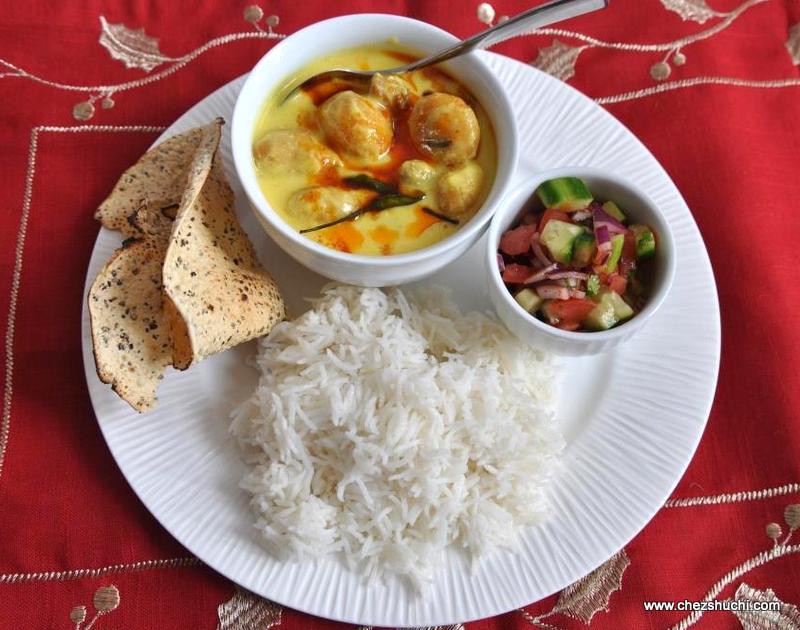 Ingredients For pakori:(serves 4)
Gram flour (besan)  1 cup
Water to make batter
Oil to deep fry
Ingredients For jhol (gravy):
Gram flour (besan) 1/3 cup
Sour curd/ yogurt 1 cup
Turmeric powder ½ tsp
Salt 1¼ tsp
Red chili powder ½ tsp
Oil/ ghee 1 tbsp
Cumin seeds  ½ tsp
Fenugreek seeds ½ tsp
Mustard seeds ½ tsp
Asafoetida  ¼ tsp
Whole red chilies 2
Water about 4 cups

Ingredients For tempering :
Ghee 2 tbsp
Chopped green chilies 1 tbsp
Red chili powder ¼ tsp

Method of preparation For pakori:
Sieve the gram flour (besan) thoroughly. In a bowl take besan and add water little by little and whisk the gram flour batter. Whisk in one direction, so that the batter becomes lighter. It takes about 4-5  minutes to get the light batter. ( We need cake like batter)
To check if the batter is light enough - take a little bit of batter in your index finger and pour it into a cup full of water. If the batter comes up and floats in the water, it is light enough and is ready to use!
In a wok heat oil. Take a teaspoon full of batter and pour it onto the hot oil. Pour 7-8 pakoris in the same way.
Deep fry the pakoris on medium to high heat. (takes about 4-5 minutes) Take the pakaudis out on a kitchen paper.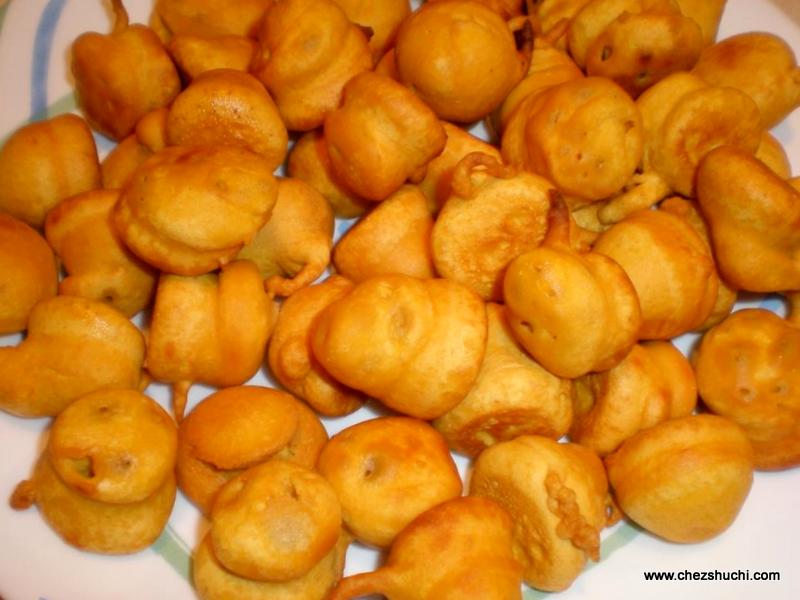 Repeat the process with the remaining batter.
In a big bowl take 2-3 cups warm water. Add 1 tsp salt in it. Soak fried pakoris (balls) in the water for 5 minutes.
After 5 minutes, squeeze of the water from the pakoris and keep aside.
Method of preparation For Gravy:
Sieve the gram flour (besan). Add salt, red chili powder, and turmeric powder . Add little by little water and mix well. (add about 2 cups of water). Keep aside.
Beat the sour curds (yogurt), add in 2 cups of water , mix in well and keep aside.
In the wok heat ghee on medium heat, add in cumin seeds, fenugreek seeds, mustard seeds. When seeds change the color, add in asafetida, and whole red chili, fry for 4-5 seconds. Add gram flour mixture and sour yogurt mixture. Mix well and keep stirring until the first boil comes.(takes about 5 minutes)
After the first boil reduce the heat and let it cook for about 7-8 minutes. If the jhol's (curry) consistency is too thick, add some more water.
Add water soaked pakoris in the boiling jhol and mix well gently. Cook for another 3-4 minutes. The pakoris will float on top of the curry.
Kadhi is ready.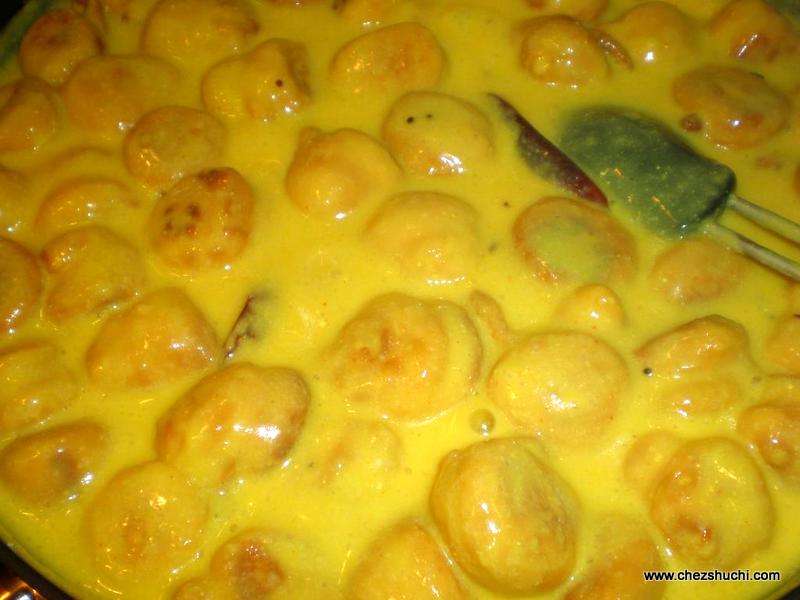 Method of preparatio For Tampering:
At the time of serving, in a small pan heat ghee, add chopped green chilies. Turn off the heat. Add red chili powder and pour it onto the kadhi. Serve delicious Kadhi with rice (Chawal), kachumar salad and roasted papad.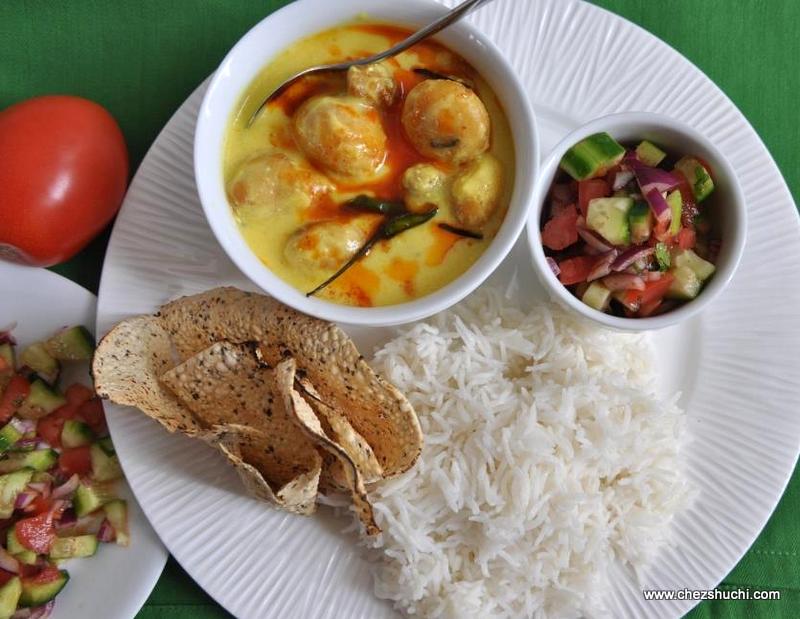 Some Tips/ Suggestions:
Make sure that besan batter is whisked well. The batter should be light. If the batter is light then only the pakaudis (fried balls) will be light.
Make sure that yogurt is sour. To make regular yogurt sour, leave it at room temperature for 24 hours.
The amout of chili can be increased or decreased as per taste.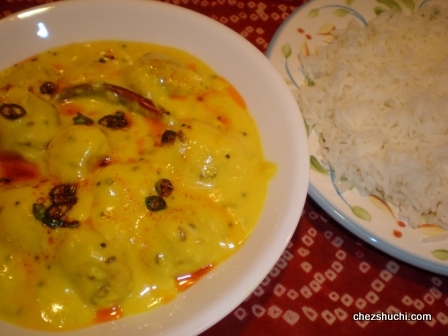 Some Other Delicious Kadhi Preparations:
---