Gujarati Kadhi
हिन्दी में पढ़ें
Kadhi is a tangy curry preparation made with gram flour and sour yogurt (दही). Kadhi is very popular in Northern and Western India. There are different kind of kadhis like kadhi pakodi, mangodi ki kadhi, Sindhi kadhi, Gujarati kadhi, Rajasthani kadhi.....This is an easy to make recipe for Gujarati Kadhi. I have learned this recipe from Aparna, a very good Gujarati friend of mine. Aparna makes awesome Gujarati food and her Kadhi is just so yummy. Gujarati kadhi is a little different from North Indian kadhi. It is a little sweet in taste and is usually served with Khichdi (dal and rice dish) and roti or rice. Gujarati kadhi is considered as a very light meal. I love Gujarati food and make it very often. Please do try this Gujarati kadhi recipe and please do share your thoughts. This is a completely Vaishnav dish. Happy cooking, Shuchi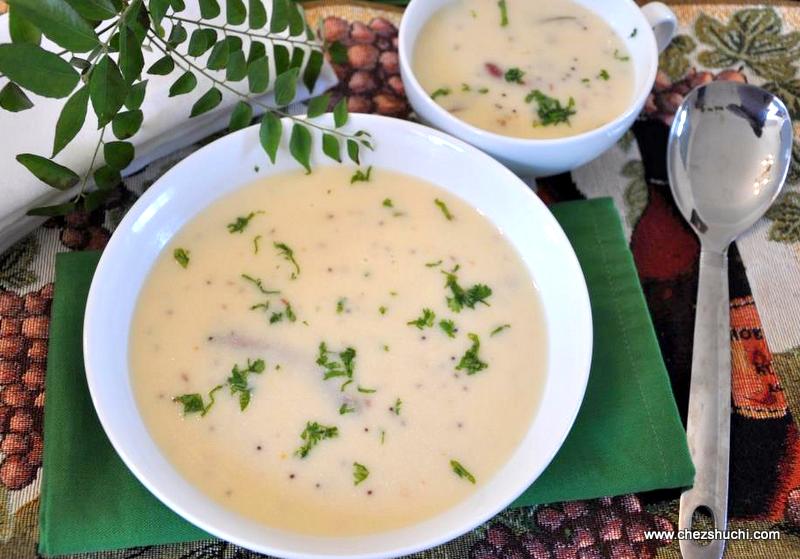 Preparation Time: 5 minutes
cooking time: 15 minute
Approximately 100 calories in each serving
Ingredients (serves 4)
Gram flour (besan) 4 tbsp/ ¼ cup
Sour curd/ yogurt 1 cup
Ginger Chili paste 1½ tsp
Curry leaves 8-10
Jaggery/ Sugar 2 tsp
Salt 1½ tsp or to taste
Oil/ ghee 2 tsp
Cumin seeds ½ tsp
Mustard seeds ½ tsp
Asafoetida ¼ tsp
Cloves 4-6
Whole red chilies 1-2
Water about 3 cups
Chopped coriander leaves to garnish 1 tbsp
Method of preparation:
Following picture shows all the ingredients for Gujarati Kadhi.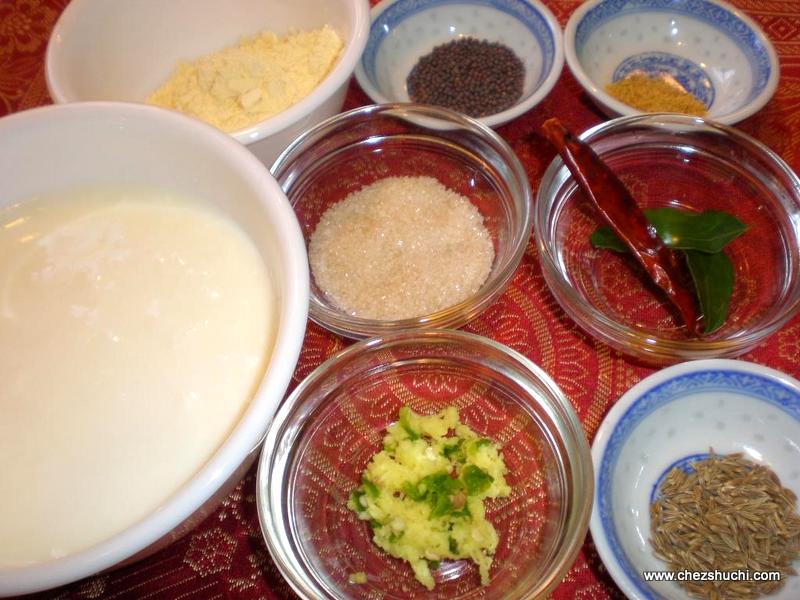 ingredients for gujarati kadhi
Whisk the sour curds (yogurt). Add in a cup of water, mix it well.
Sieve the gram flour (besan). Add whisked sour yogurt a little by little. Mix well. Add 2 cups of water and mix well.
Add salt and sugar in flour and yogurt mixture. Mix well.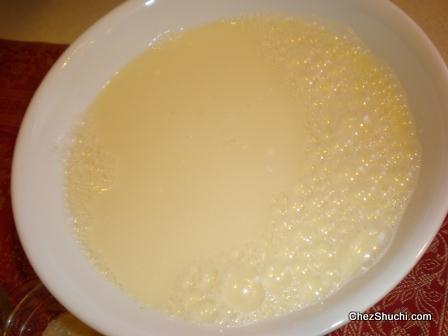 Gram flour and yogurt mixture
Heat ghee in the wok on medium heat. Add in cumin seeds, and mustard seeds. When seeds change the color, add in asafoetida and whole red chili, and fry for a few seconds.
Add curry leaves and fry for a few seconds.
Add ginger and green chili paste. Fry for about 20-25 seconds.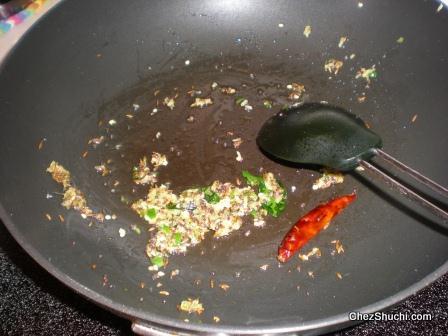 seasoning for Gujarati Kadhi
Add gram flour and sour yogurt mixture. Mix well and keep stirring until the first boil (takes about 5 minutes).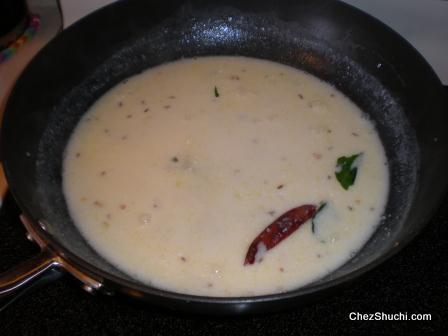 After the first boil, reduce the heat and let it cook for another 5-6 minutes. If the kadhi's consistency is too thick, add some water, and then cook. Turn off the heat.
Taste and adjust the salt, chili and sugar as per taste.
Garnish the kadhi with chopped coriander leaves.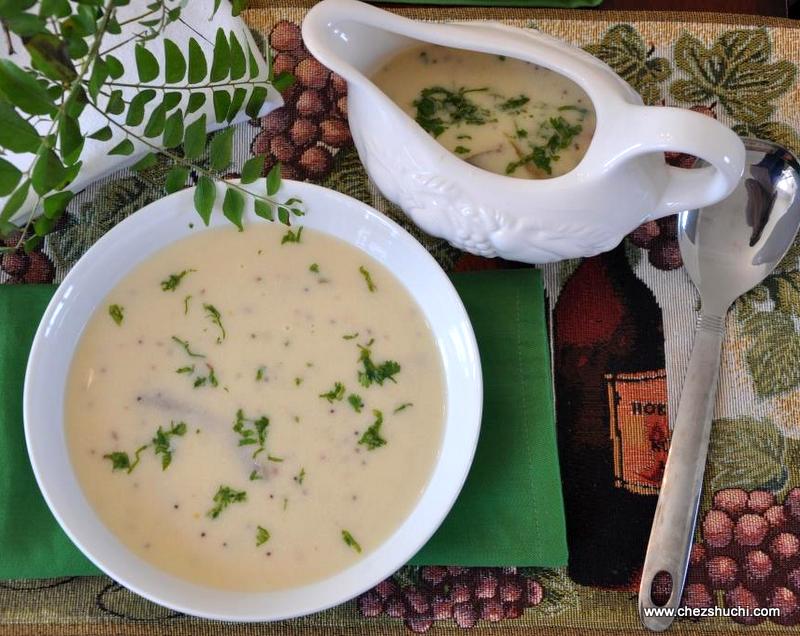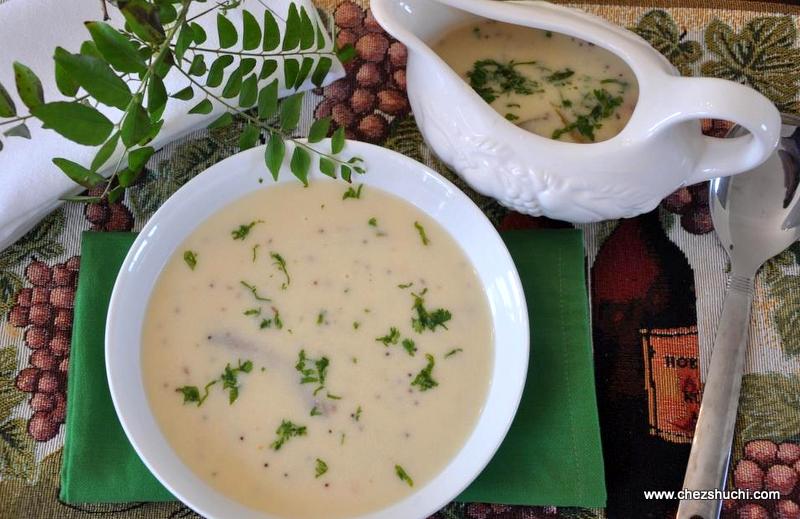 Some Tips/ Suggestions for beginners:
You can add a little bit of hot ghee on top of hot Gujarati kadhi at the time of serving.
To make sour yogurt/ curds in winters, add a bit of salt in the yogurt and keep the fresh yogurt (curds/ Dahi) in a warm place for 24 hours. In summers leave fresh yogurt at room temp overnight.
Some Other Yoghurt (dahi) Delicacies:
---