Khichdi
हिन्दी में पढ़ें
The word khichdi means the mix of many things. Khichdi is a dish traditionally made with dal and rice.It is a very light meal, easy to digest and very nutritious. In different parts of India there are different versions of khichdi. Here we are going to make UP style khichdi.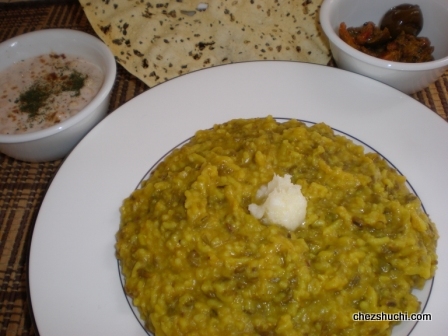 Ingredients

(serves 4)
Rice  ½ cup
Salt 1 ½ tsp
Green mung dal split  ¾ cup
Turmeric  ¾ tsp
Water  3 ½ - 4 cups
For seasoning
Ghee 1tbsp
Cumin seeds  1 ½ tsp
Asafetida a pinch
Red chili powder ¼ tsp
To serve
Yogurt (Dahi) 250 gms
Papad 4
Ghee 2 tsp
Pickle or chutney to taste
Method of preparation
Clean, wash and soak dal and rice together in 4 cups of water for 20 minutes.
In the pressure cooker take soaked dal & rice along with the water, add salt and turmeric powder and boil until it gets tender or take a pressure. (Takes about 15 minutes)
For seasoning
In small pan heat ghee, add cumin seeds when seeds crackle add asafetida and turn off the heat, now add red chili powder. Mix the seasoning (tarka ) in the boiled khichdi.

My father always says Khichdi tastes so good when served with its four companions –yogurt, papad, ghee, and achar!  
---