Vegetable and Cashew Chow Mein
हिन्दी में पढ़ें
Chow Mein is a Chinese stir fried noodles dish. Chinese cuisine is very popular in India and there are many variants of vegetarian Chinese delicacies. This is a delicious fusion Indo-Chinese preparation with lots of veggies and cashew nuts. Usually kids don't like greens but they don't mind it with noodles as they become flavorful with spices. I have used lots of vegetables of different color and to make it flavorful I have also added some spices to please the spice-loving palates. Try this vegetable and cashew Chow Mein recipe and please do share your comments. Happy cooking, Shuchi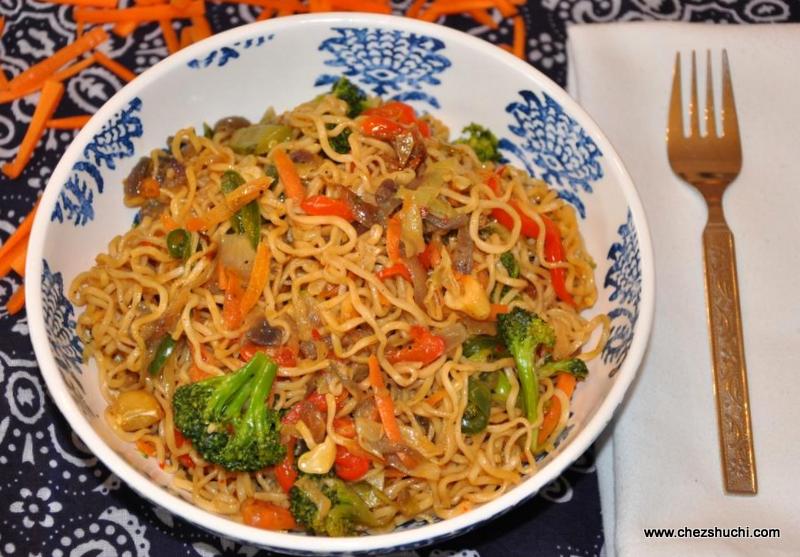 Preparation time : 10 minutes
Cooking time:15 minutes
about 150 calories in each serving
Ingredients
Flat wheat/ white noodles 5 ounce (about 150 gms)
Onions 1 medium
Broccoli florets 1 cup
Carrot 2 medium/ 1 cup juliennes
Bell pepper (capscium) 1 cup juliennes * I have used red and green bell pepper
Cabbage, juliennes1 cup
Cashew nuts ¼ cup
Spring onion 2-4 (optional)
Salt 1¼ tsp
Black pepper, freshly ground ¼ tsp
Red chili flakes ¼ tsp (optional)
Red chili powder ¼ tsp
Soy sauce 1½ tbsp
Brown sugar ½ tsp
Distilled vinegar 1½ tsp
Oil 3 tbsp
Method of preparation:
Boil the noodles as suggested on the noodle packet. Do not overcook the noodles. Leave the noodles on the strainer for 2 minutes to remove extra water.
Wash and cut the spring onions diagonally in about one and half inch long pieces. Wash, peel and cut the onions in juliennes.
Peel, wash, and finely cut the juliennes of carrots.
Wash the colored bell peppers, cut in halves, take out the seeds, and cut in juliennes.
Wash and cut the cabbage also in juliennes.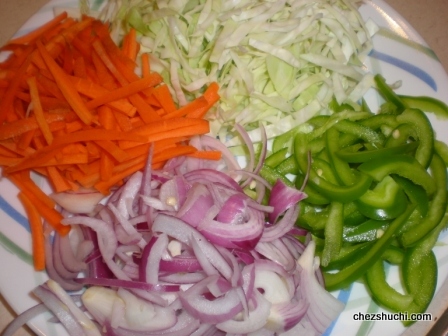 red onions, cabbage, carrots, and bell pepper juliennes
Heat a wok, add oil. Add onion juliennes and stir fry for a minute on high heat.
Add cashews. Fry for 30 seconds. Add broccoli florets and stir fry for a couple of minutes.
Add carrots and bell pepper juliennes. Stir fry for another minute. Now add shredded cabbage and fry for 30 seconds on high heat.
Add salt, red chili powder, red chili flakes, freshly ground black pepper, soy sauce and vinegar. Mix well in the veggies.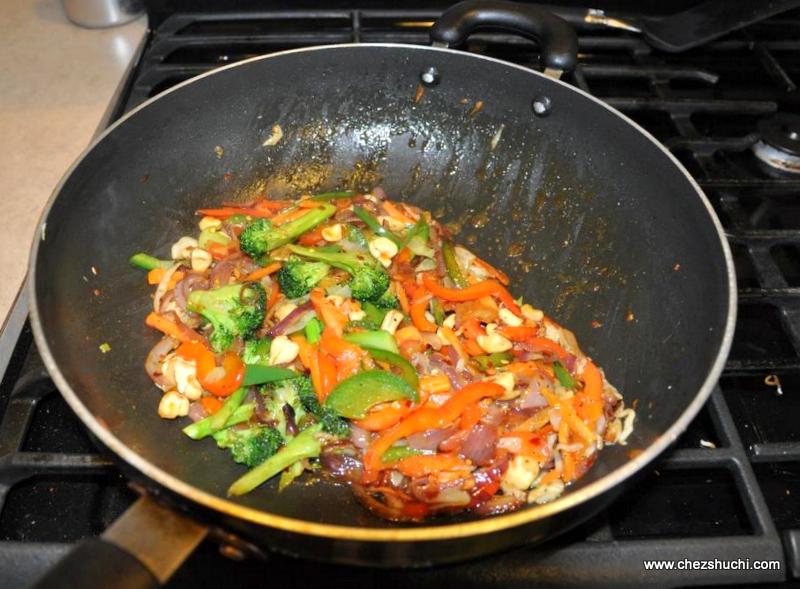 vegetable frying for chow mein
Now add spring onions and boiled noodles. Stir well for a couple of minutes.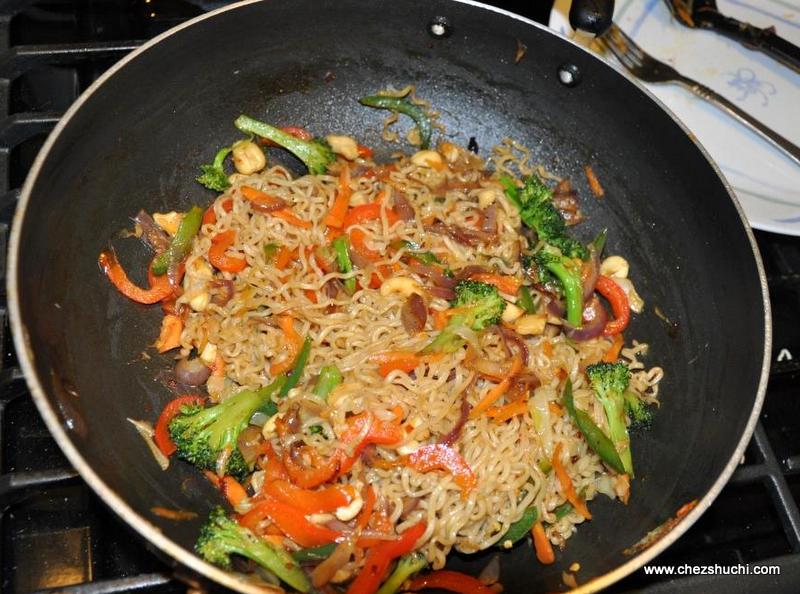 vegetable frying for chow mein
Taste and balance the spice, salt, and sugar level as per taste. Turn off the heat.
Delicious vegetable and cashew chow mein is ready to serve.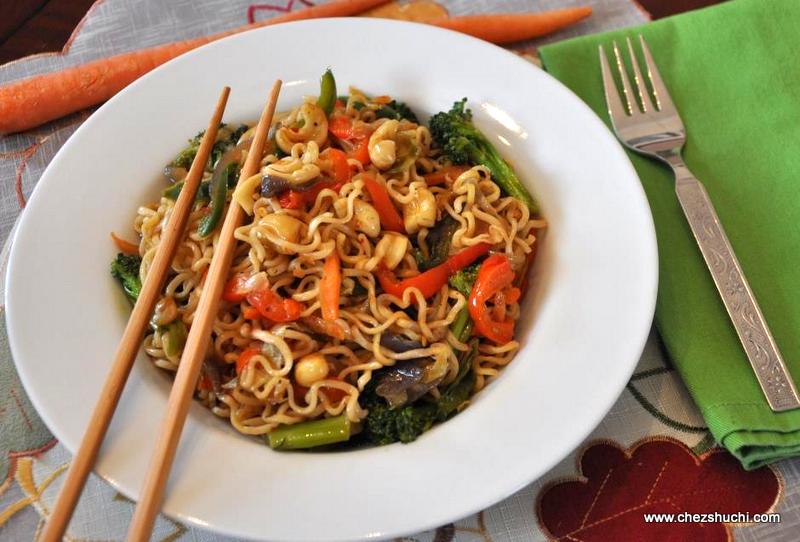 Some Tips/ Suggestions:
You can use instant noodles, flat noodles, wheat noodles or any other noodles as per availability and taste.
While boiling the noodles, turn off the heat when noodles are a little hard and transfer them in the strainer. Do not overcook the noodles.
You can also use some other veggies like bean sprouts, bok choy, baby corn etc. in this preparation.
For stir frying iron wok would be ideal. Do not use non stick woks for stir frying as frying is to be done on high heat and this can damage the non stick coating.
To enhance the flavor of this chow mein you can also add some tomato chili sauce.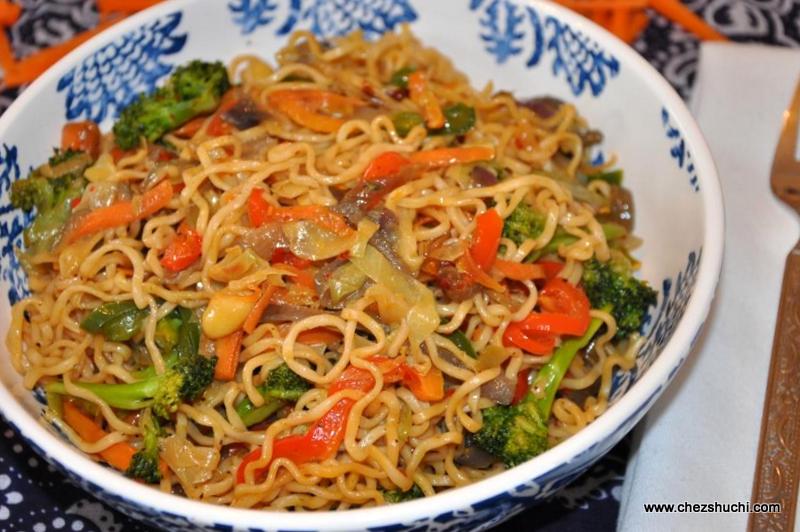 Everyone loves Noodles especially kids are a big fan of chow Mein. Sometimes you can pack Chow Mein for kid's lunch meal. Add lots of veggies with noodles to make it healthier. Pack some fruits, nuts, and sweets as per your kids taste. The following picture shows, veg chow mein, clementines, roasted peanuts and dates and walnut squares.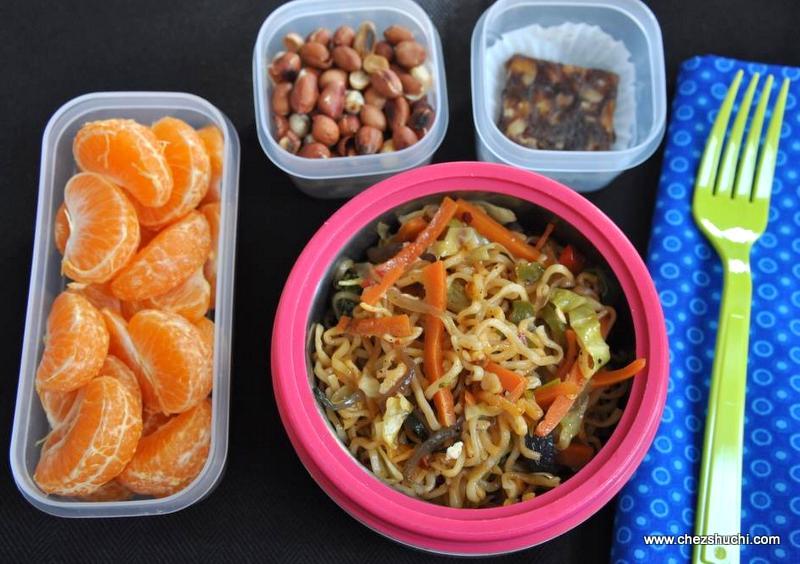 ---