Spinach Sandwich
हिन्दी में पढ़ें
This is a delicious as well as healthy sandwich. I have used corn kernels, baby spinach, and cottage cheese (paneer) to make this sandwich. You can also add some grated mozzarella cheese before you grill the sandwich. If you like spicy food, add more chilies as this is a mild preparation….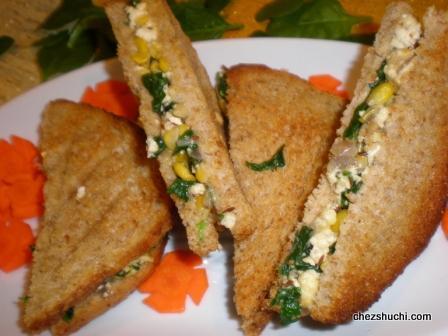 Ingredients

(Makes 4 Sandwich)
For Filling :
For Sandwich:
Wheat Bread 8 slices
Butter to brush
Grated Mozzarella cheese ½ cup (optional)

Method of preparation
Peel off, wash, and finely chop the onion. Remove the stem, wash, and finely chop the green chili.
Wash the corn kernels and keep aside. Wash the spinach.
baby spinach corn kernels
Scramble the cottage cheese (paneer).
Heat a wok on medium heat. Add oil, now add cumin seeds. When cumin stopped crackling add chopped green chili, and onions and fry for a minute or until translucent.
Now add corn kernels and sauté for about 2 minutes. I have used frozen sweet corn which were already soft; if your corn kernels are hard boil them separately.
Add spinach leaves and sauté for couple of minutes. Add scrambled paneer, salt, and pepper. Mix well all the ingredients. Fry fopr couple of minutes. Turn off the heat.
Add lemon juice. Mix well.
Spinch-corn filling is ready.
after adding baby spinach filling is ready
Take a slice of bread, spread a layer of filling. If you like, spread some mozzarella cheese. Cover with the other bread. Brush the butter on top and bottom sides of bread and grill the sandwich, .
spreaded filling on the bread a layer of grated cheese on top of filling
In you do not have grill fry the sandwich on flat griddle or in the sandwich toaster .
Delicious Sandwich are ready to serve. Cut the sandwich diagonally. Serve with tomato ketchup or may be with pudina chutney.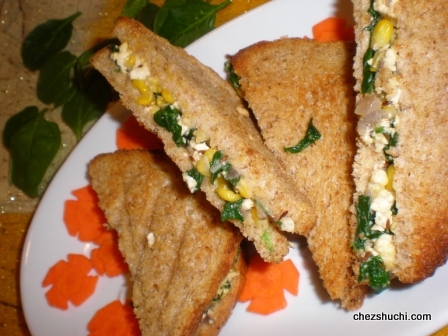 Tip :
If you do not eat onions, make the filling without onions; it tastes equally good.
I have used whole wheat bread for the preparation of sandwich.
If you do not find baby spinach use the regular spinach. In that case do not forget to cut the spinach after washing.
---