Paneer Tikka
हिन्दी में पढ़ें
Paneer tikka is traditionally made in tandoor (Clay Oven). This is one of the best tandoori vegetarian dishes. This dish has variety of bell peppers (capscium/Shimla mirch) which are rich in vitamin A and Vitamin C also. This is a low fat appetizer.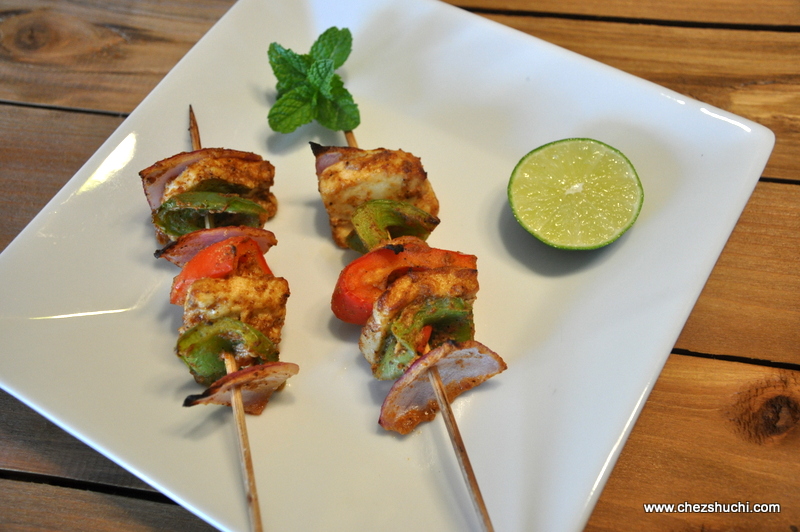 Ingredients

(serves 4)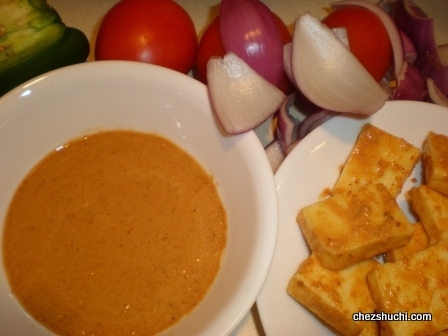 Paneer 200 gms
Onion 1 big
Green bell pepper ½
Red bell pepper ½  
Yellow bell pepper ½
Oil   2 tbsp
Yogurt (curds) 2 tbsp
Barbeque masala/tandoor masala 2 tbsp
Ginger paste 1 tsp
For Garnishing:
Chaat masala 1 tsp
Lemon juice     2 tsp
Method of preparation
Cut paneer into 1 ½ inch squares of around 1-1½cms thick.
Peel off onions, wash and cut into1 ½ inch squaress.
Wash green, red and yellow bell peppers(capscium), cut then into 1 ½ inch squares.
Remove water of the yogurt (curds) if there is any by leaving it on tea seive for 15 minutes. We need thick yogurt for marination. Add tandoor masala and ginger paste in the yogurt and mix well.
Dip paneer, onion, and bell pepper cubes in the marinade and make sure that all the sides are well coated. Keep aside for 2 hour.If the home temperature is above normal keep the the marinated stuff in the refrigerator for two hours.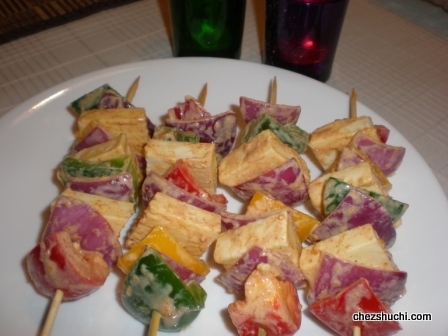 In the skewers arrange the paneer, onion and bell pepper the way you like.
Brush little oil from every side and barbeque until they are pinkisk red.(takes 10 minutes).
Sprinkle little chaat masala and lemon juice and serve immediately.

Other Options:
Oven- If you do not have barbeque do not worry we can make paneer tikka in the oven too.To make paneer in the oven preheat the oven on 375 F . Now arrange all the skewers in the grill/pizz dish.Cook till paneer is pinkish red. Do not over cook.(takes about 10 minutes)
Gas Stove-If you neither have barbeque nor oven, you can still make pannr tikka at home on gas stove. Hold the skewers and cook over the medium flame like we do for rotis.
Some Tips
Do not forget to brush oil to avoid sticking of veggies and paneer.
Set all the veggies and paneer in the skewers in advance,and can be barbequed at the party time
---