Rose Flavored Cracked Wheat Porridge | Rose Daliya
हिन्दी में पढ़ें
Daliya, known as cracked wheat in English, is a good source of fiber. This is a delicious preparation for cracked wheat porridge. There are plenty of savory preparations, desserts, salads etc. that are made with cracked wheat. Here we are making a delicious, sweet preparation that can be served for breakfast, as a dessert, or even as a complete light meal.
Often people think that daliya is a boring, bland food. Try this recipe and your opinion will change immediately. My mother always roasts the daliya in a small amount of desi ghee which makes the daliya very aromatic. She also adds some nuts to the daliya to make a perfect dessert. To give a new taste to regular daliya recipe I have added aromatic crushed rose petals. Rose flowers are called Gulab in Hindi.
Make sure to use the rose petals which have a nice natural yet mild scent. In my backyard plenty of roses are blooming but unfortunately none of them are scented. I got scented rose petals from Amazon ( link ). It is a big packet, so I have shared some with friends. I have been using it for the past year, but it still smells fresh. You can also buy rose petals from Indian stores or from the organic bulk store.
Try this delicious gulab/ rose daliya recipe and please do share your valuable comments. Happy cooking, Shuchi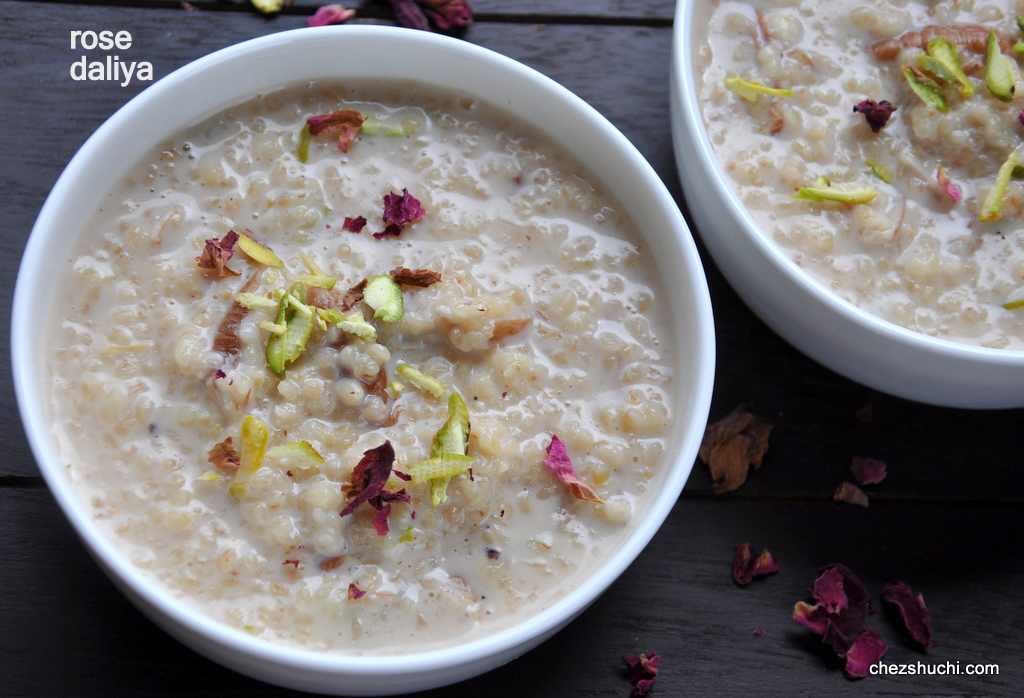 Preparation Time: 2 minutes
cooking time: 20 minutes
Approximately 200 calories in each serving
Ingredients (Serves 4)
Cracked wheat ½ cup
Ghee 1 tsp
Water 2 cups
Milk 3 cups
Sugar about ¼ cup
Chopped nuts of your choice ¼ cup
Green cardamoms powder ¼ tsp
Method of preparation
In a pan or in a pressure cooker, heat 1 tsp ghee on medium heat. Add daliya and roast on medium heat until daliya gets golden red. It takes about 2-4 minutes to roast the daliya.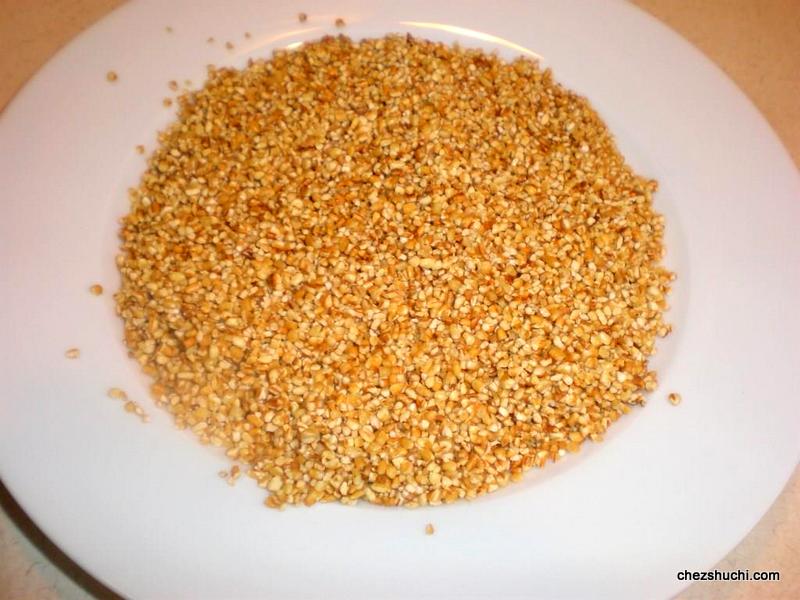 daliya after roasting
Add about 2 cups of water. Mix well and take a boil. After the first boil reduce the heat and cook the cracked wheat until it gets tender. The easiest way is to take a whistle in the pressure cooker.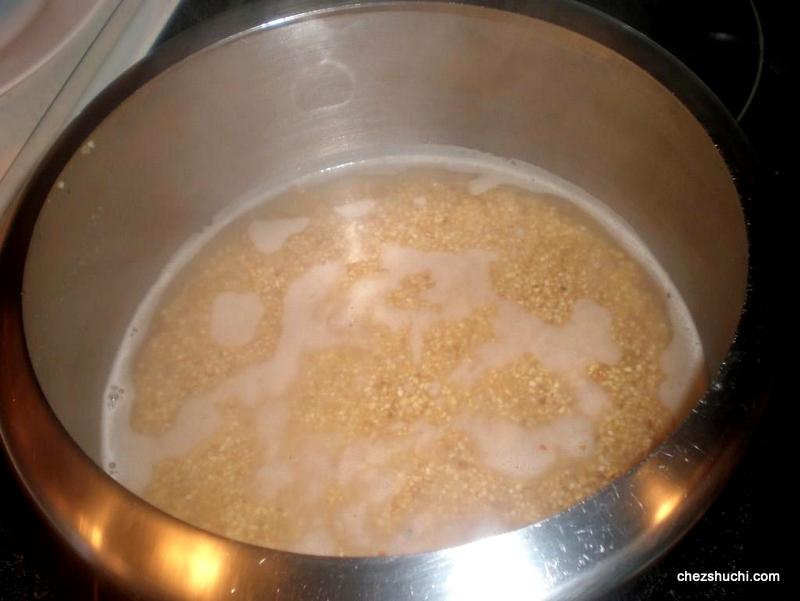 Cracked wheat with water
When daliya is cooked it will look like the follwing pic.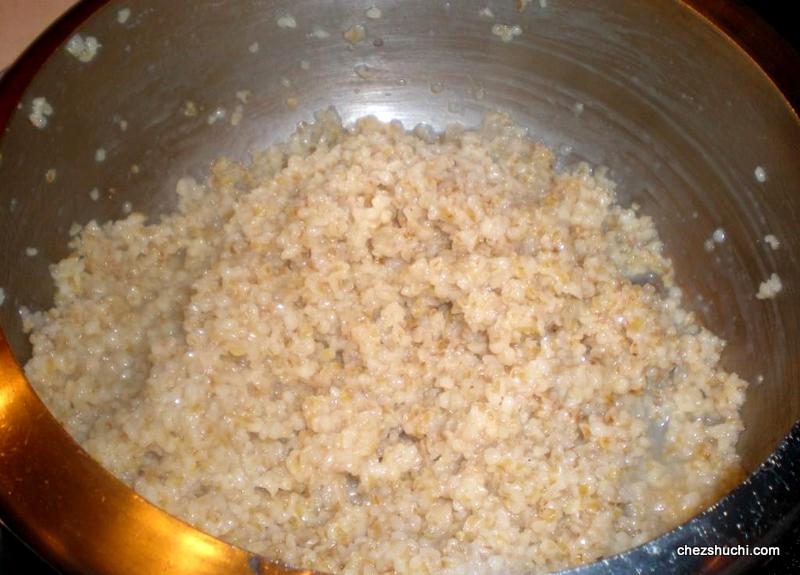 cooked daliya
Add milk in the daliya. Also add chopped nuts. Take a boil and let it cook for about 5 minutes. Add sugar, mix well and cook for another minute. Turn off the heat. Add rose crushed petal and ground cardamom.
Rose Daliya is ready. Let the daliya cool down for a while.
Rose daliya (cracked-wheat porridge) is ready to serve. It can be served as a breakfast, as a dessert, or even as a meal if you are looking for something light.
Some Tips/ suggestions: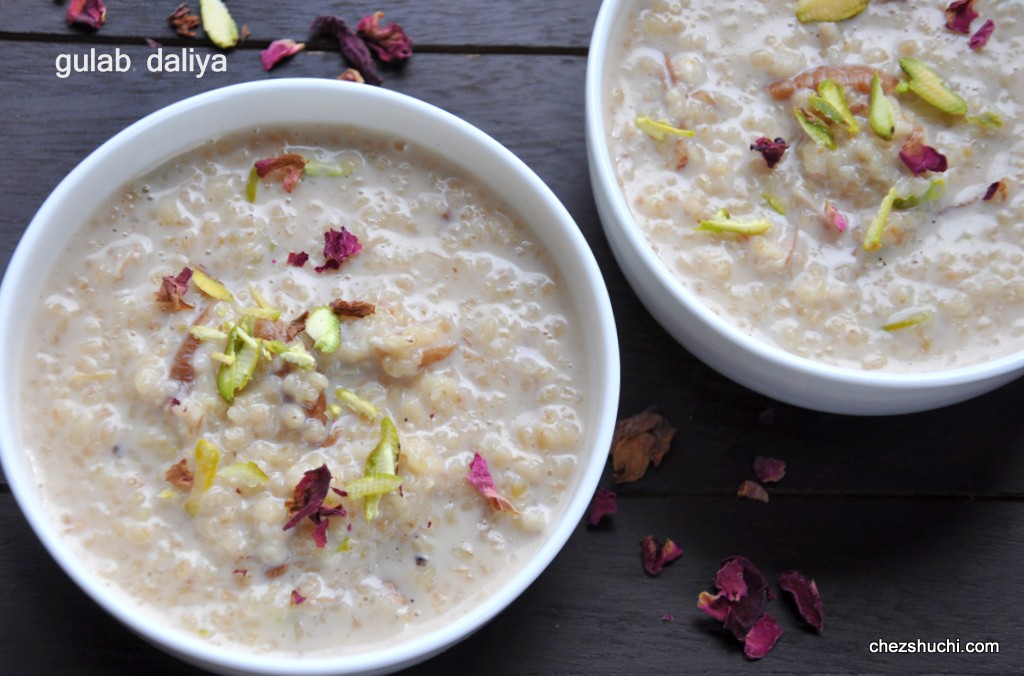 I like to roast daliya in a small amout of ghee. It makes the daliya very aromatic and it tastes wonderful after cooking.
I grind green cardamoms along with their skin and store the cardamom powder in a airtight container.
I grind rose peatals and keep it in airtight container. I make Daliya on regular basis and some prior preparation speeds up the cooking.
The amount of milk depends on the daliya. So please adjust and add more milk if needed.
I have used pecan and pistachios in this recipe. You can also use almonds, walnuts or any other nuts of your choice.
Gluten Allergy- you can replace cracked wheat with cracked oats.
---