Curd Rice with Pomegranate
हिन्दी में पढ़ें
Curd rice is a highly favored delicacy in South India, also referred to as dahi bhaat in North India. The preparation of curd rice is a breeze, making it a hassle-free dish to make.
In North India, curd rice often fails to appeal to people due to the perception that it is a plain and uninspiring dish. However, I have come up with a desi tadka that elevates the simple curd rice and transforms it into a delectable and enticing dish. Curd is a rich source of complete protein, calcium, and carbohydrates, and makes curd rice a light, wholesome, and satisfying meal. By adding pomegranate, I have enhanced the taste and given it a unique twist. Additionally, I have included cashews in the seasoning to make it more appealing to children.
Curd rice with pomegranate can be enjoyed as either a side dish or a main course. I highly recommend trying this mouth-watering recipe and would love to hear your thoughts on it. Happy cooking, Shuchi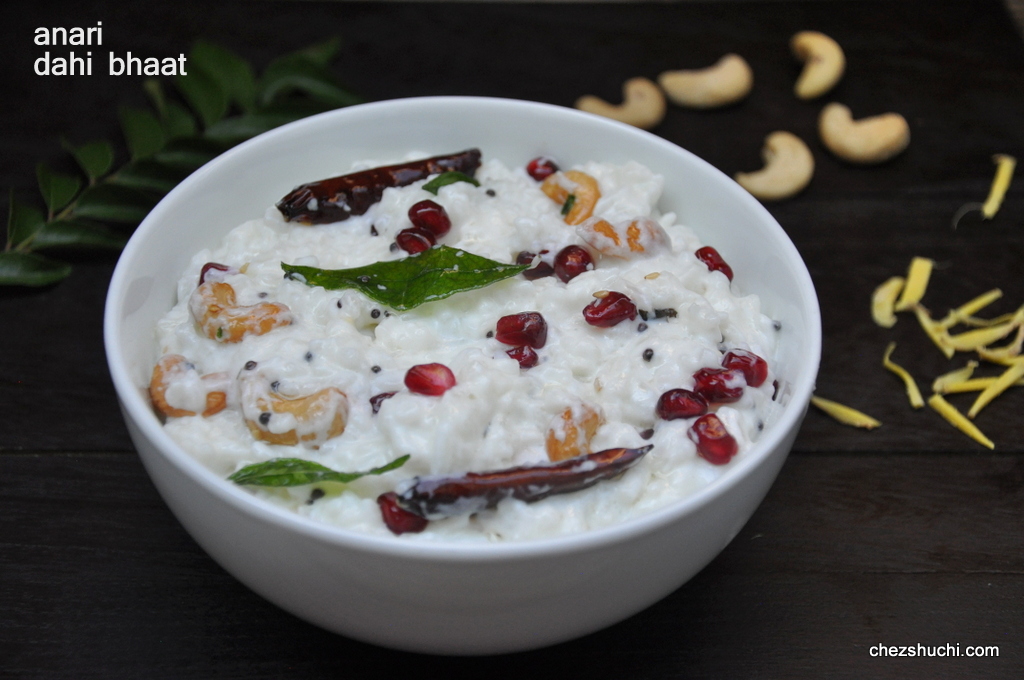 Preparation Time: 5 minutes
cooking time: 5 minutes
Approximately 335 calories in each servings
Ingredients (serves 4)
Boiled Rice 3 cups
Curds/ Yogurt 2 cups
water ½ cups
Green chilly 1, finely chopped
Ginger 2 tsp finely chopped
Salt 1tsp or to taste 
Ingredients for Seasoning
Ghee(clarified butter) 1 tbsp
Mustard seeds 1 tsp
Whole red chilies 2
Curry leaves 7-8
Cashews 2 tbsp
Pomegranate 1/3 cup
Chopped coriander leaves 2 tbsp
Method of preparation
Mash boiled rice, keeping in mind that slightly overcooked rice works best for this recipe.
Add about 2 cups of curd or yogurt into the rice and mix thoroughly. Add some water. Mix well. Add salt, chopped ginger, and green chilies to the curd rice and mix thoroughly. keep aside for 10 minutes.
After 10 minutes check the consistency of curd rice. If necessary add a bit more of water or curd to reach the desired consistency.
For Seasoning
In a small pan heat ghee. Add mustard seeds. Once the seeds begin to crackle, add whole red chillies and curry leaves, and fry for a few seconds. Next, add the cashews and fry them on medium heat until they turn a lovely pink color. Finally, turn off the heat and set the pan aside.
Pour seasoning onto the curd rice.
Add pomegranate. Garnish curd rice with chopped coriander leaves.
Serve delicious pomegranate curd rice.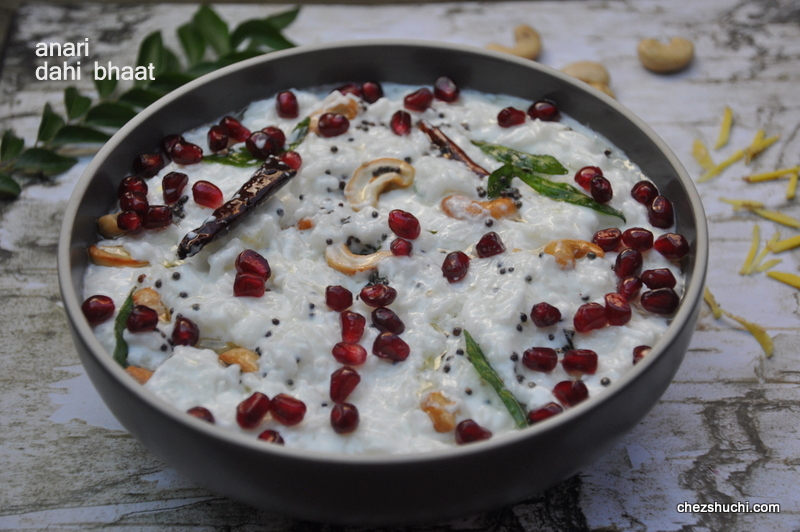 Some Tips/ Suggestions:
For curd rice slightly overcooked rice yield a more favorable taste. Personally, I prefer to use jasmine rice for this dish. Regardless of the rice variety you choose, cook it with additional water and allow it to cook for a little longer than usual. Once done, mash the rice while it's still hot.
To ensure optimal results, avoid adding curd to hot rice. It's best to wait until the rice has cooled down to room temperature before mixing in the curd.
Some Other Curd/Dahi Delicacies
---