Sevaiyon Ka Muzaffar | Traditional Vermicelli Dessert
हिन्दी में पढ़ें
Muzaffar is an Avadhi cuisine. Sevaiyon ka Muzaffar is made for the auspicious occasion of Eid. In this recipe very thin vermicelli is fried in pure ghee (along with nuts, and then cooked in milk and sugar syrup. The aroma of saffron, kewada (screw pine) water and cardamoms give this dessert a distinct flavor.
Festivals bring so many sweet memories. When we were living in Lucknow, our Muslim friends made sure to make a special vegetarian feast for us on Eid. The taste of their sevaiyon ka Muzaffar cannot be forgotten. I have tried to make this dish a few times. It is not as perfect as our friends made, still it always gets a rave review from our family and friends when I serve them this traditional Avadhi dish.
Try this Awadhi Muzaffar and please do share your feedback. Eid Mubarak, Shuchi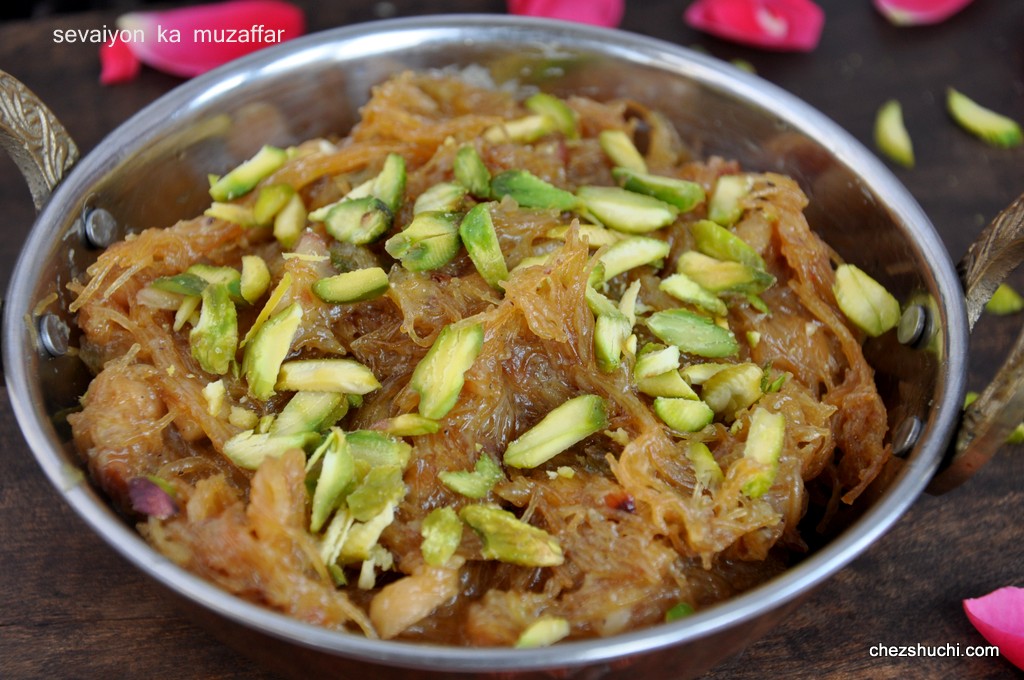 Ingredients (Serves 4)
Seviyan (Vermicelli) about 1¼ cups, broken in small pieces
Ghee 3 tbsp
Milk about ¾ cup
Saffron (Amazon link for Organic Saffron) threads 8-10

Sugar a little less than ½ cup
Mixed nuts (cashews, almonds, pistachio ½ cup, chopped
Cardamom powder ¼ tsp
Kewara (Screw Pine) water ½ tsp
Method of preparation
In a heavy bottom wok heat ghee. Add sewai and roast the sewai until golden brown in color. Add all the nuts and roast for a minute. Take out the roasted sewai and nuts and keep aside.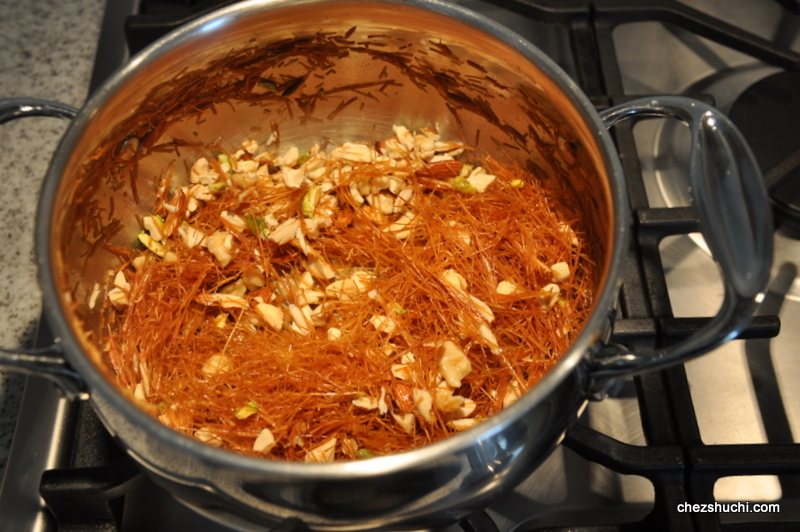 Soak saffron in 1 tbsp warm milk and keep aside.
Add milk in the wok. Add sugar and boil until sugar melts.
Add roasted sewai and nuts. Mix well. Stir for a couple of minutes. Reduce the heat. Cover the lid.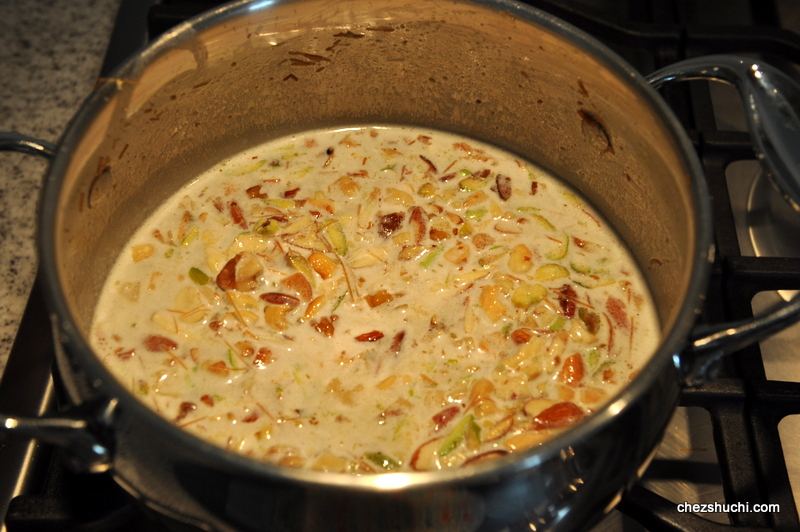 When sewai absorb the milk and are cooked, add saffron soaked in milk, cardamom powder, and screw pine water. Mix well. cook for a few more minutes.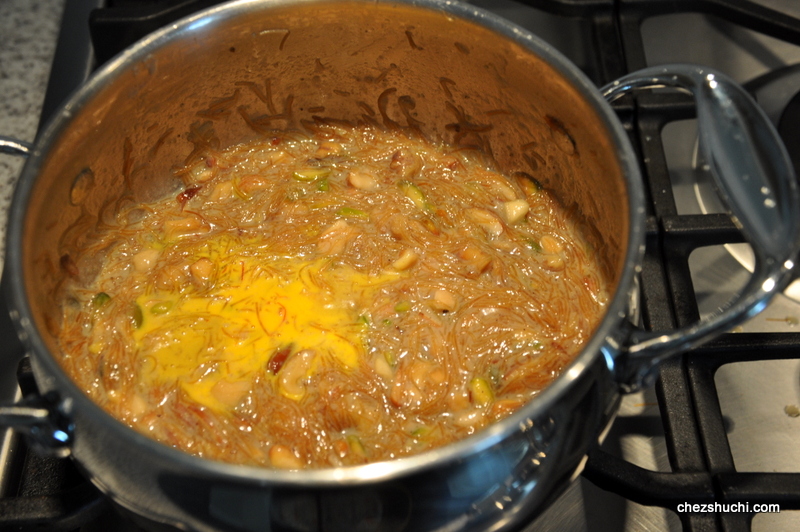 Traditional Awadhi muzaffar are ready to serve. Garnish with chopped nuts (optional).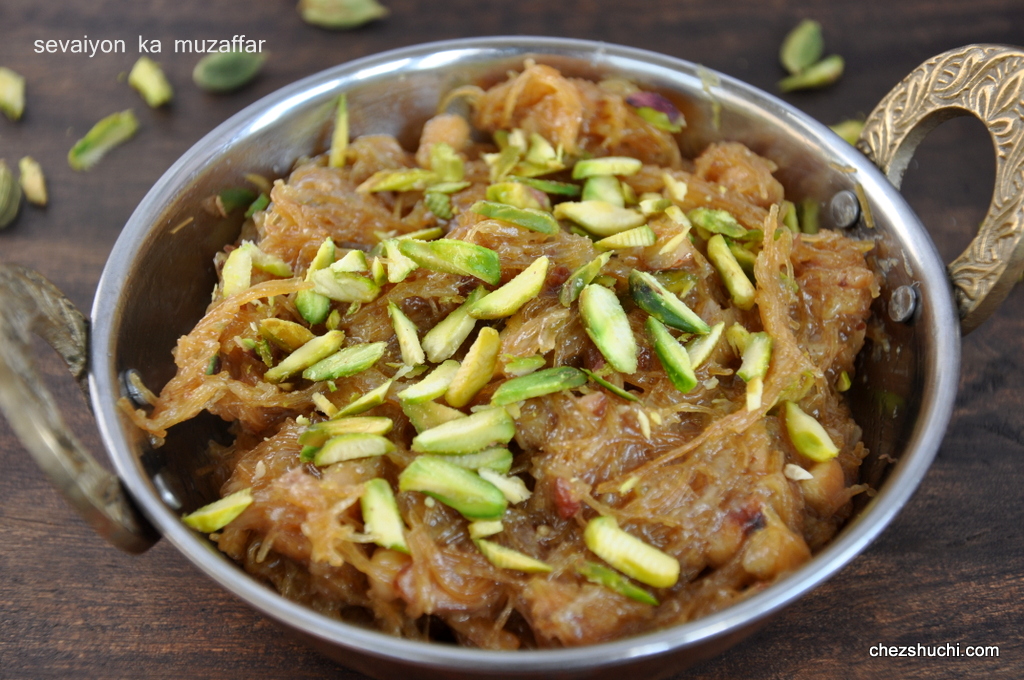 Some Tips/ Suggestions:
Please use wok or shallow pan to cook the muzaffar.
You can also add some khoya( thickened milk) to this delicious dessert.
---