Shakarpare
हिन्दी में पढ़ें
Shakarpare, also known as Shakkarpare, Shankapare, Shankarpali etc. is one of the most popular and traditional deep fried Indian sweet preparation. Shakarpare is made throughout India during festivals, especially for Diwali. Shakkar is a Hindi word, which means sugar and pare stands for stripes.
Shakarpare is an easy to make dessert for festivals and can be made in much ahead of time and store in an airtight container. Shakarpare is easy to serve and is loved by everyone. Shakarpare is made with white flour dough, deep fried in pure ghee and dipped in sugar syrup. Sounds delicious- Right!
In India, every family has its own recipe to follow a dish. There are many ways to make Shakarpare also. Here, I am following my family's traditional recipe for Shakarpare. I have used half all-purpose flour (maida/मैदा) and half wheat flour to make this yummy sweet. I have deep fried the shakarpare in pure ghee, but if you have any dietary restrictions, please feel free to use vegetable oil instead. I have used organic light brown sugar to make the sugar syrup. Please try this shakarpare recipe and do share your thoughts. Happy cooking, Shuchi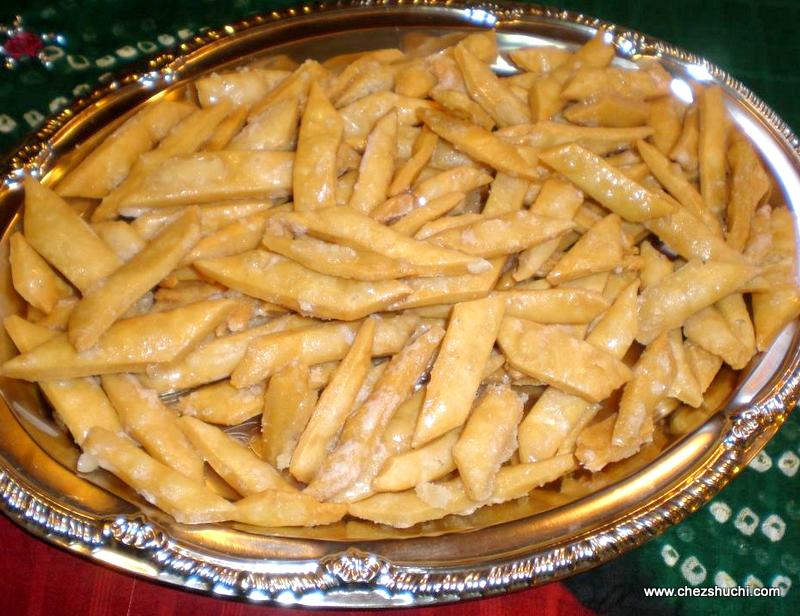 Preparation Time: 10 minutes
cooking time: 30 minutes
About 400 calories in half cup serving
Ingredients
Wheat flour 1 cup
Refined flour 1 cup
Ghee/ vegetable oil 5 tbsp for dough
Ghee/ vegetable oil for deep frying
Water about ½ cup to make dough
Ingredients For sugar syrup
Sugar 1 cup
Water ½ cup
Green cardamoms 1 (optional)
Method of preparation to make the pare:
In a big bowl, take wheat flour, all purpose flour (maida) and ghee.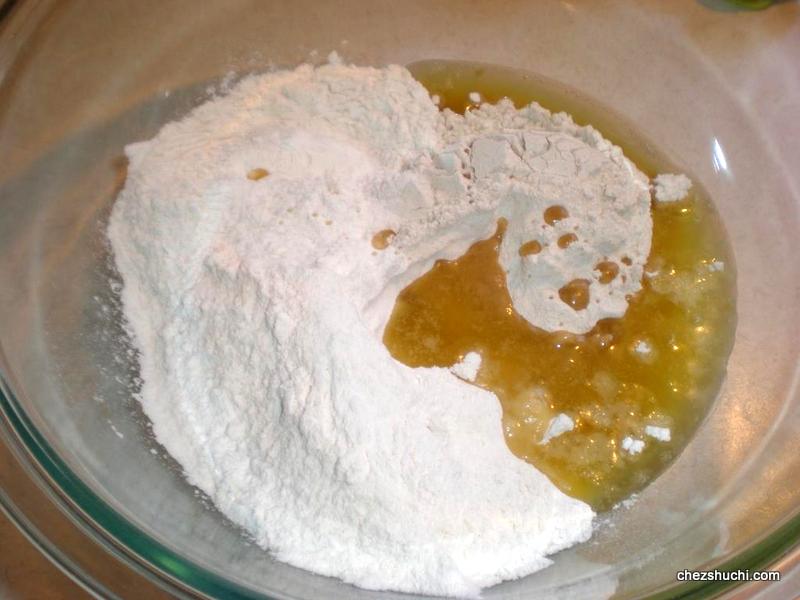 all purpose flour, and wheat flour with ghee
Mix the ghee in the flour very well. The flour will make ball that's the sign that the amount of ghee is fine.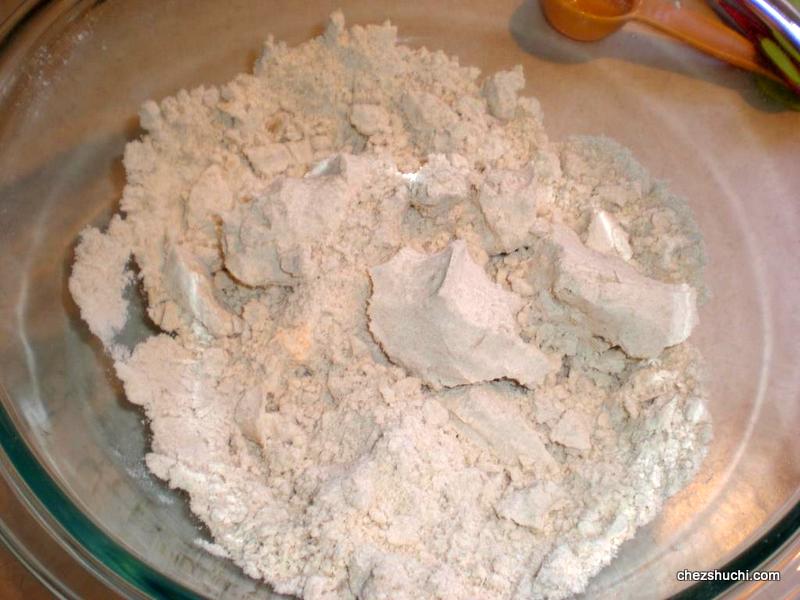 after mixing the flours with ghee
Add little water little by little and knead the medium stiff dough. Cover the dough with the damp cloth and set aside for about 15 minutes.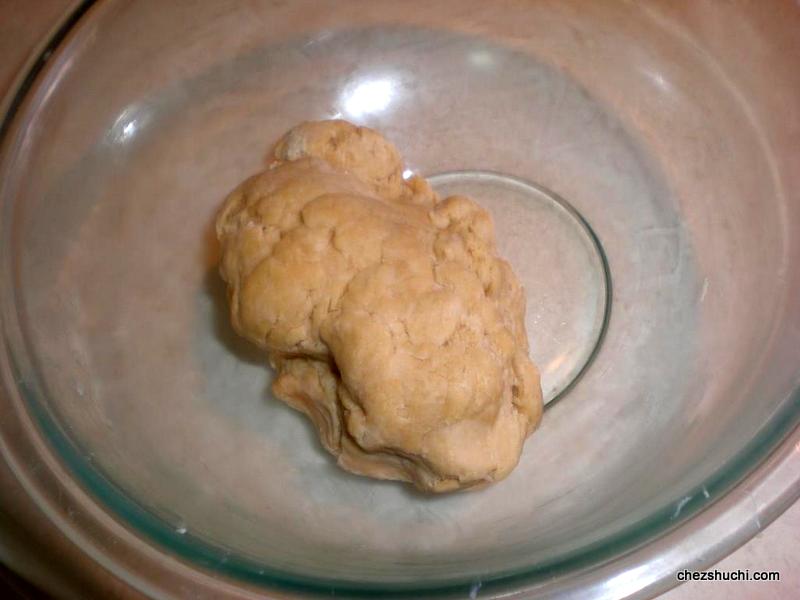 Divide the dough into 5 big rounds. Smooth the ball and press it between the palms.
Take a ball and roll it  into a semi thick round of about 6-7 inches.
Cut the rolled base in fine (less than 1/2 inch)vertical strips. Now cut it horizantaly. You can either make rectangular or diagonal pieces or any other shape you wish.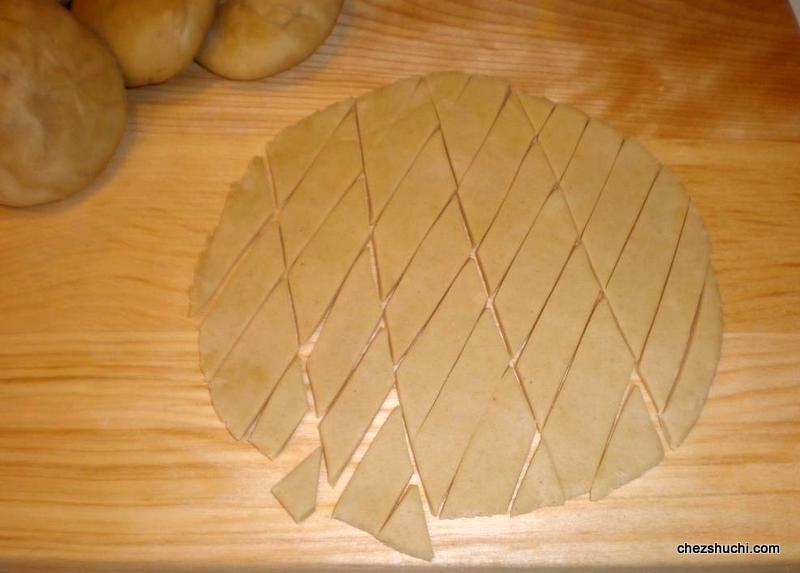 Heat ghee/ vegetable oil in a wok on medium heat. Deep fry shakrpara on medium to low heat until they are pink in colour . It takes about 8 minutes to fry each round of shakarpare.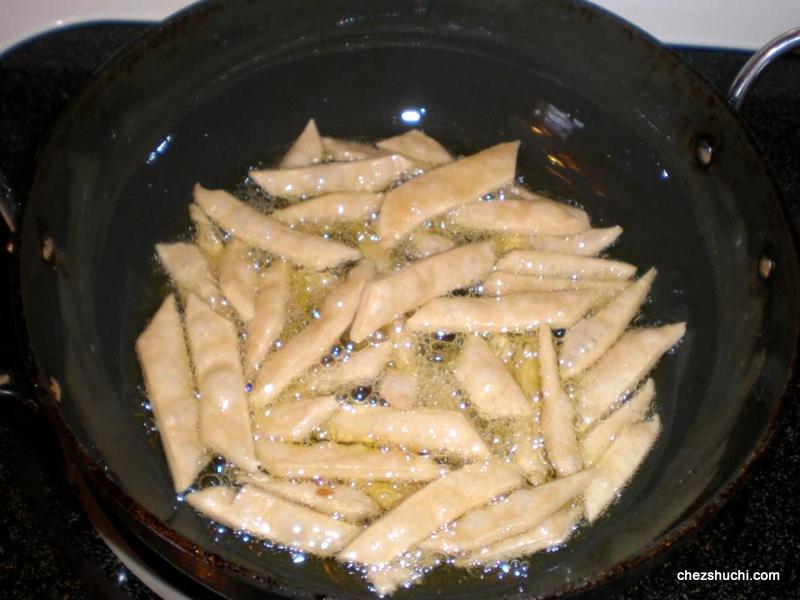 Take out the shakarpare and drain onto the kitchen paper.
Roll, cut and deep fry all the shakarpare as mentioned in step 6-8
Method of preparation to make the sugar syrup
In a sauce pan boil sugar and water. After the first boil reduce the heat and boil the sugar syrup till it gets thickened and makes two string syrup. Two string syrup means that you take a drop of syrup between your two fingers and then stretch the fingers - if the syrup that sticks between the two fingers is making two threads (or strings) then the thickness of syrup is appropriate. Takes about 7-8 mins.
Remove the outer skin of the cardamoms and grind them in the mortar.
If you want to add cardamom this is the time to add it in sugar syrup.
Sugar syrup is ready. Keep the sugar syrup aside.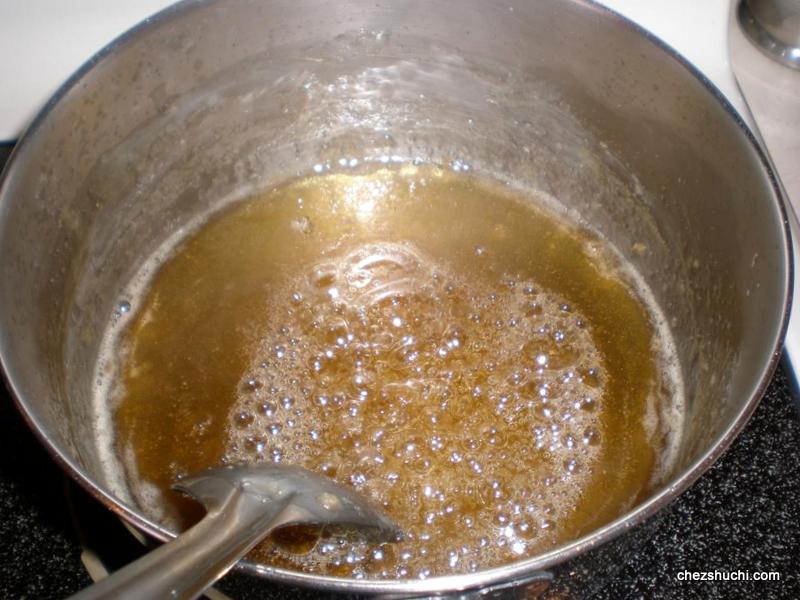 Sugar syrup
Adding Shakrpare in the sugar syrup
Put the fried pare in the sugar syrup. Coat the syrup well. Take out the shakarpare immediately with the help of a slotted ladle/spoon. Make sure that sugar syrup is warm while you are diping the shakarpare.
shakarpare dipped in the sugar syrup
Spread out the sakarpare in a big plate/ thali or in a tray . Let them cool down completely. Do not worry in case some of the shakar pare stick with each other, they can be separated out when they are cold.
Allow them to cool down.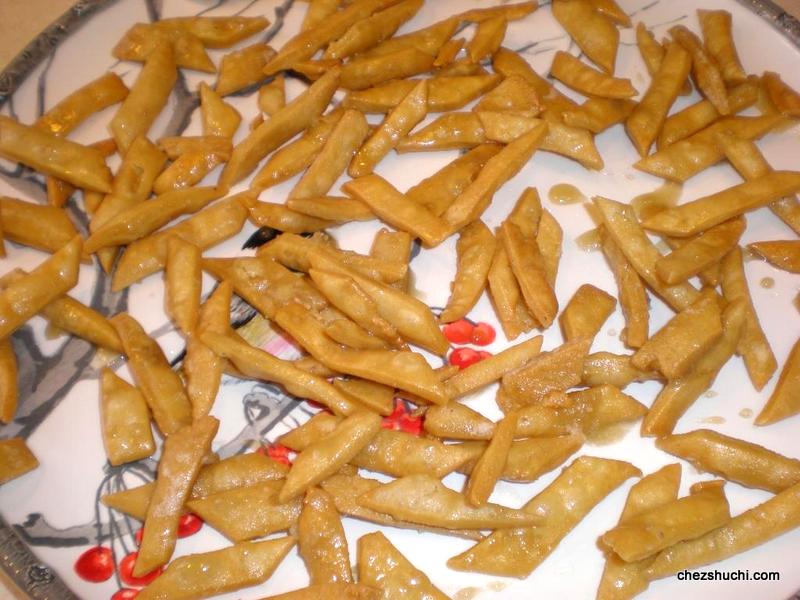 Shakarpare spreaded in a tray
Delicious crispy Shakarpare are ready. You can store shakarpare in a airtight container for a couple of weeks.
Shakarpare can be serveed anytime. Shakarpare is a perfect snack for festivals especially for Diwali, and Holi> This could be an easy to serve dessert. Kids just love it.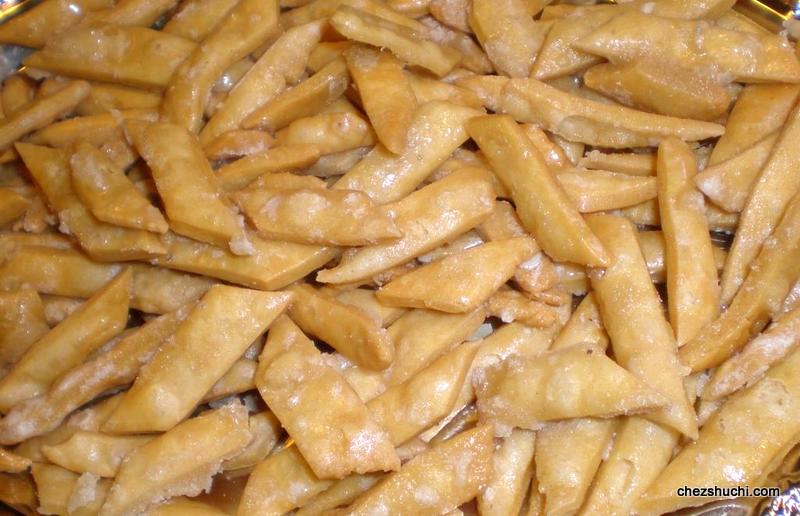 Some Tips and Suggestions:
I have used pure ghee for deep frying of shakarpare but you can also use oil if you want to.
Make sure to deep fry the sharpare on medium low heat so they get cooked well and are crispy.
Make sure that sugar syrup is thick so it coats well the shakarpare.
For deep frying, I avoid filling the wok with ghee/oil as repeated use of fried oil is unhealthy.
---