Patta Gobhi Gajar aur Matar ki Sabji
(Cabbage, carrots and peas vegetable preparation)
हिन्दी में पढ़ें
Patta gobhi is the Hindi name for cabbage. Cabbage is a good source of Vitamin K, vitamin C and dietary fibers. It is a very healthy vegetable and it tastes good even when it is eaten raw. Cabbage is used in many ways to make salads, kofte, soups, breads, etc.
Cabbage belongs to the same family as cauliflower, broccoli, mustard etc. They are all winter vegetables. In winters, along with cabbage, one can also find carrots and peas in vegetable markets. Here we are making a vegan preparation with cabbage, carrots, and green peas.
Carrots and green peas are also a good source of vitamins and minerals.
This is a very easy to cook and low-fat vegetable preparation. This dish is vegan, Vaishnava, and also healthy for diabetics as this does not have complex carbohydrates. Try this dish and please do share your valuable comments. Happy cooking , Shuchi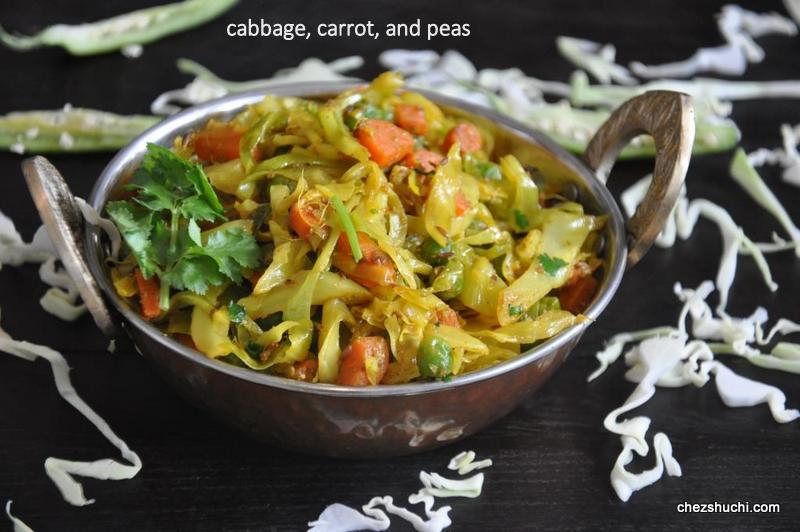 Preparation time : 5 minutes
Cooking time:15 minutes
about 80 calories in each serving
Ingredients(serves 4)
4 cups /about 400 gms (1 pound) Cabbage (patta gobhi) shredded
2-3 medium carrots
¾ cup Green peas
1½ inch piece Ginger
2 Green chilies
1 tsp Cumin seeds
2-3 pinches Asafoetida
½ tsp Turmeric powder
½ tsp Red chili powder
2 tsp Coriander powder
½ tsp Garam masala
1¼ tsp/ to taste Salt
¾ tsp Dry mango powder (Amchoor powder)
2 tbsp Chopped coriander leaves
2 tbsp vegetable (peanut/sesame) oil
Method of preparation:
Wash the cabbage and finely shred the cabbage into about 2 inches long pieces. (Start cutting the cabbage from a side. Then change the side to get even pieces).
Peel, wash and cut the carrots into quarter inch pieces.
Wash the green peas and keep aside.
Peel, wash, and finely grate the ginger. Remove the stem, wash, and finely chop the green chilies.
Heat oil in the wok on medium heat. Add cumin seeds. When seeds change the color add asafoetida. Reduce the heat and add grated ginger and chopped chilies and fry for a few seconds.
Now add turmeric powder and shredded cabbage. Mix well and fry for a couple of minute. Add carrot pieces. Mix well and fry for a minute. Add green peas. Mix well and fry for another minute.
Add salt, red chili powder, and coriander powder and mix well. Cover the lid and cook the vegetables on low heat until cabbage and carrots get tender. (Takes about 5-7 minutes)
Add dry mango powder (amchoor powder), and garam masala. Fry the vegetables for another minute.
Add chopped coriander leaves. Mix well, and turn off the heat.
Cabbage, carrots and peas prepartion is reday to serve. Serve this delicious vegetable with dal chawal (lentils and rice) or with paratha. It always taste very good.
Some Tips/ Suggestions:
You can also grow cabbge at home. Cabbage can be grown in pots or in the ground.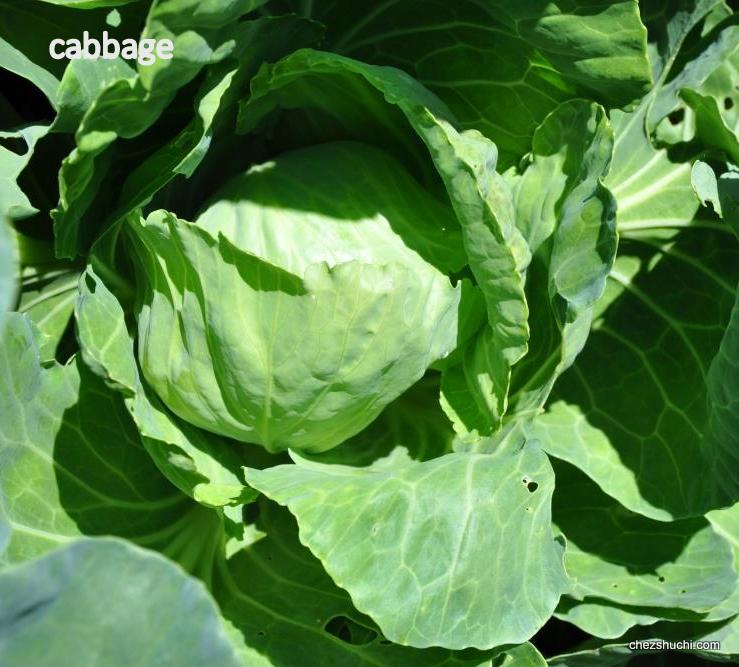 You can also add some fenugreek seeds which helps in the digestion of cabbage as it is high in dietary fibers.
---