Moringa leaves with Coconut
हिन्दी में पढ़ें
Moringa is a very popular plant belong to family Moringaceae. The same plant produces drumsticks, the pods which are also commonly known as Sahjan in Hindi. Moringa is a tropical plant that grows extensively in India, has been mentioned in ancient texts, and has medicinal values. Moringa plants, leaves, stems, pods, seeds and flower are used in cooking as well as in Ayurvedic medicines.
Moringa leaves are small in size and resemble Methi leaves. The preparations with Moringa are popular in South India and I have heard about it from some South Indian friends.
My plant encyclopedia says that Moringa is a very healthy green. Moringa is rich in various vitamins, protein, Iron and many other minerals. Moringa leaves have a strong smell so I decided to add some nuts and coconut to make it milder. I have used cashew nuts to have an additional nutty flavor; one can also use peanuts instead. The resulting preparation is outstanding!
Hope you like the recipe. Please do share your valuable thoughts. Happy cooking, Shuchi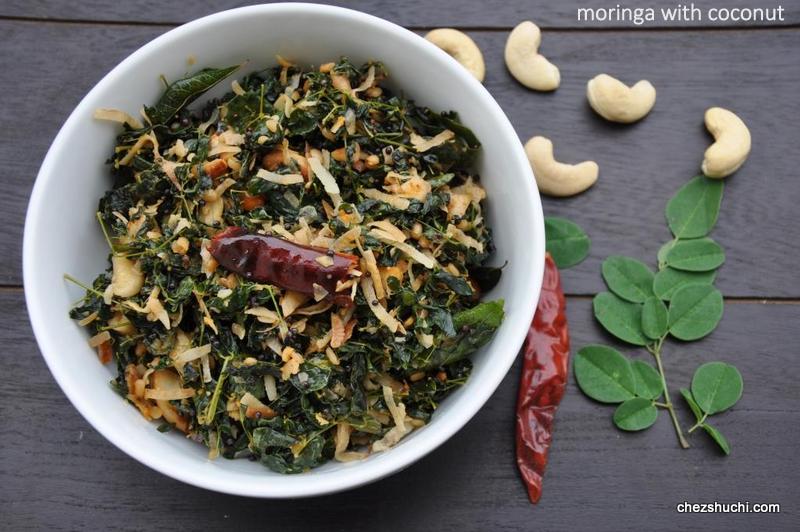 Preparation Time: 5 minutes
cooking time: 5 minutes
Approximately 80 calories in each serving
Ingredients: Serves 4
Moringa leaves about 3-4 cups
Ghee  2 tbsp
Curry leaves   5-6
Whole red chili 1
Cashew nuts broken, 1 tbsp Amazon link for organic cashews
Urad dal 1 tsp
Mustard seeds 1 tsp
Coconut shredded 2 tbsp
Salt  ½ tsp/ to taste
Black pepper/ red chili powder ¼ tsp
Amchoor powder ¼ tsp
Method of preparation
Moringa leaves have thick sprigs and look like the pic below.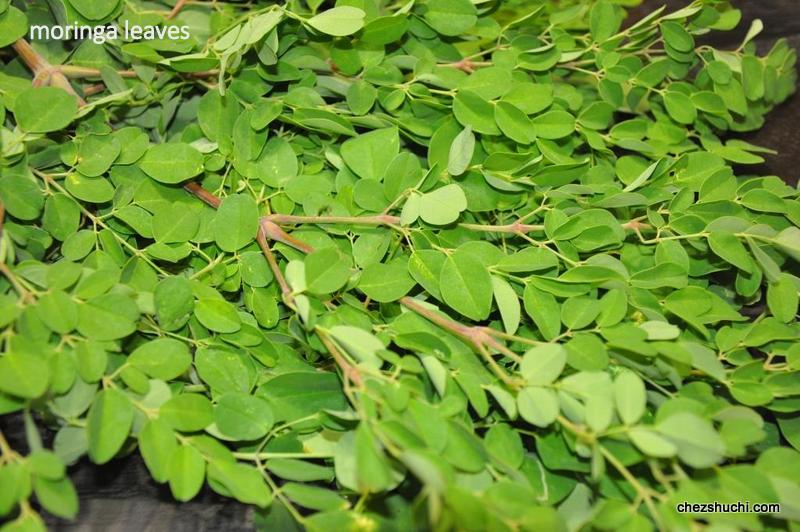 Moringa leaves
Remove the thick sprigs of moring leaves. Wash the leaves thoroughly and leave them on the stainer to remove extra water.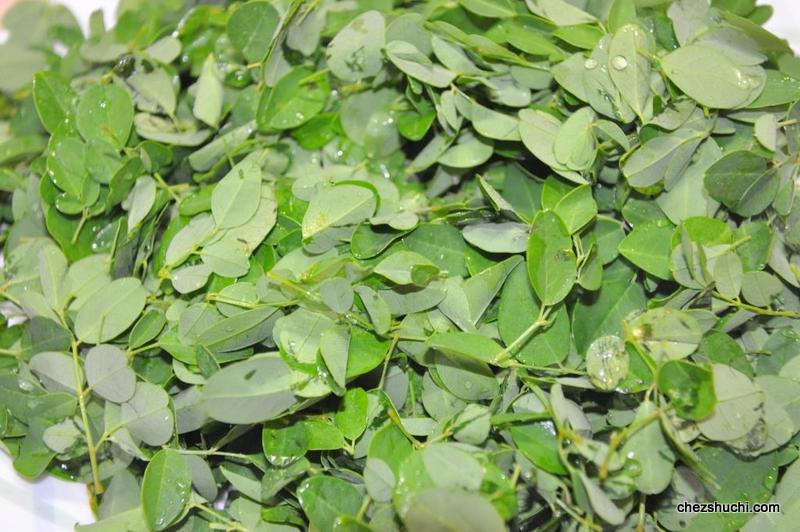 Washed moringa leaves
In a wok heat ghee, add mustard seeds. When seeds stop crackling, add curry leaves and red chili. Fry for a few seconds. Add urad dal and broken cashews. Fry for a few seconds or until it slightly changes the color.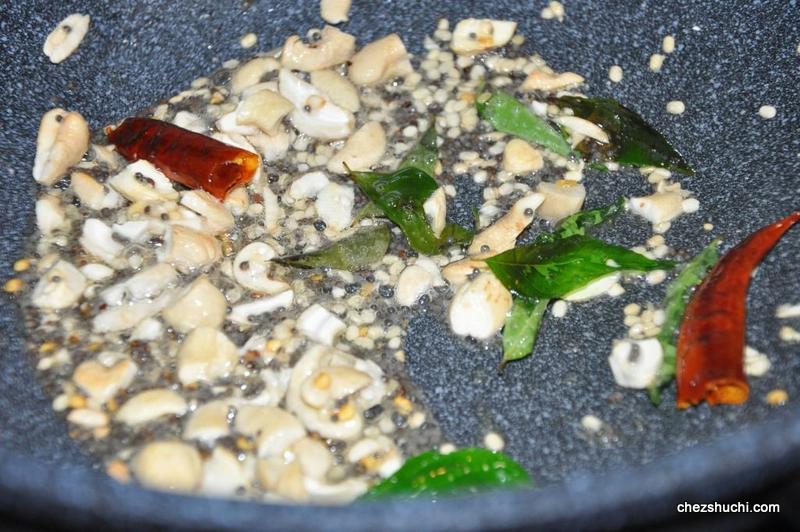 Seasoning for moringa
Add washed moringa leaves. Mix well and fry for a couple of minutes. Add salt and mix well again.
Now add coconut and mix well. Cover the lid and cook for a couple of minutes.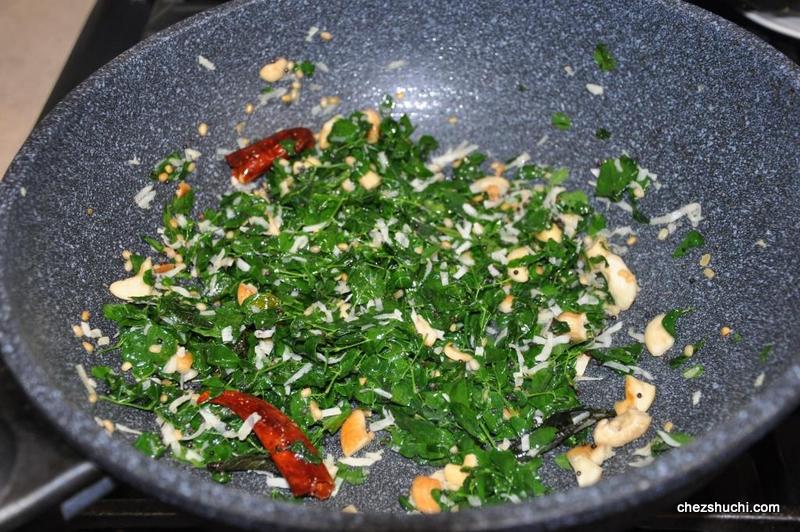 Frying with Moringa Leaves
Add some black pepper and amchoor powder. Mix well.
Moringa leaves preparation is ready to serve. Serve with roti.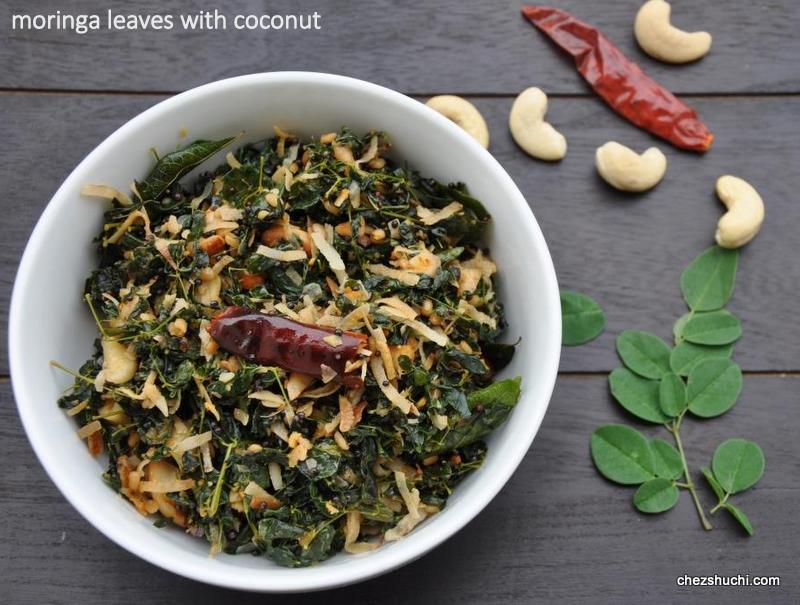 Some Tips/Suggestions
For a change you can also add some sambhar masala in this vegetable preparation.
Instead of amchoor you can also use tamarind pulp.
Some Other Dry Vegetables Recipes
---