Samosa Chaat
हिन्दी में पढ़ें
Samosas are one of the most popular Indian snacks known all over the world. These are triangular shaped patties stuffed with spicy potatoes. The popularity of samosa has crossed the borders. During my stay in France I even saw beef samosas, spinach samosas, and chocolate samosas etc.
Samosas can be served with chutney as a starter or it can be served as samosa chaat. For samosa chaat, crushed samosa is placed on top of a bed of cooked chickpeas and garnished with smooth yogurt, sweet-n-sour tamarind chutney, and green chutney. Now this yummy chaat is garnished with crispies and chopped coriander leaves.
It takes time and some skills to make a samosa, but with some patience, one can do it. I have linked my samosa recipe as well as links for other ingredients to make your search easier. Try out this delicious North Indian chaat and please do not forget to share your valuable comments. Happy cooking, Shuchi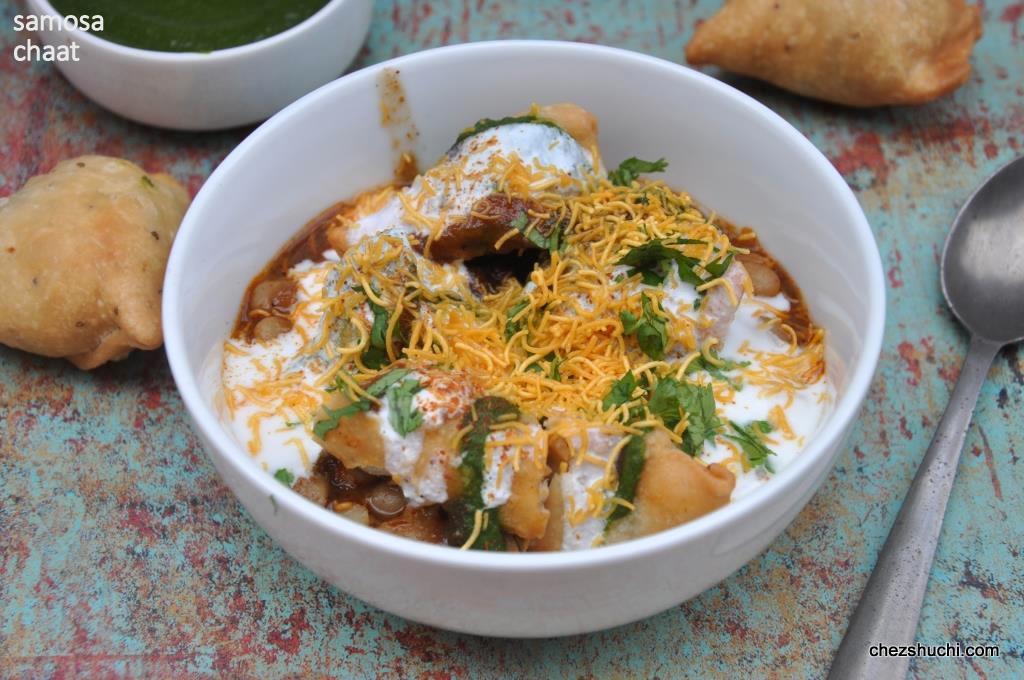 Ingredients For 4 plates Samosa Chaat
Yogurt , whisked 1 cup
Red chili powder ½ tsp
Salt ¼ tsp
Coriander leaves, finely chopped 2 tbsp
Crispies (e.g., Bhujiya/sev/chips) to garnish, to taste
Serving Suggestions for Samosa Chaat:
In a serving dish place 1 ladle cooked chickpeas (Chole)
Crush 2 samosas and place it on top of chole. Pour around 2-3 tbsp yogurt and 1 tbsp meethi chutney, and a little bit of cilantro chutney on top of crushed samosa.
Sprinkle a little bit of salt and red chili powder.
Sprinkle some cripsies.
Garnish with chopped coriander leaves.
Delicious mouth watering samosa chaat is ready to serve.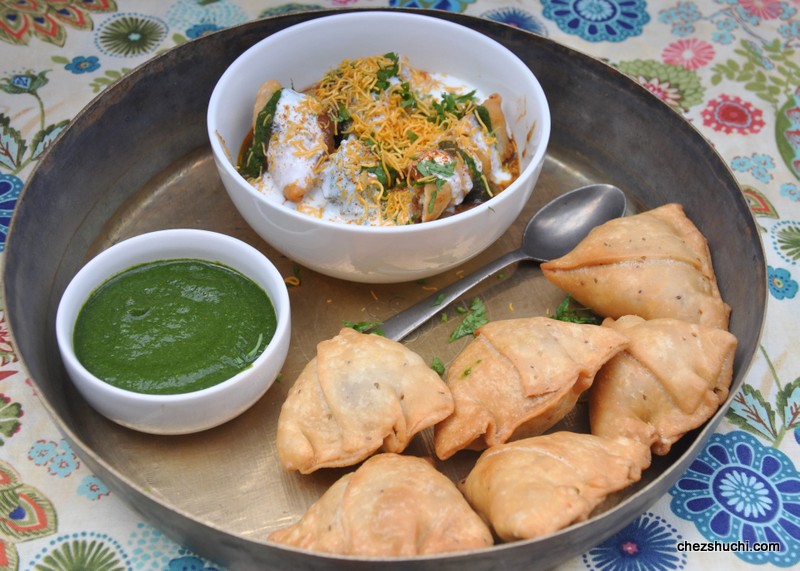 ---