Patra/ Pataude
हिन्दी में पढ़ें
Patra, also known as pataude (पतौड़े) in some regions of India, is a very popular steam cooked snack. This dish is made with Colocasia leaves (in Hindi the leaves are known as arbi ke patte). Patra is a low-calorie delicacy - it is steam cooked and then sautéed. Patras are usually served as appetizers. I am really thankful to my mother in law who shared this recipe and taught me how to make it and made it for us when we were visiting India.
This year I planted some arbi tubers and got fresh supply of arbi leaves. So, I made patra a few times. Here is an easy to follow recipe for patra. Please try this recipe and do share your valuable comments. Happy cooking, Shuchi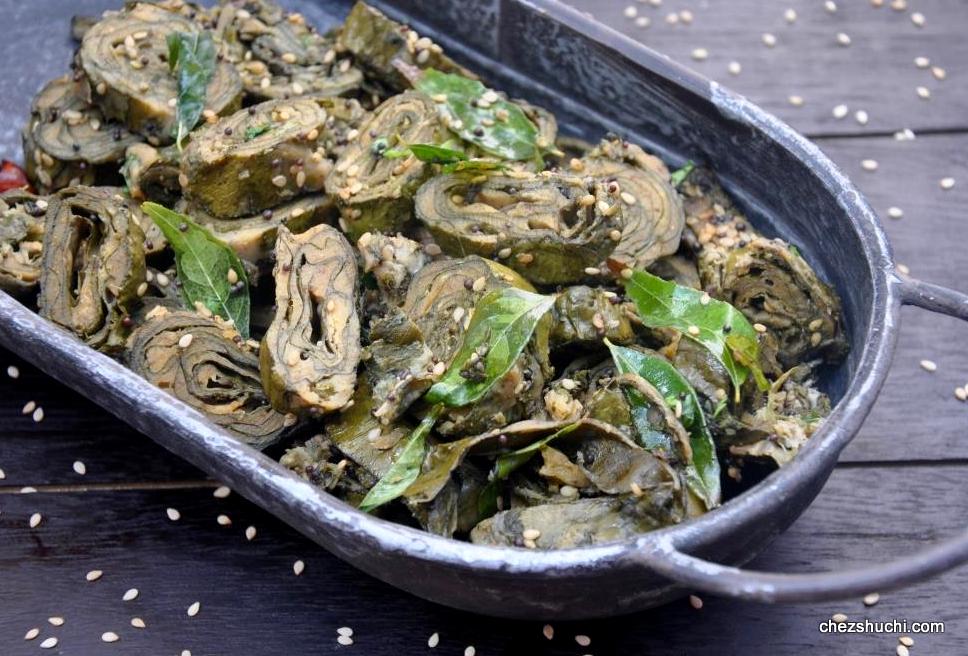 Ingredients (serves 4-6)
Colocasia (arbi) leaves 10-12
Besan 1 cup
Asafoetida two pinches
Salt 1 tsp
Red chili powder ½ tsp
Chaat masala   1 tsp
Ginger-green chili paste 2-3 tsp
Garam masala  ½ tsp
Water to make the batter

Ingredients For seasoning/ tadka :
Oil 2 tbsp
Mustard seeds 1 tsp
White sesame 2 tsp
Curry leaves 8-10
Grated coconut 2 tsp
lemon juice, to taste
Method of preparation
Below is the picture of Colocasia (Arbi/ ghuiyan) leaves. Remove the stem and wash the colocasia leaves. Pat dry the leaves on the kitchen towel/ kitchen paper.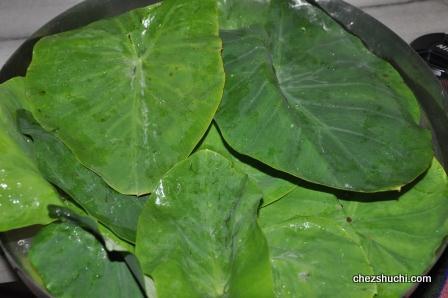 In a bowl take gram flour, ginger-green chili paste, salt, red chili powder, asafoetida, garam masala, and chaat masala. Mix well. Add water little by little at a time to get the perfect batter.
Now on a plate put a leaf with the reverse side up. Spread a layer of gram flour batter on top of the leaf as shown in the picture.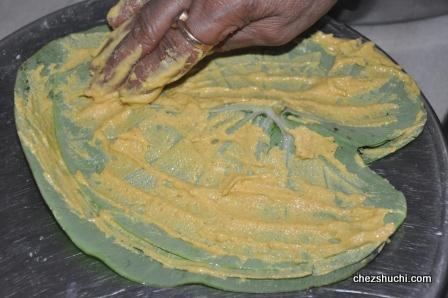 Put another leaf on top of the layered leaf and put another layer of gram flour batter. Repeat. Now we have three layers of leaves with batter in between.
Now roll the sides of the batterd leaves as shown in the pic below and start folding the leaves set.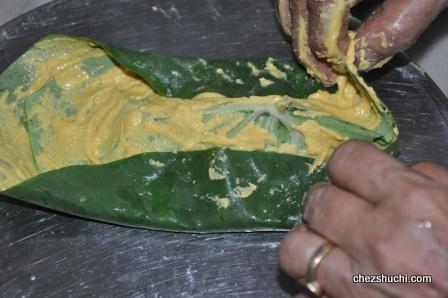 Half folded set of leaves.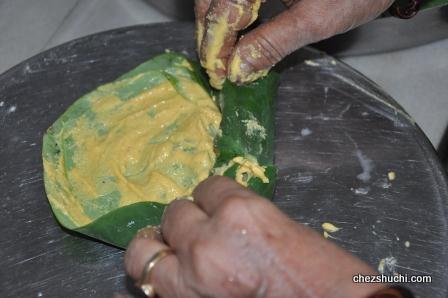 Completely folded leaves set.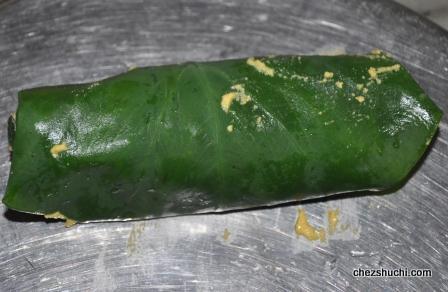 Repeat the process with the other leaves as well. If leaves are very thin you can aso make a set of 4 leaves otherwise make a set of three leaves.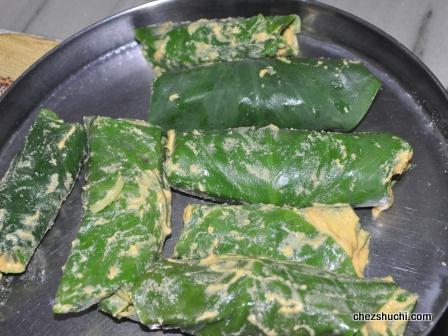 Heat one and a half cup water in a big saucepan or steamer. Set a tray on top. Now set all the rolled leaves on the tray and cover the lid. Cook on medium heat for about 12-14 minutes.
Turn off the heat. take the steamed patra leaves out and keep aside.
When the patras have cooled down cut them into about ¼-½ inch thick pieces.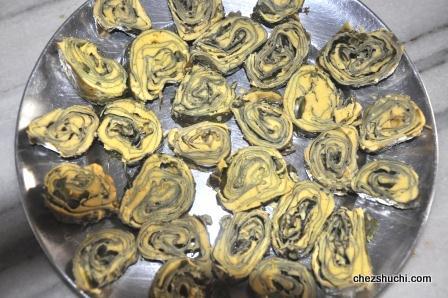 Heat oil in a wok. Add mustard seeds and sesame. When seeds stop cracking, add curry leaves. Fry for a few seconds. Now add the cut pieces of patra and fry on medium heat till golden brown. Keep turning the sides gently to fry the patra. Takes about 10 minutes. Turn off the heat. Garnish with grated coconut and sprinkle some lemon juice as per taste.
Delicious low fat patra is ready to serve. Patras taste great on their own, but can also be served with green chutney.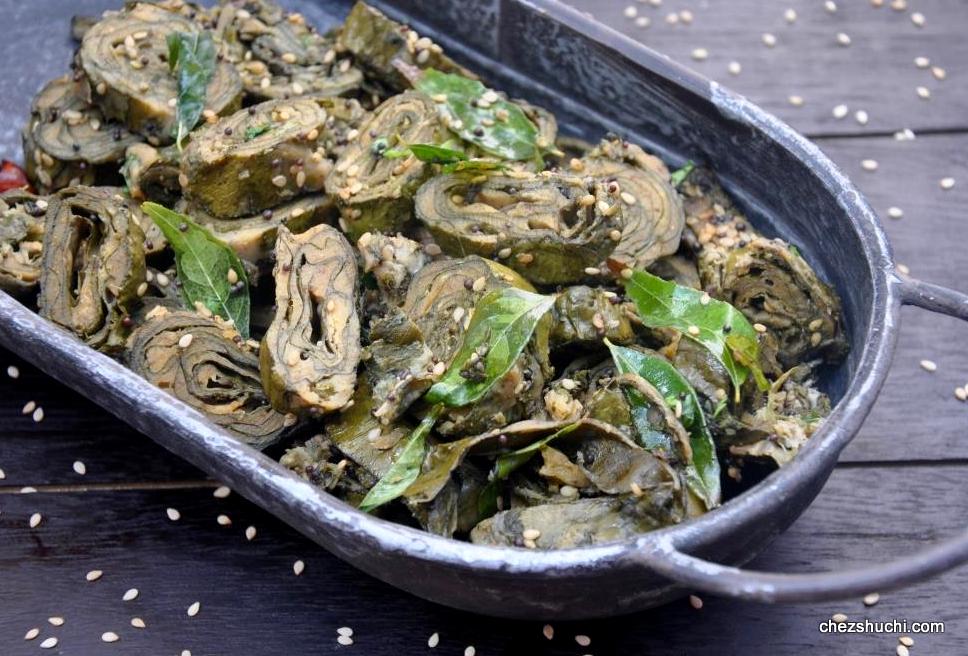 Some Tips/ Suggestions :
You can also add some sugar in the gram flour batter as per taste.
You can steam cook patra in advance and keep in the fridge. Fry as required.
Some other Snacks and Starters
---