Mangaudi Papad Ki Sabji
Papad and lentil balls curry
हिन्दी में पढ़ें
Mangaudi papad ki sabji is a very popular Rajasthani preparation. Mangaudis are small sun dried lentil dumplings made with moong lentils. Mangaudi is a very common element in Marwadi Cuisine - many dishes can be made with mangaudi, such as Mangaudi ki tehri (a rice dish), mangaudi ki kadhi etc. You can either make mangaudies at home or buy them from grocery stores.
Today I am sharing a very popular Rajashthani delicacy, mangaudi papad ki subji. I have learned this recipe from a very dear friend. Once she invited us for a Rajasthani special lunch party. Everything she cooked was a traditional Rajasthani preparation: mangaudi papad ki sabji, gatta kadhi, gobhi aloo, roti rice etc. She had also made a special dessert, Malpua . We all loved the food. Everything she had cooked was Vaishnav - means without onion and garlic. I asked her the recipe of mangadi papad ki sabji and tried at home. It is a very simple dish and takes just 10 minutes to make. I have used plain papad in this preparation but you can use masala papad also. One can serve this mangaudi papad preparation with Plain Paratha or Roti, it also goes very well with plain rice. Try this Rajasthani delicacy and please do share your valuable comments. Happy cooking, Shuchi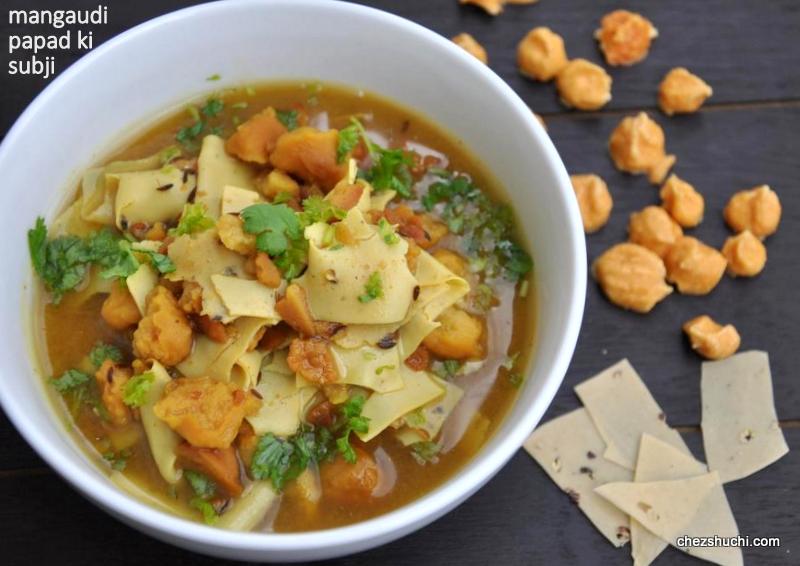 Ingredients
(serves 4)
Mangaudi ½ cup
Papad 2 (Amazon Link for Papad)
Grated Ginger 1 tsp
Green chili    1
Cumin seeds  1 tsp
Asafoetida  2 pinches
Turmeric powder  ¼ tsp
Coriander powder 1½ tsp
Garam masala½ tsp
Red chili powder    ½ tsp
Salt   1 tsp/ to taste
Ghee  1 tbsp
Water    2 cups 
Chopped coriander leaves 2-3 tbsp     
Method of preparation
Wash, remove the stem and finely chop the green chilies. Wash, remove skin and finely chop or grate the ginger.
In a pressure cooker or wok heat about 1 tbsp ghee. Add cumin seeds. When seeds crackle, add asfoetida and grated ginger; fry for a few seconds.
Add mangaudis and fry them on medium to low heat until golden brown. It takes about 2-3 minutes to fry mangaudis.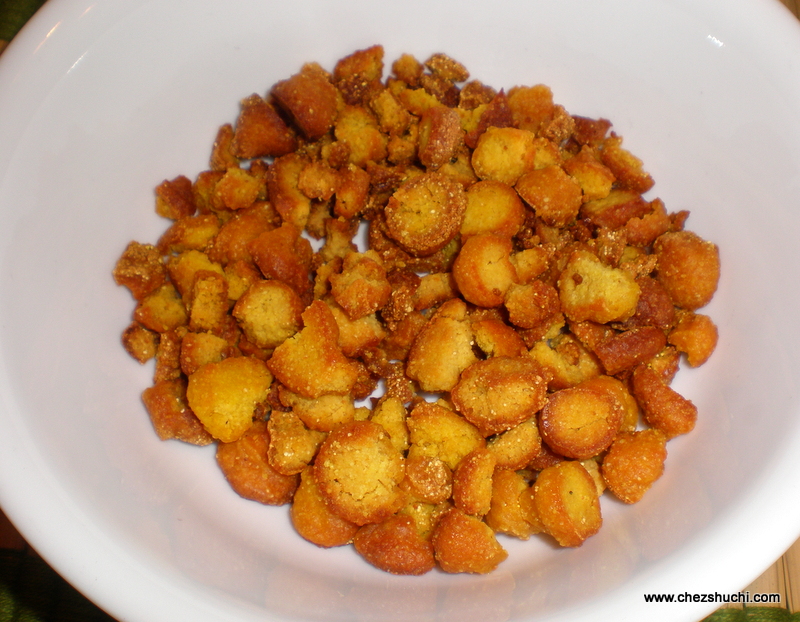 Add chopped green chilies. Mix well and add all other spices except garam masala.
Add about 2 cups of water. Take a boil. Close the lid and take 1 whistle. If you are cooking in sauce pan/wok cover the lid and cook until mangaudis are tender.
Break papad into 1 or 2 inch pieces. Add them in the cooked mangaudi. Cook for a acouple of minutes. Add garam masala. Mix well. Take a boil and turn off the heat.
Garnish with chopped coriander leaves.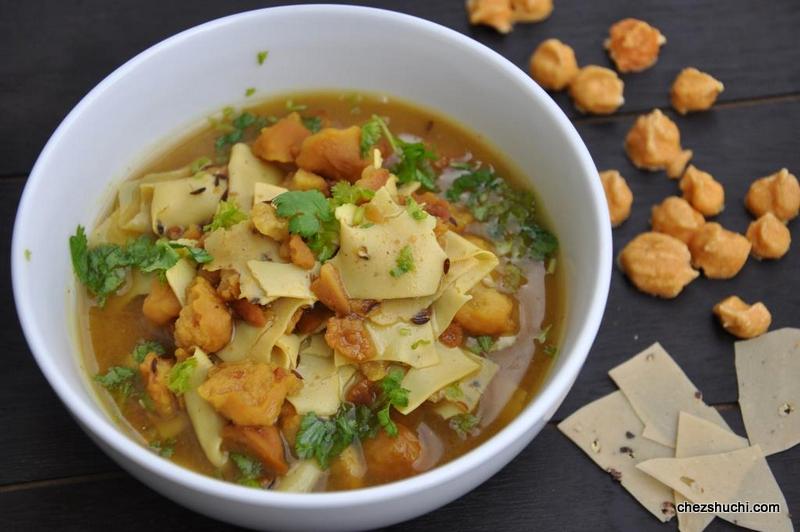 Some Tips and Suggestions
For this dish don't roast papad. They get cooked with the curry.
Since papad also has salt in it so do not add too much salt in the beginning. When curry is done, taste and adjust the salt.
This is an aromatic mild spicy preparation. You can increase or decrease the amount of green chilies and spices as per taste.
You can use whole mangaudi but even small pieces of mangaudi would work.
I like to make mangaudi delicacies in ghee but feel free to replace it with oil.
Some other Mangaudi Delicacies
---