Mangaudi Aloo Ki Sabji
हिन्दी में पढ़ें
Mangaudis are small sun dried dumplings made with moong dal paste. Mangaudi is a very common element in Marwadi Cuisine. Many dishes can be made with mangaudi, such as Mangaudi ki tahri ( A rice dish), mangaudi ki kadhi etc. You can either make mangaudies at home or buy them from grocery stores. Today we are making mangaudi aloo ki subji (mangaudi and potato curry); this is a very popular gravy preparation. You can serve mangaudi aloo with Plain Paratha or Roti, it also goes very well with plain rice. Try this sabji and please do share your valuable comments. Happy cooking, Shuchi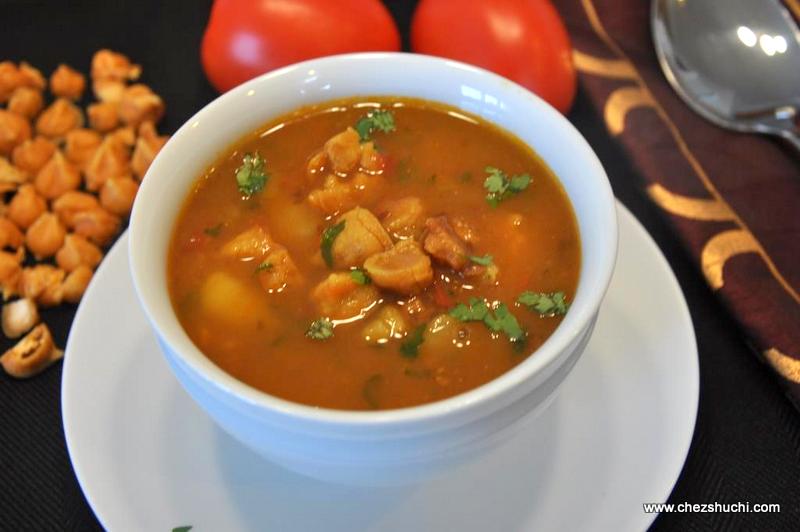 Ingredients
(serves 4)
Mangaudi ½ cup
Potatoes 3 medium
Tomatoes 2 medium
Grated Ginger 1 tsp
Green chili    1
Cumin seeds  1 tsp
Asafoetida  2 pinches
Turmeric powder  ¼ tsp
Coriander powder 1½ tsp
Garam masala½ tsp
Red chili powder    ½ tsp
Salt   1½ tsp
Oil/Ghee  2 tbsp
Water    1½ cups 
Chopped coriander leaves 2-3 tbsp     
Method of preparation
Wash and finely chop the tomatoes. Wash, remove the stem and finely chop the green chilies. Wash, remove skin and finely chop or grate the ginger.
Peel, wash and cut potatoes in an inch pieces.
In pressure cooker or in wok heat about 2 tsp ghee. Fry mangaudis on medium to low heat until golden brown. It takes about 2 minutes to fry mangaudis. Transfer the mangaudis in a bowl.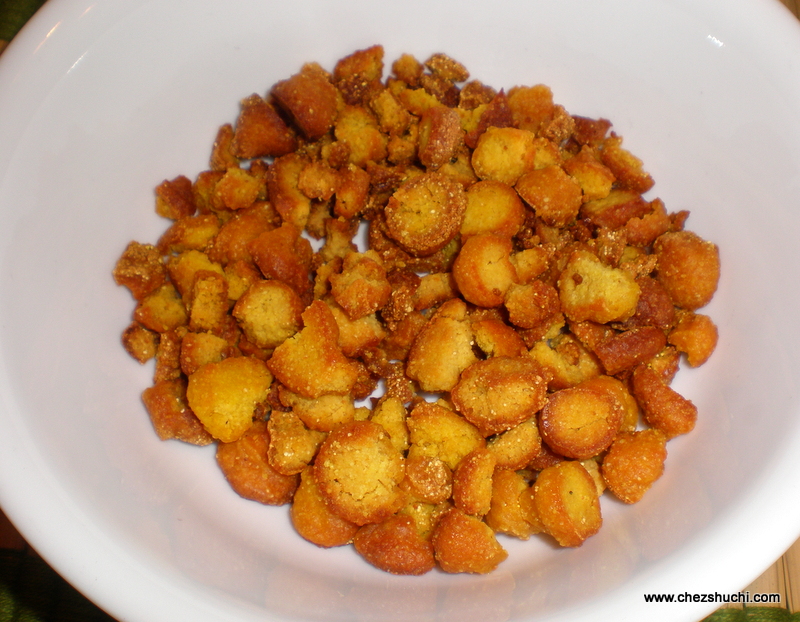 In the pressure cooker heat 1 tbsp ghee. Add cumin seeds when seeds crackle add asfoetida and grated ginger, fry for a few seconds. Now add chopped tomatoes, and chopped green chilies. Mix well and add all other spices except garam masala. Fry  till tomatoes leave the sides of the pan.
Add potato pieces. Mix well. Add fried mangaudi and garam masala. Mix well. Add 1 1/2 cup of water. Take a boil. Close the lid and take 1 whistle. If you are cooking in sauce pan cover the lid and cook until mangaudis and potatoes are tender.
If the curry is too thick, add a little more water and cook again. Turn off the heat.
Garnish with chopped coriander leaves.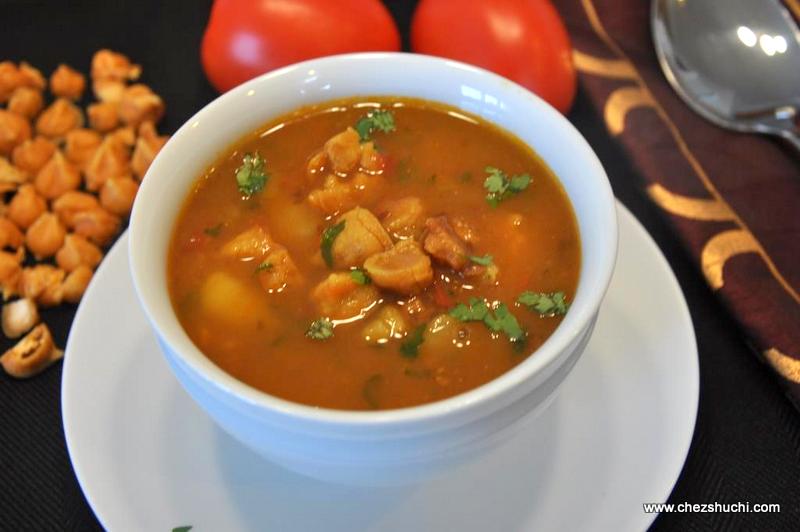 Some Tips and Suggestions
This is an aromatic mild spicy preparation. You can increase or decrease the amount of green chilies as per taste.
You can use whole mangaudi or can break it after frying it.
I like to make mangaudi delicacies in ghee but feel free to replace it with oil.
Some other Mangaudi Delicacies
---