Mangaudi Ki Tehri
हिन्दी में पढ़ें
Tehri is a rice preparation with seasonal vegetables. This traditional, vaishnav Marwadi delicacy is very popular in North India. There are various ways to make Tehri --Today I am sharing with you my childhood favorite mangaudi ki Tehri's recipe. This is a delicious, healthy and complete dish.
Tehri with soya nuggets
is also a popular variation. Please try this tehri and do not forget to share your valuable comments.....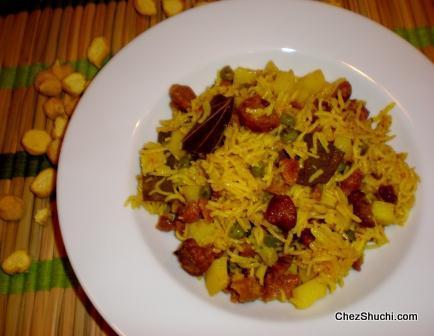 Ingredients

(serves 4)
Basmati rice (Amazon Link for Basmati Rice) 1 cups
Mangaudi ½  cup

Potato  1 medium
Green peas ¾ cup

Bay leaves 2

Salt 1¼ tsp/ to taste 
Red chili powder ½ tsp

Turmeric powder   ½ tsp
Garam masala          ½ tsp

Chopped coriander leaves  2 tbsp

Ghee /oil  3  tbsp
To serve:

Method of preparation
Clean, wash, and soak rice in two cups of water for 15 minutes.
In pressure cooker heat about 1 tbsp ghee. Fry mangaudis on medium heat until golden brown. It takes about 2 minutes to fry mangaudis. Transfer the mangaudis in a bowl.
Add half cup of water, and a little bit of salt in the fried mangaudi and put it in the microwave for 2-3 minutes. You can also boil them in a pan in case you do not have microwave.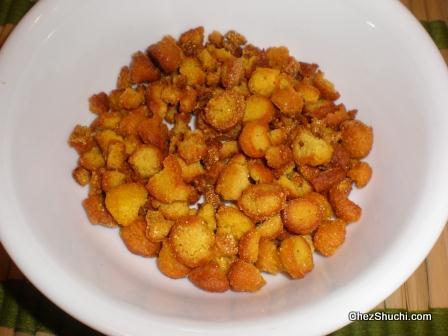 fried mangaudi
Peel off, wash and chop the potato into small pieces.
Strain the soaked rice. Keep the water aside for cooking.
Heat ghee in the pressure cooker, add bay leaves, and fry for a few seconds. Add potato pieces and green peas, fry for a minute. Now add all the spices and salt, mix well. Add rice and soaked mangaudi, mix well. Fry for a minute.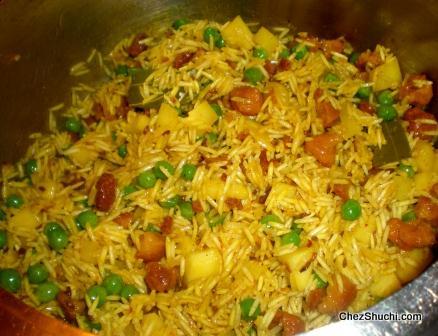 After adding rice in the fried masala
Now add water. (usually the ratio of rice and water is 1:2). After the first boil close the lid, and take a whistle.
When the pressure is released, open the lid. Garnish tehri with with coriander leaves.

Delicious mangaudi ki tehri is ready. Top this with pure ghee and serve with mint chutney.
Some Tips/Suggestions:
You can use whole mangaudis or they can also be broken in pieces. Fry mangaudis on medium to low heat. Sometimes readymade mangaudis are very hard - in that case I would like to suggest you to pressure cook the mangaudi separately before adding it to rice.
---