Methi Chole
हिन्दी में पढ़ें
Methi Chole is a very delicious preparation made in a tangy curry of onion, tomato, methi and aromatic spices. Chole are also known as Chickpeas or Garbanzo beans. In India they are also known as kabuli chane. Methi also known as fenugreek, is a medicinal herb. The combination of chole and methi makes a delicious delicacy.
This is my friend Geet's recipe and I am thankful to her for this awesome recipe. She made it once for a potluck dinner and everyone just loved it. I liked the concept of adding methi greens in chole, so I decided to share this recipe with my readers. Methi chole goes very well with roti, paratha, poori or rice, but they go best with the deep-fried Indian bread known as Bhatrura (or Bhature). Chole Bhature are the most popular Indian combo not only in India, but all over the world. Please do try this recipe and as always do not forget to share your comments. Happy cooking, Shuchi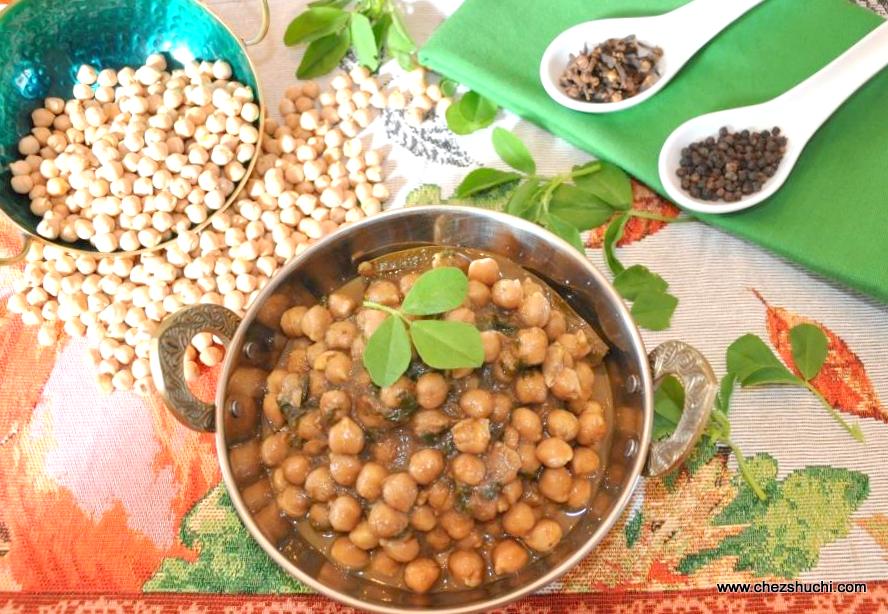 Preparation Time: 10 minutes
Cooking Time: 20 minutes
Approximately 300 calories in each serving
Ingredients (serves 4-6)
Chick pea (Chole) 1½ cups raw
English tea bag 1
Big cardamoms 2
Salt 1½ tsp or to taste 
Bay-leaves (tej patta) 2
Methi leaves chopped, 2 cups
Onion 1 medium
Tomato 1 medium
Ginger 1½ inch
Green chilies 2
Black peppers ½ tsp / 8-10
Cloves ¼ tsp / 5-6
Coriander powder 1 tsp
Garam masala 1 tsp
Amchur powder ½ tsp
Roasted cumin powder ½ tsp
Sugar, ¼ tsp (optional)
Oil 3-4 tbsp
Method of preparation:
Clean and wash the chickpeas (chole). Soak the chick peas (chole) in about 4 cups of water over night.
Boil the chole with 1 tea bag, bay leaves, 2 big cardamoms and 1 tea spoon salt in the pressure cooker on medium/low heat. (It takes around 20-25 minutes to get them tender) . Take 2-3 whistles on the cooker.
Peel, wash and roughly chop the onion. Peel and wash the ginger. Remove the stem of the green chili.
Remove thick stem, wash thoroughly the methi leaves. Leave methi on colander to remove extra water. Now chop the methi leaves.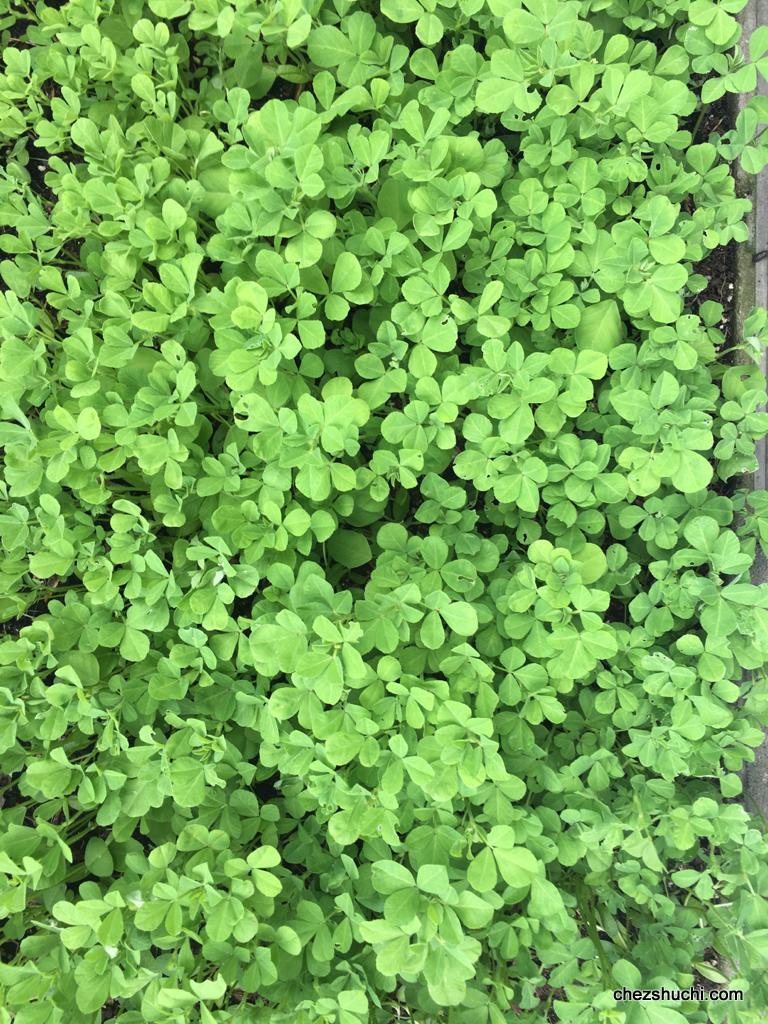 Make a fine paste of ginger, green chili and onion in the blender.
Wash and cut tomatoes into 4 pieces. Puree the tomatoes in the blender.
Heat oil in a pan and fry onion paste till it becomes golden brown.
Add tomato puree in fried onion paste. Add salt and cook for a few miutes.
Pound black pepeprs and cloves in in mortar and pastel and add it in the fried onion tomato masala.
Add garam masala, coriander powder, cumin powder, dry mango powder, and half a tea-spoon salt. Fry for a minute.
Add chopped methi leaves. Mix well with fried masala. Add a little bit of sugar (about ¼ tsp). Sugar removes the bitterness of methi and also helps in maintaining the green color of methi. Fry this masala for a couple of minutes.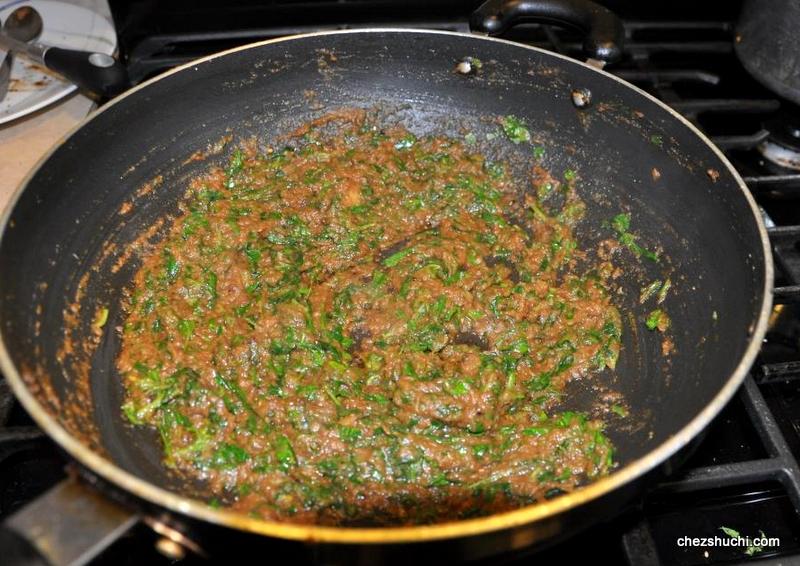 onion, tomato and methi masala for chole
Remove the tea bag from the boiled chole. Add chole in the fried masala and cook for about 8-10 minutes. If needed you can add a little water to get the required consistency. Turn off the heat.
Taste and adjust the flavoring as per taste.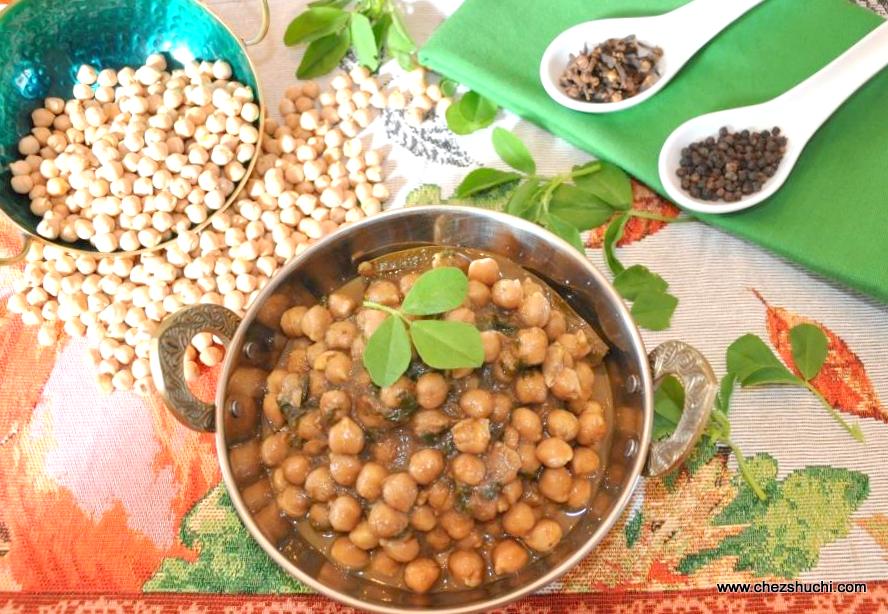 You can also serve chole with roti, poori or naan or the Indian bread of your choice.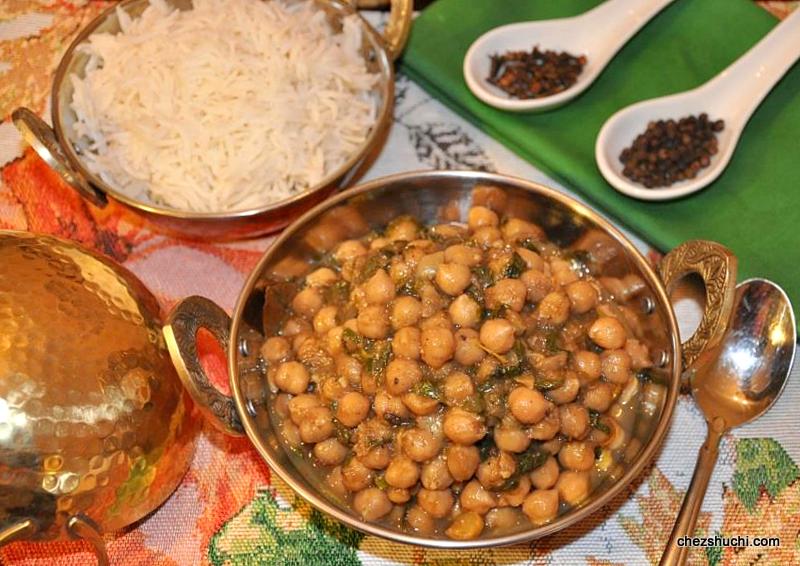 Some Tips/ Suggestions for beginners:
I prefer to make chole from scratch. If you do not have time to boil chickpeas, you can use 3 cans of 15 Oz chole/chick peas for this recipe.
If you do not have all these spices, you can use 2-3 tbsp of store bought chole masala instead for mixing in the fried onion tomato.
I have added black cardamoms which helps in the digestion of chole.
You can make onion tomato masala in advance and keep it in freeze or freezer. It helps in cooking.
---