हिन्दी में पढ़ें
Whole Masoor Dal (Black Lentil)
Whole Masoor dal is black from outside and the grain is red from inside. There are a variety of masoor dal, like green masoor also called as Le lentile vert, black, golden, whole grains and split red masoor etc. Lentils are a good source of protein for a vegetarian diet. This lentil is very light and easy to digest. You can make this dal as a soup also. You can add add Indian style seasoning or just serve cooked dal with butter and lemon juice, it always taste good. Here, we are making Indian style whole Masoor dal. Please try this lentil/dal recipe and do share your comments. Happy cooking, Shuchi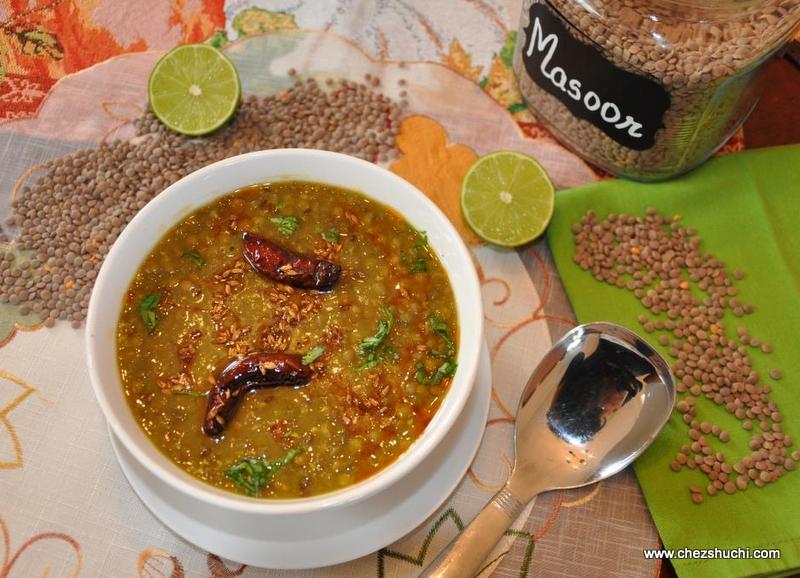 Ingredients
(Serves 4)
Black masoor lentils 1 cup
Salt 1 tsp or to taste
Turmeric powder ½ tsp
Coriander powder 1 tsp
Garam masala ½ tsp
Lemon juice 2 tsp
Cumin seeds 1 tsp
Asafoetida a couple of pinches
Red chili powder ½ tsp
Whole red chili 1-2
Chopped coriander leaves 1 tbsp 
Ghee 1 tbsp
To Serve:
Method of preparation:
Clean and wash whole masoor dal. Soak the lentils in 4 cups of water for 2-0-30 minutes.
Add salt and turmeric powder, and boil the masoor dal until tender.(take 2 whistle in the pressure cooker) .
Check the consistency of the dal and add a little water if required.
Add coriander powder, garam masala, and lemon juice and cook for a couple of minute.
Method of preparation For Seasoning:
In a small seasoning pan heat ghee on medium heat.
Add cumin seeds, when seeds crackle add asafoetida. Add whole red chili and turn off the heat (so chili will not burn off).
Now add red chili powder. Add the seasoning onto the Dal.
Garnish with chopped coriander leaves
Delicious whole masoor dal is ready to serve.
Variation:
To make restaurant style dal (lentils) at home, heat 1½ tbsp ghee, fry finely chopped onion (1 medium size) and 1 chooped green chili until golden brown, now add finely chopped tomato(1 medium size). Fry until the masala leaves the sides of the pan. Pour this seasoning on your regular dal.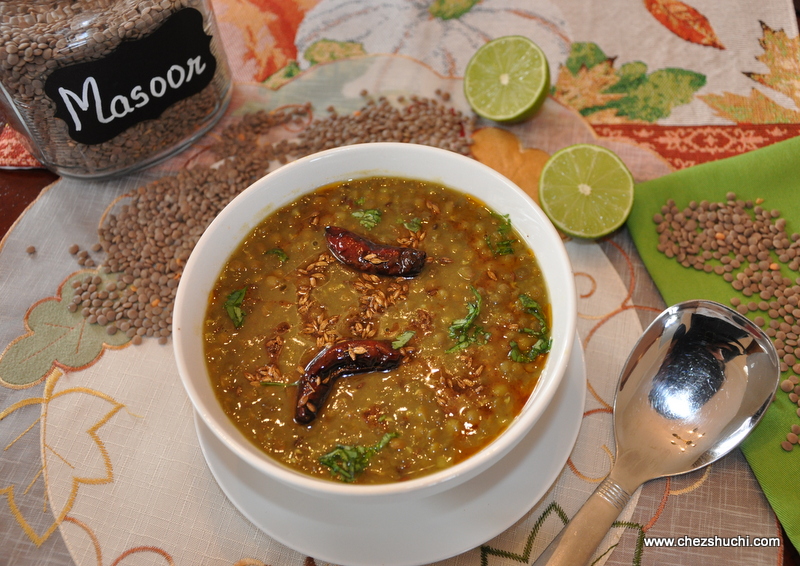 Some Tips/ Suggestions:
It is always better to pre soak whole lentils for some time in warm water. It saves the cooking time also.
Adjust the spices as per taste. You can also add some ghee at the thime of serving. Dal taste very good with ghee.
---
---