Rajma
(Kidney Beans Curry)
इस व्यंजन को हिन्दी में पढ़ें
---
Rajma is also known as kidney beans. There are a few different varieties of kidney beans available in the stores, you can choose one per your liking. This is a delicious rajma curry preparation from North India. Rajma (red kidney beans) are rich in soluble fibers, and a good source of protein, iron, magnesium etc. Rajma-Chawal is a very delicious and popular combo meal. One can find it in road side food stalls to five star***** restaurants. You can also serve mattha (butter milk) with rajma and chawal to make it balanced and complete. Please try this recipe and do share your comments. Happy cooking, shuchi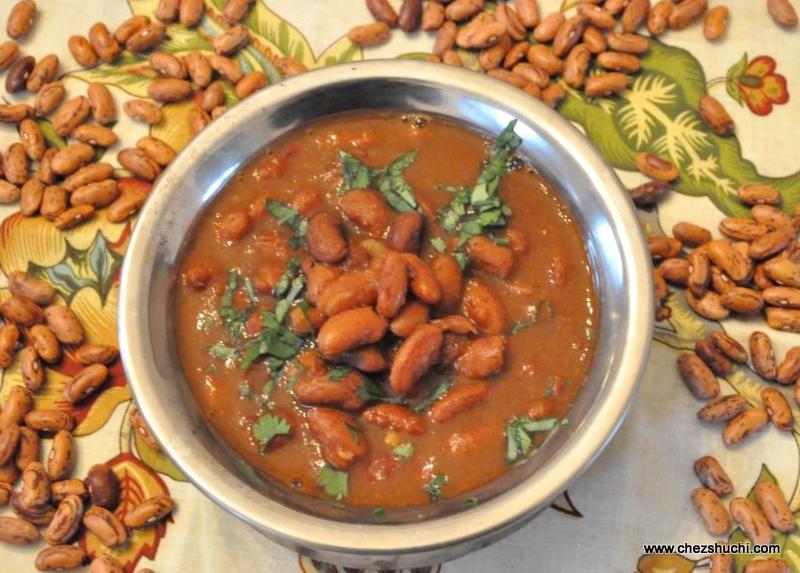 Soaking Time: 5 hours
Preparation Time: 10 minutes
Cooking time: 25 minutes
Approximately 175 calories each serving
Ingredients ( serves 4)
Rajma (red kidney beans) 1¼ cups
Bay leaves 2
Big cardamoms 2
Salt 1½ tsp or to taste 
Onion 1 medium
Tomatoes  2 medium
Ginger 1 inch piece
Green chilies 2
Coriander powder 2 tsp 
Garam masala 1 tsp
Red chili powder ½ tsp
Amchoor powder ¼ tsp (optional)
Ghee/oil 2½ tbsp
Chopped coriander leaves 2 tbsp
Method of preparation:
Following picture showa an indian variety of kidney beans.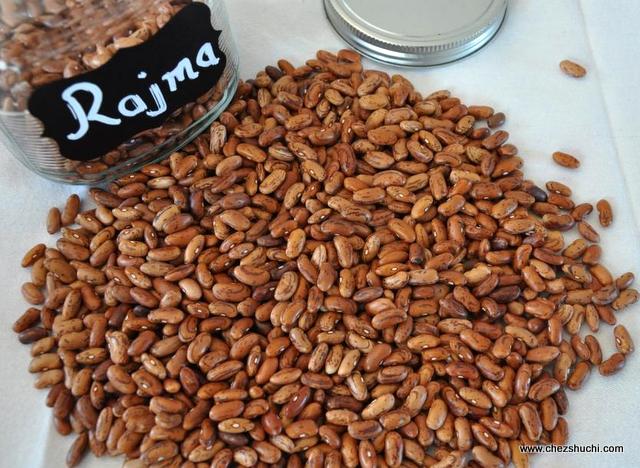 Clean, wash, and soak the rajma (kidney beans) in 4 cups of water over night.
Boil the rajma with 1 tsp salt, 2 big cardamoms and bay leaves, in the pressure cooker on medium heat, then close the lid and take two whistle. (It takes around 10-15 minutes to get them tender).
Peel, wash and roughly chop the onion. Peel and wash the ginger. Remove the stem of the green chili.
Make a fine paste of ginger, green chili and onion in the blender.
Wash and cut tomatoes into 4 pieces. Puree the tomatoes in the blender.
Heat ghee/oil in a pan and fry onion paste till it becomes golden brown.
Add garam masala, red chili powder, coriander powder and remaining salt, fry for a minute.
Add tomato puree in the fried masala and cook until masala leaves the sides of the pan.
Add boiled rajma (kidney beans) in the fried masala, add water to get the required consistency, and cook for 10-12 minutes. Add amchoor powder. Mix well. Turn off the heat.
Garnish with coriander leaves.
Serve delicious rajma curry with with plain rice.
Mattha can also be served with rajma chawal in order to make a complete meal. The following picture show Rajma chawal and mix dry vegetables.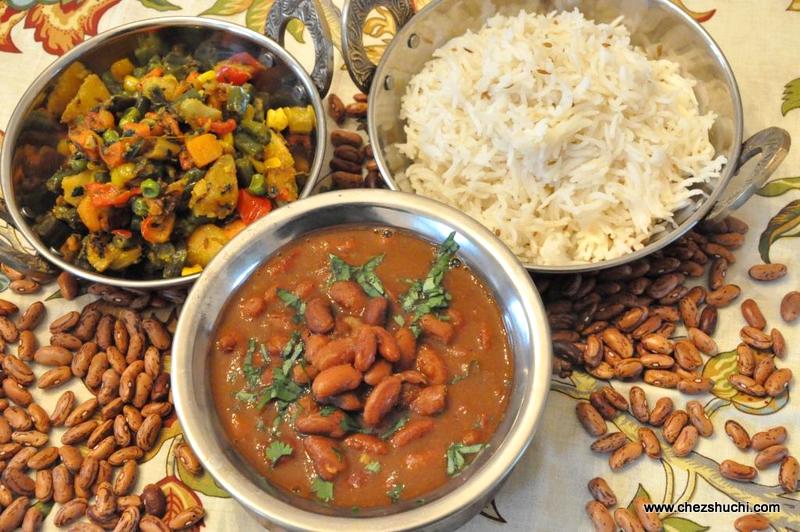 Some Tips/ Suggestions:
I do not use garlic in my cooking. But if you want to add garlic, add with onion while making paste.
You can make onion tomato masala in advance and keep it in refrigerator. It helps in busy days.
If you do not have time to soak and boil rajma, you can use 2 cans of 15 Oz rajma/ kidney beans for this recipe.
Adjust the spices as per taste. If you like spicy food add more green chilies.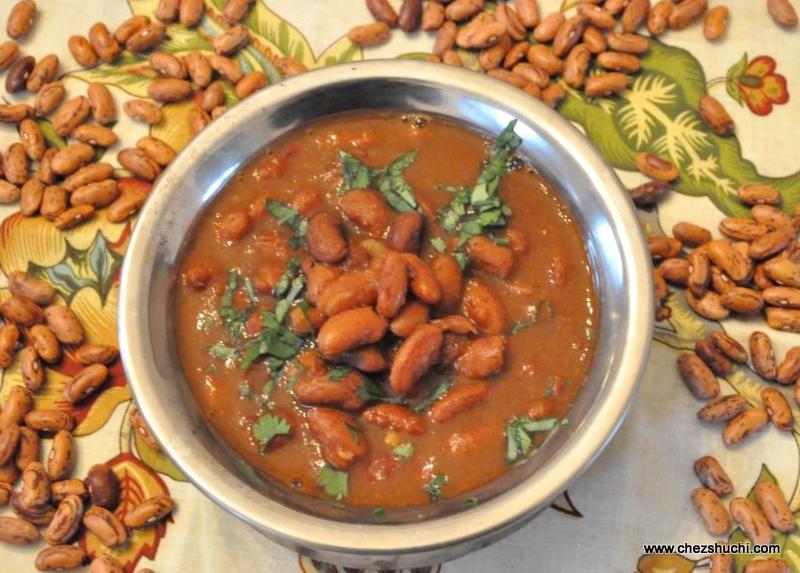 ---
---