हिन्दी में पढ़ें
Onion Tomato Masala
Onion Tomato Masala is a basic preparation for many North Indian curries. You can also add this in regular dals to enhance the taste. This masala is used in variety of paneer dishes, beans, kofte, etc etc… In today's fast going life it becomes handy to fix a curry when you have the basic masala ready My kitchen garden is loaded with a variety of tomatoes and I am trying to preserve them in the best ways possible. Here I am sharing the onion tomato masala recipe the way I make it. As always your suggestions and comments are very welcome….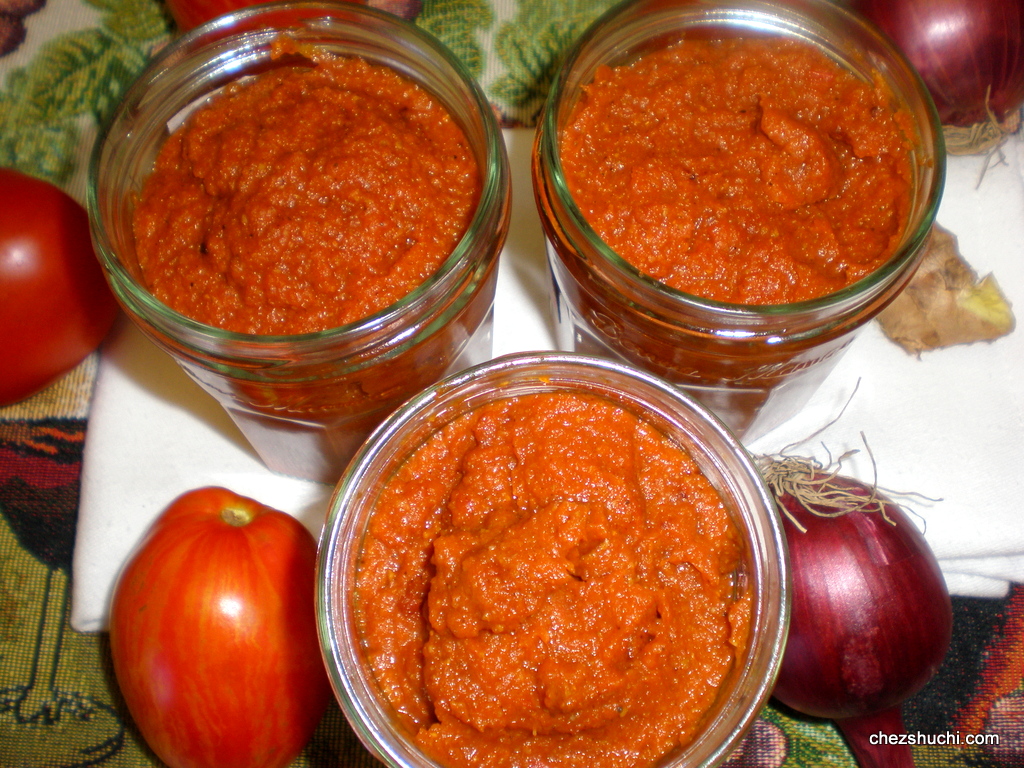 Ingredients
(makes about 3½-4 cups ready onion tomato masala)
Onion 5-6 medium/750gms
Green chilies 6-10
Ginger about 50 grams
Red tomatoes about 12 medium/1.5 kg
Ground Coriander 4 tbsp
Red chili powder 1 tbsp
Garam masala 2 tbsp
Salt 1½ tbsp
Oil a little more than ½ cup
Method of preparation:
Peel the onions, and wash and roughly chop them. Boil chopped onions in water for about 5 minutes. Strain the onions and let them cool for 10-15 minutes.
Remove the skin of ginger and the stem of the green chilies and wash them. Cut ginger into half inch pieces.
In a blender take ginger and green chilies and grind them. Now add boiled onions in the blender and blend until it is smooth. (add garlic cloves with onions as well if you wish to)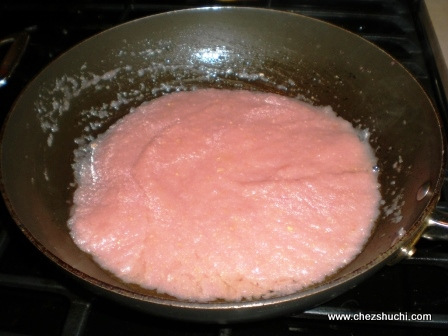 Heat oil in a wok on medium heat. add onion paste. Fry onion paste on medium heat until it is golden brown. For this quantity it takes about 20-25 minutes to fry onions to golden brown. Cover the lid so that the onion paste does not splutter. Stir every 3-4 minutes.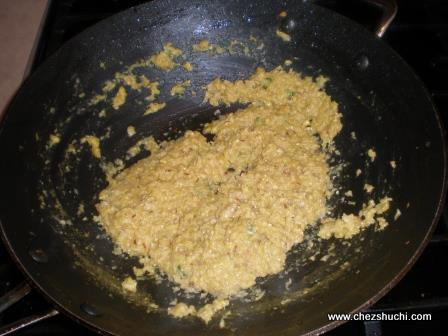 While onion paste is being fried take tomatoes. Wash them thoroughly. Cut each tomato into four pieces.
Transfer the tomatoes in the blender and blend them to a fine consistency.
Strain the blended tomatoes through a soup strainer. Discard the seeds.
Add the blended tomatoes in the fried onions. Mix well. Add salt, red chili powder, ground coriander, and garam masala. Mix well. Cover the lid and cook onion tomato masala. Stir every 4-5 minutes. Cook until masala leaves the sides on the wok. It takes about 20-25 minutes to cook the tomatoes in the onion masala.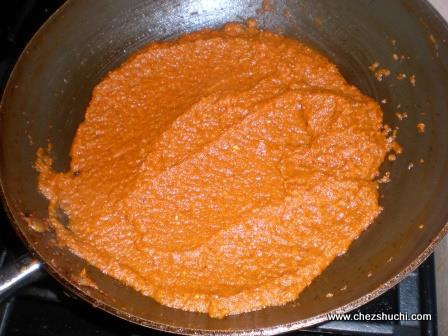 When masala is absolutely thick, smooth, and well cooked, turn off the heat. Let the onion tomato masala cool.
Transfer the onion tomato masala in small glass containers. You can keep the masala container in fridge section for about a week and in the freezer section for months.
Use as needed.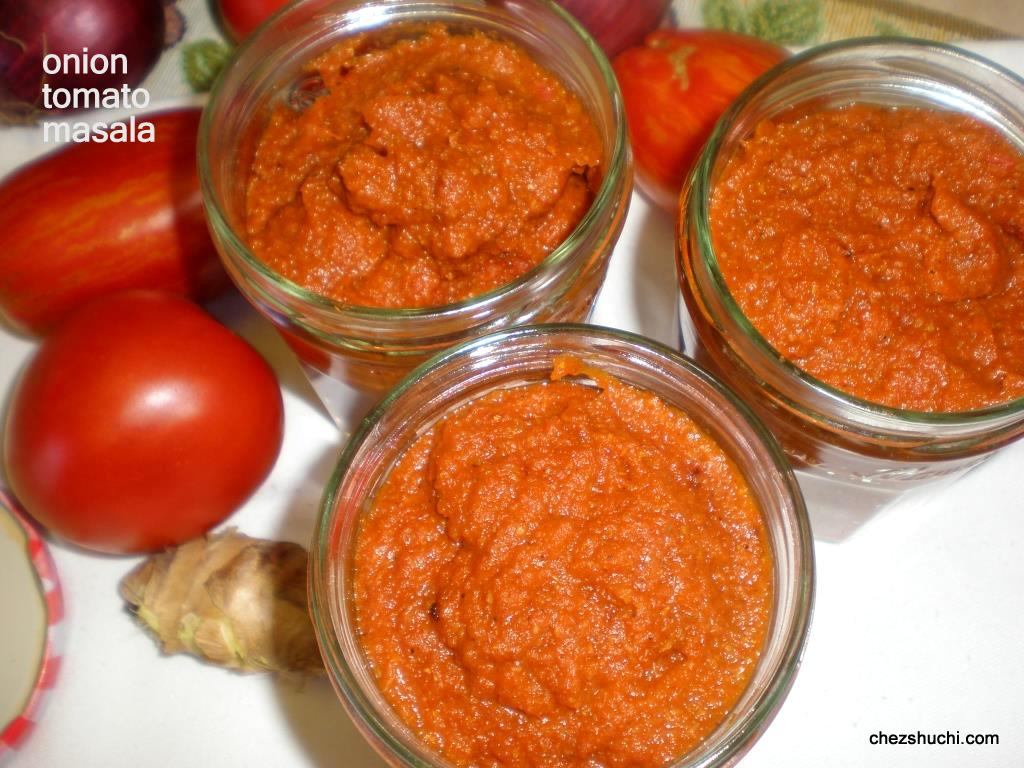 Some Tips/ Suggestions:
I haven't added turmeric powder and kasoori methi in this masala so it can be used in lentils, chole (chick peas), beas, paneer etc. Please add aditional masala as requried depending on the dish.
Do not refreeze the masala after defrosting it. It is handy to freeze the masala in small containers, which can be completely used in one go.
It is important to strain the blended tomatoes to remove the seeds to make an absolutely smooth curry. (RESTAURANT STYLE)
I have boiled the onions to remove the extra strong smell and make a smooth paste but you can also use raw onions paste.
I do not use garlic in my cuisine but please feel free to add garlic paste/ or garlic cloves with onions as per taste.
If you do not have fresh tomatoes, use store bought tomato puree.
---
Some other basic preparations:
---