हिन्दी में पढ़ें
Masala Lobiya
(Black Eyed Beans Curry)
Lobiya is also known as black eyed beans or black eyed peas and is a good source of potassium, magnesium and calcium. It is rich in soluble fibers and is a good source of protein and vitamins. There are so many different ways lobiya can be cooked. Here I am sharing a North Indian curry preparation made with lobiya. This is a delicious lobiya recipe and it can be served with roti and rice. Try this protein rich dish and please do share your comments. Happy cooking, Shuchi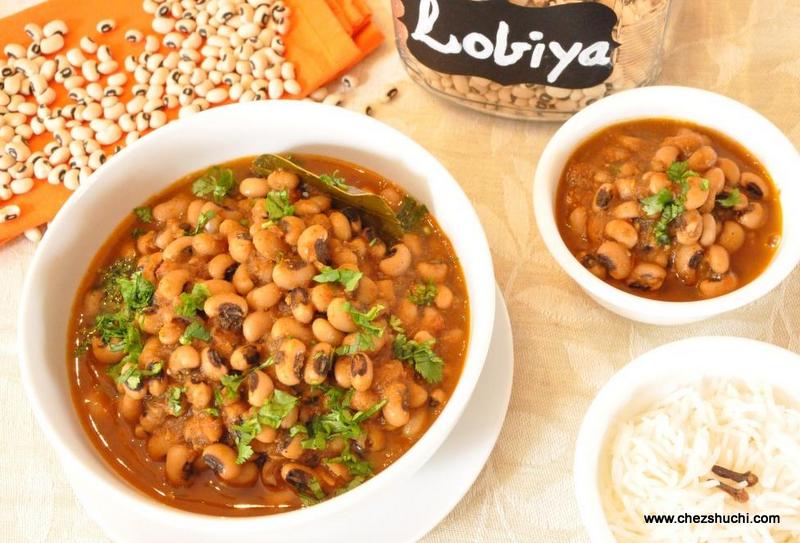 Ingredients (serves 4-6)
Lobiya (black eyed beans) 1½ cups raw
Big/black cardamoms 2
Salt 1½ tsp or to taste 
Bay-leaves (tej patta) 2
Onion 1 medium
Tomatoes 2 medium
Ginger 1½ inch
Green chili 2
Oil/ ghee 2-3 tbsp
Coriander powder 1½ tsp
Red chili powder ½ tsp
Garam masala 1 tsp
Chopped coriander leaves 2-3 tbsp
Method of preparation:
Clean and wash the lobiya. Soak lobiya in about 3-4 cups of water over night.
Boil the lobiya with 2 big cardamoms and 1 tea spoon salt in the pressure cooker on medium/low heat (It takes around 10-12 minutes to get them tender). It takes 1 whistle on the cooker to cook the lobiya. You can also cook lobiya in slow cooker.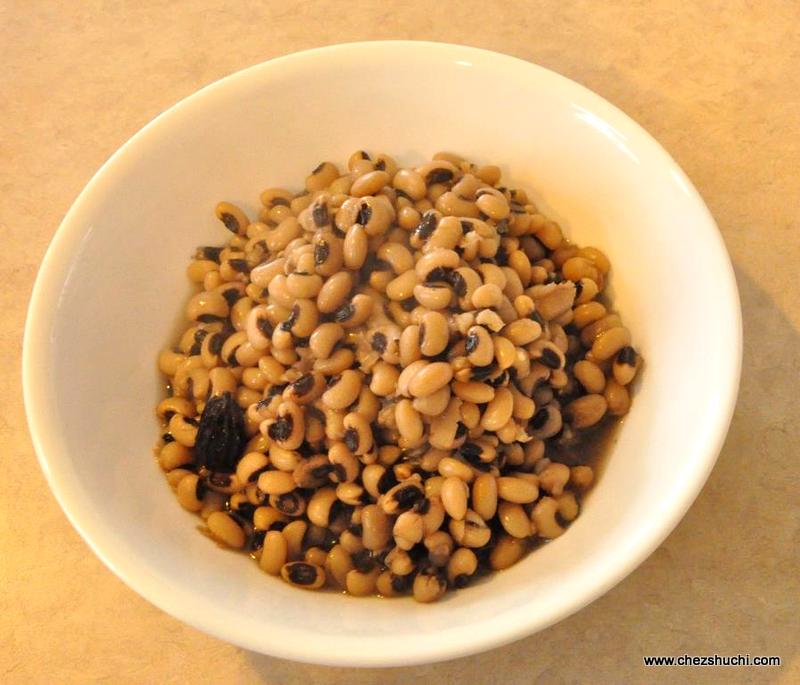 Peel, wash and roughly chop the onion. Peel and wash the ginger. Remove the stem of the green chili.
Make a fine paste of ginger, green chili and onion in the blender.
Wash and cut tomatoes into 4 pieces. Puree the tomatoes in the blender.
Heat oil in a pan. Add bay leaves. Fry for a few seconds.
Add onion paste. Fry onion paste till it becomes golden brown.
Add tomato puree in the fried onion paste. Add salt, garam masala, coriander powder, red chili powder and half a tea-spoon of salt. Fry until aromatic and tomato puree is cooked. It takes about 5 minutes to cook the tomato puree.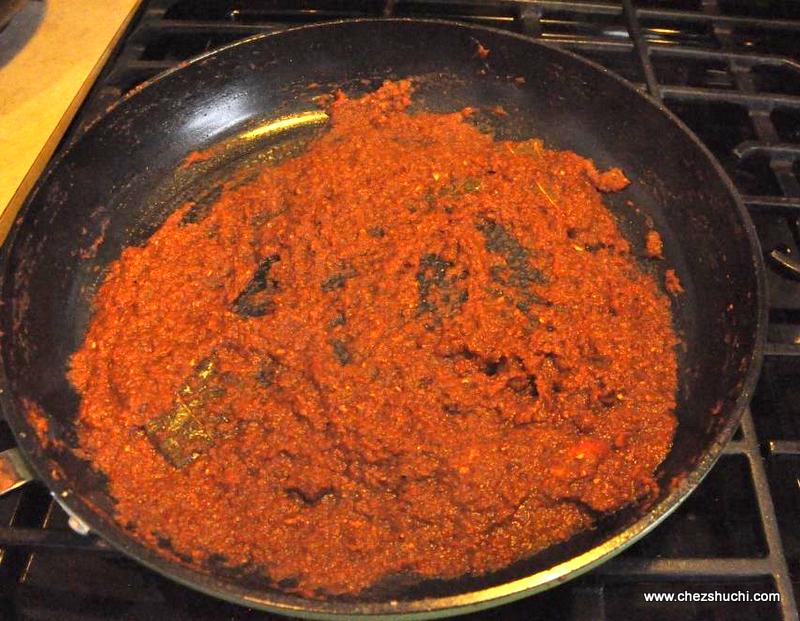 onion and tomato masala for lobiya
Add boiled lobiya in the fried masala. If needed, you can add a little water to get the required consistency. Cook lobiya curry for about 8-10 minutes. Turn off the heat.
Taste and adjust the flavoring as per taste.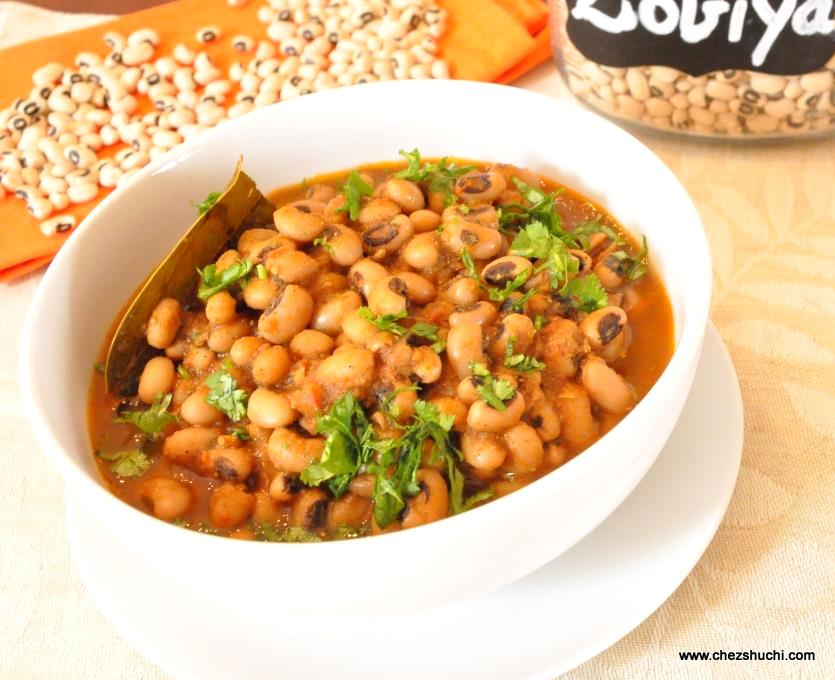 You can also serve lobiya curry with poori or naan or the Indian bread of your choice.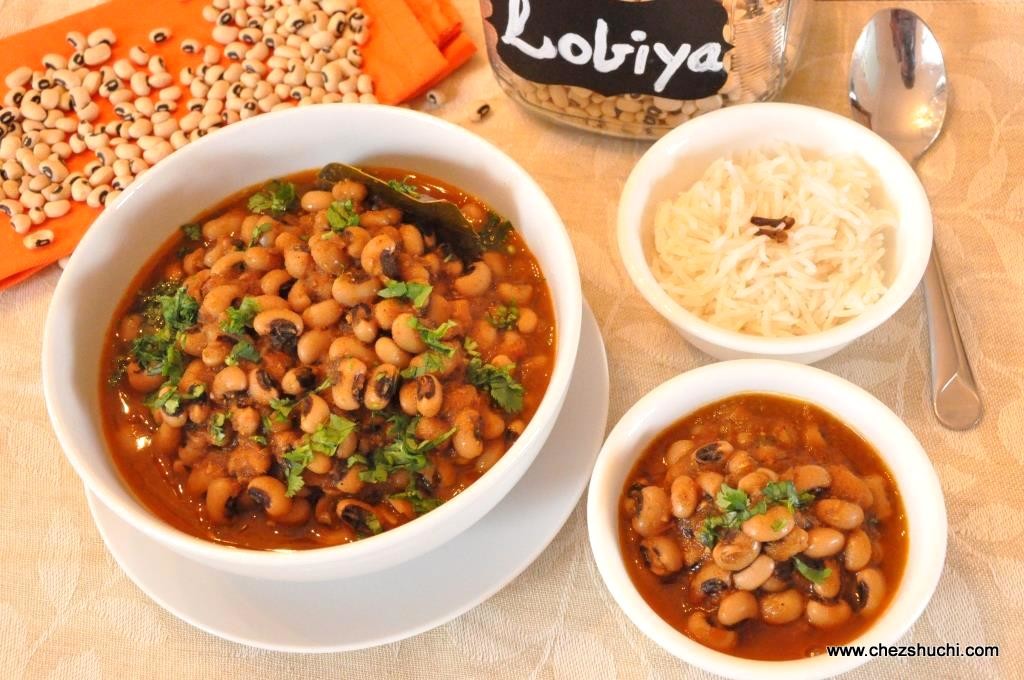 Some Tips/ Suggestions :
I do not use garlic in my kitchen but you can grind garlic with onions if you wish to.
I have added black cardamoms which helps in the digestion of lobiya.
You can make onion tomato masala in advance.
---
Some Other Lentils and Beans delicacies:
---
---