हिन्दी में पढ़ें
Soyabeans
Soyabean is a very good source of Protein and diatery fibers. It is also a good source of Iron, Magnesium, etc...This is an easy to make healthy and delicious preparation of soyabeans. You can also make kebabs, rolls, etc by using soyabeans. Try this delicacy and please do sharte your comments....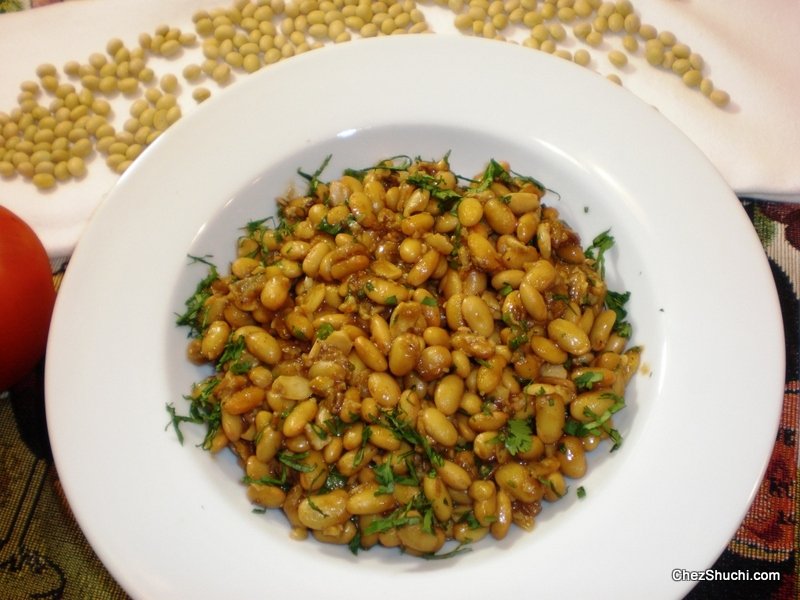 Ingredients
(Serves 4)
Soyabeans 1 cup
Green chili 1-2
Salt 1 tsp/ to taste
Cumin seeds 1 tsp
Red chili powder  ½ tsp/ to taste
Chaat masala ½ tsp
Garam masala ¼ tsp
Lemon juice 2-3 tsp/ to taste
Chaat masala ½ tsp
Chopped coriander leaves 2 tbsp
Oil 2 tsp
To Serve:
Method of preparation:
Clean, wash and soak the soyabeans overnight in enough water.
Cook the soyabeans with salt until they are tender. The best way to boil the soyabeans is to take a couple of whistles in the pressure cooker on medium heat.
Remove the stem, wash, and finely chop the green chilies.
In a wok/ skillet heat oil, add cumin seeds. When seeds stop crackling, add chopped chiies. Fry for 15-20 seconds.
Now add cooked soyabeans, red chili powder, garam masala and chaat masala and mix well. Cook for a couple of minutes.

Garnish with chopped coriander leaves.

Delicious and nutritious soyabeans are ready to serve. Add lemon juice and top them with your favorite chutney.
Some Tips/ Suggestions:
You can also top this soyabeans with boiled, chopped potato, tomataoes, or chopped onions.
You can also use canned soyabeans if you do not want to make it from scratch.
---
Some Other delicious beans recipes:
---