Raj Kachauri
हिन्दी में पढ़ें
Raj Kachauri- Raj is a Hindi word means royal and kachauri is a fried Indian bread filled with something. So this is a variety of Chaat in which a lot of things are filled in a big poori along with green and tamarind chutney. A single Raj Kachauri works like a complete meal. In this festive season try out this mouth watering chaat…….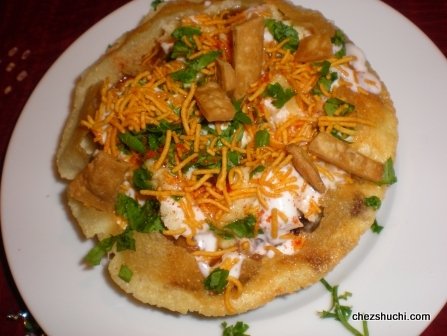 Ingredients

(makes 4 Kachauri)
For Kachauri
All purpose flour ½ cup
Semolina  ¾ cup
Salt    ½ tsp
Oil  1 tsp for dough
Water about 1/3 cups  to make dough 
Oil for deep frying
To Serve
Method of preparation
For Kachauri
In a bowl combine all purpose flour, semolina, oil, and salt .
Add a little water at a time and knead the semi stiff dough. Cover the dough with the damp cloth and set aside for about 15-20 minutes.
Divide the dough into 4 round portions. (You can also make 6-8 small pooris instead of 4 big).
Roll a ball into a round of about 5 inches.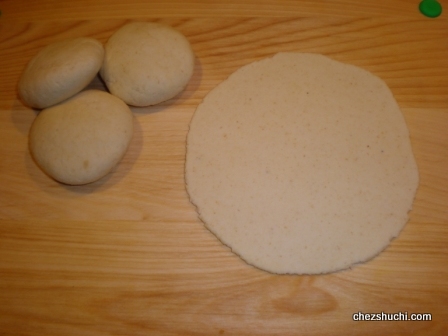 Heat oil in a wok on medium heat. When oil is hot put a poori in hot oil and rexduce the heat. Press the kachauri with the ladle, it will puff up immediately. Now fry the poori from both the sides. It takes about 2-3 minutes to fry a kachauri.
Raj kachauri frying Raj kachauri frying
Take the fried kachauri out onto the kitchen towel.
For Raj Kachauri's Filling
I have filled the raj kachauri with, Chole, dahi vade, masala aloo, namak pare, then topped with coriander chutney, tamarind chutney and bhujiya (sev).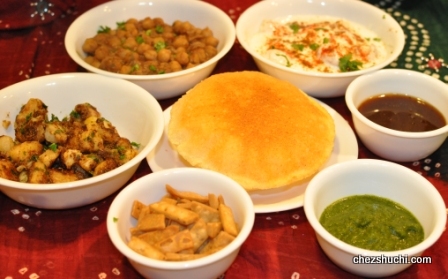 Puffed kachauri, with chole, dahi vade, namak pare, and chutney
In a serving dish place the raj kachauri; slightly crush the top puffed layer of the kachauri.
Fill the kachauri with chole, dahi vade, papri and the then pour some green and tamarind chutney.
Sprinkle a little bit of red chili powder.
Sprinkle a little bit of sev/bhujiya.
Garnish with coriander leaves.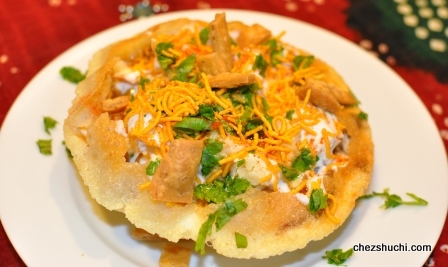 Serve this delicious, mouth watering raj kachauri immediately.
Tips
Kachauri can be fried in advance and serve later whenever people are ready to eat.
You can change the filling as per availability and taste.
click here for more Indian Bread recipes.
---
Some Other Delicious Chatpati Chaat Items
---