Aloo Tikkie
हिन्दी में पढ़ें
Aloo tikkie is one of the most popular street foods from North India. In Hindi aloo means potato and tikkie means a flat ball or cutlet. So this recipe is for a boiled potato cutlet. Usually aloo tikkies are shallow fried but sometimes it is deep fried to make it even crispier. Aloo tikkie is served with tamarind chutney, coriander chutney, smooth yogurt, and crispies. So this holi festival try this delicious mouthwatering aloo tikkie chaat.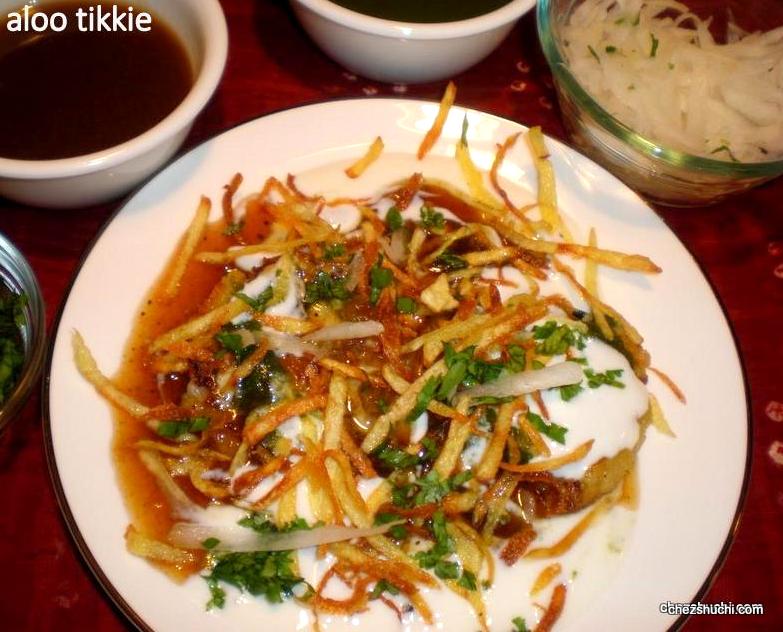 Preparation Time: 10 minutes
cooking time: 30 minutes
Approximately 500 calories in 2 tikkies serving
Ingredients For Tikkies (makes 8)
Boiled potatoes 5 medium/ about 1 pound/500 gms
Salt ¾ tsp
Red chili powder ¼ tsp
Green chili (optional) 1
Chopped coriander leaves 2 tbsp
Oil/ghee 3-4 tbsp
Ingredients To serve: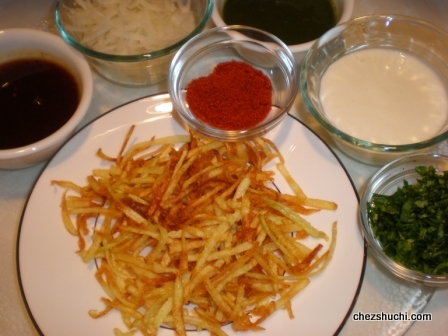 Method of preparation For Tikkies
Remove the stem, wash and finely chop the green chili.
Peel the boiled potatoes and mash them thoroughly. You can aslo grate potatoes. In the mashed potatoes add chopped coriander leaves, salt, red chili powder, and chopped green chili.
Divide potato mixture into 8 portions. Smooth the mixture and make a ball. Press it slightly to flatten the ball to give disk like shape.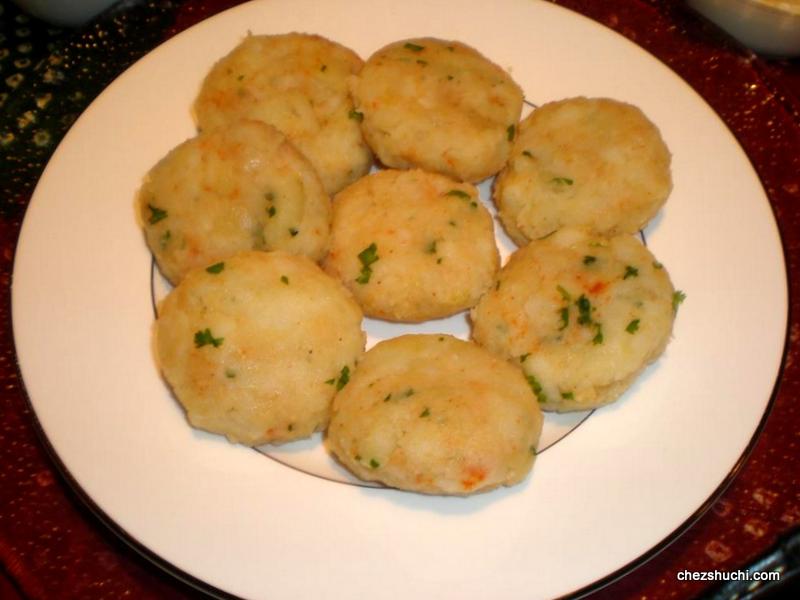 Tikkis ready for shallow frying
Heat a flat griddle (tawa) on medium. Add about 2 tbsp oil/ ghee. Now place tikkies (the flattened balls of potato). Shallow fry the tikkies, from both the sides on medium heat. add more ghee if you wish. It akes about 20-25 minutes to cook the tikkies.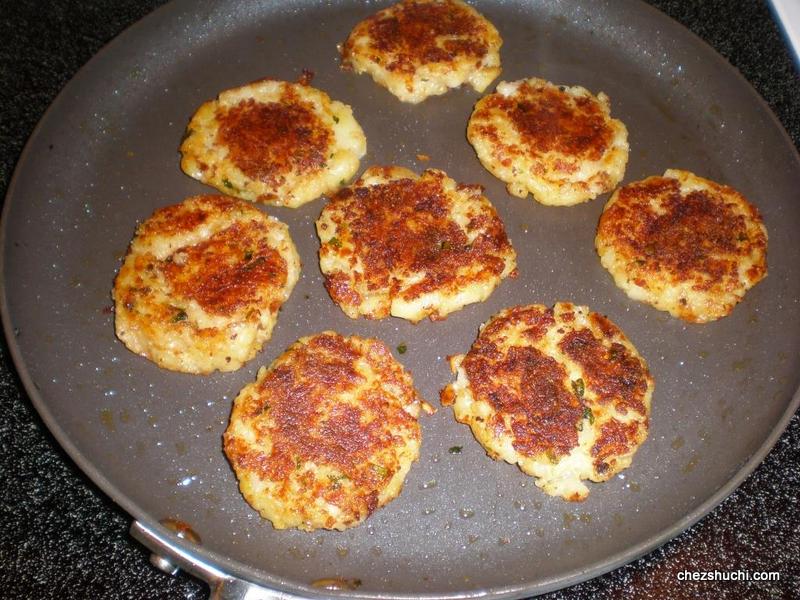 View of tikki after 20 minutes cooking
Serving Suggestions
In a serving dish place 2 tikkies. Pour 1 tsp green chutney on both the tikkies. Now pour about 1 tsp beaten yogurt on each tikki. Now pour 2 tsp tamarind chutney on top of the tikkies.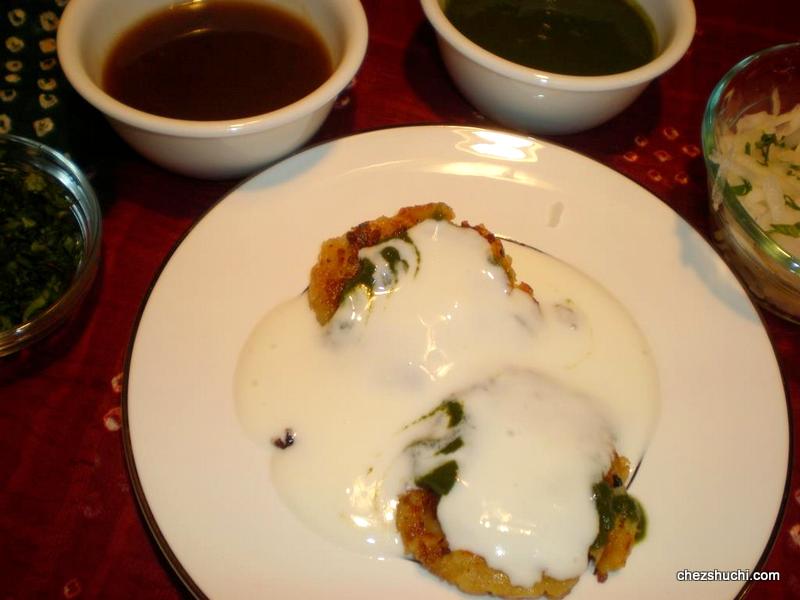 Tikki topped with dahi and chutney
Sprinkle a little bit of red chili powder.
Sprinkle a little bit of aloo lachcha (grated and fried potatoes).
Garnish with coriander leaves and grated radish.
Delicious aloo tikkie is ready to serve. Serve immediately.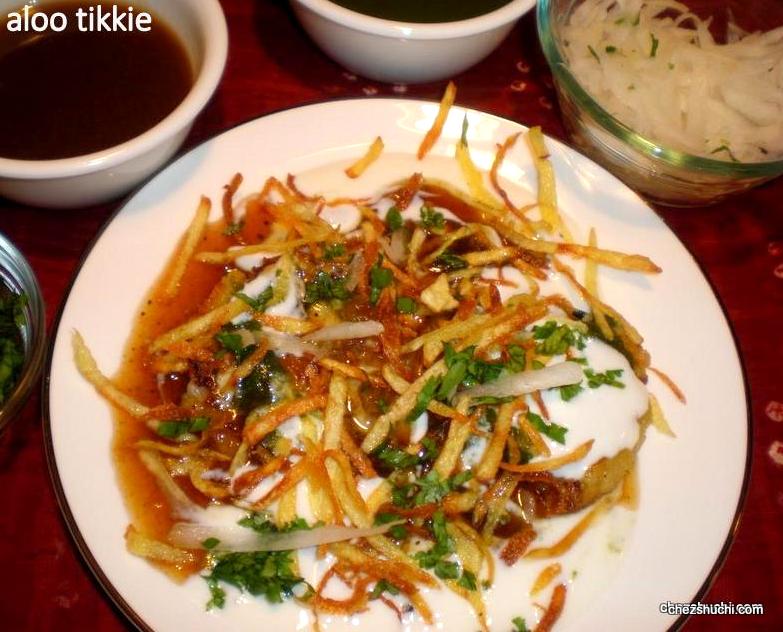 Some Tips/ Suggestions:
Tamarind chutney can also be used instead of instant meethi chutney.
In Kanpur city grated radish are added on top of tikkies. You can also top tikkie with some grated radish. Radish tase very good and enhance the flavor of tikkie.
---