Aloo Tikkie
हिन्दी में पढ़ें
In Hindi aloo means potato and tikkie means a flat ball or cutlet. So this recipe is for a boiled potato cutlet. Usually aloo tikkies are shallow fried and served with tamarind chutney, yogurt, and crispies. This is a very popular street food in India.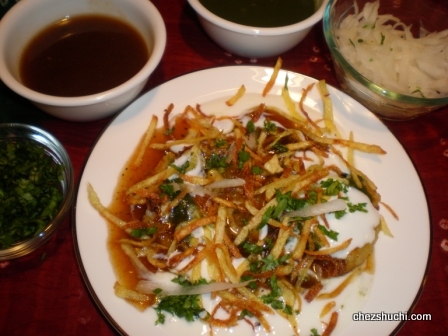 Ingredients

(makes 8)
For Tikkies
Boiled potatoes 5 medium, 500 gms

Salt ¾ tsp

Red chili powder ¼ tsp

Green chili (optional) 1

Chopped coriander leaves 1 tbsp
Oil/ghee 3 tbsp

To serve:

Method of preparation
For Tikkies
Remove the stem, wash and finely chop the green chili.
Tikkis ready for shallow frying View of tikki after 15 minutes
Peel off the boiled potatoes and mash them thoroughly. Now add chopped coriander leaves, salt, red chili powder, and chopped green chili.

Make 8 balls out of the potato mixture. Press them slightly to flatten them.

Heat a flat griddle ( tawa). Add about 2 tbsp oil/ ghee. Now place tikkies (the flattened balls of potato). Shallow fry the tikkies, from both the sides on medium heat. Takes about 25-30 minutes.
View of tikki after 25 minutes Tikki topped with dahi and chutney
For serving
In a serving dish place 2 tikkies. Pour 1 tsp green chutney on both the tikkies. Now pour about 1 tsp beaten yogurt on each tikki. Now pour 2 tsp tamarind chutney on top of the tikkies.
Sprinkle a little bit of red chili powder.
Sprinkle a little bit of aloo lachcha (grated and fried potatoes).
Garnish with coriander leaves and grated radish.
Serve immediately.
Tamarind chutney can also be used instead of instant meethi chutney or vice versa.
---