Golgappe
हिन्दी में पढ़ें
Golgappe, pani ke batashe, puchke, pani puri,these are different names for one dish- one of the most popular chaat item all over India.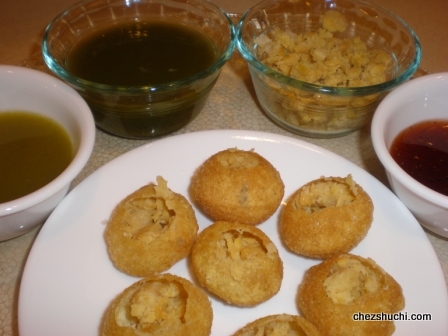 Ingredients

(makes 30)
Clean, wash and soak white peas in 3 cups of water for overnight.
Boil white peas with half tsp salt, till they get tender. Best way is to take one pressure in the pressure cooker.We do not want very soggy peas . so make sure that amount of water is not much.
Mash the boiled white peas.
Mash or finely chop the potatoes. Mix well potatoes and boiled white peas
Slightly crush the top puffed layer of the golgappa, fill boiled potato and peas filling. Now pour around 1 tbsp mango pana and serve immediately.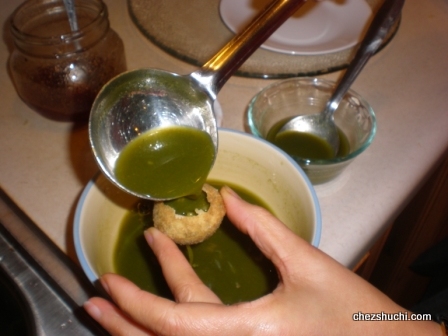 Some Suggestions/ Tips :
Readymade golgappe are easily available in Indian store. In case if golgappe are not available in your part of world you can also make them at home. Please click here to see the recipe of homemade golgappe.
Tamarind chutney can also be poured in case if you like the taste.
If you do not find white peas, you can also use chic peas.
Different kind of water can be made by adding flavors to the basic mango pana. Eg-
Add 2 pinches of Asafoetida in 1 cup mango pana to make asafoetida mango pana.
Add 1 tsp tamarind pulp in a cup of mango pana to make extra sour ( khatta )pana.
Add more green chilies to make spicy pana. Etc...