Watermelon Rind Sabji
हिन्दी में पढ़ें
Watermelon contains 92% water and is considered as one of the best natural coolants. It is a good source of Vitamins A and C, and is also rich in amino acids, minerals and is an antioxidant. The red flesh of watermelon is full of lycopene. This year, in our kitchen garden watermelon is growing well. We mostly eat the red flesh of watermelons and throw away the rind and white flesh. Since our watermelons are home-grown so this time we decided to cook the green rind. I did some research to figure out if the green and white part of the watermelon is edible and found that the watermelon rind and white flesh has more amino acids than even the red flesh. I have cooked this sabji North Indian style. This sabji goes very well with Paratha, poori, kachauri, and also with dal-chawal. Hope you like this experimental cuisine. Please do share your valuable comments. Happy cooking, Shuchi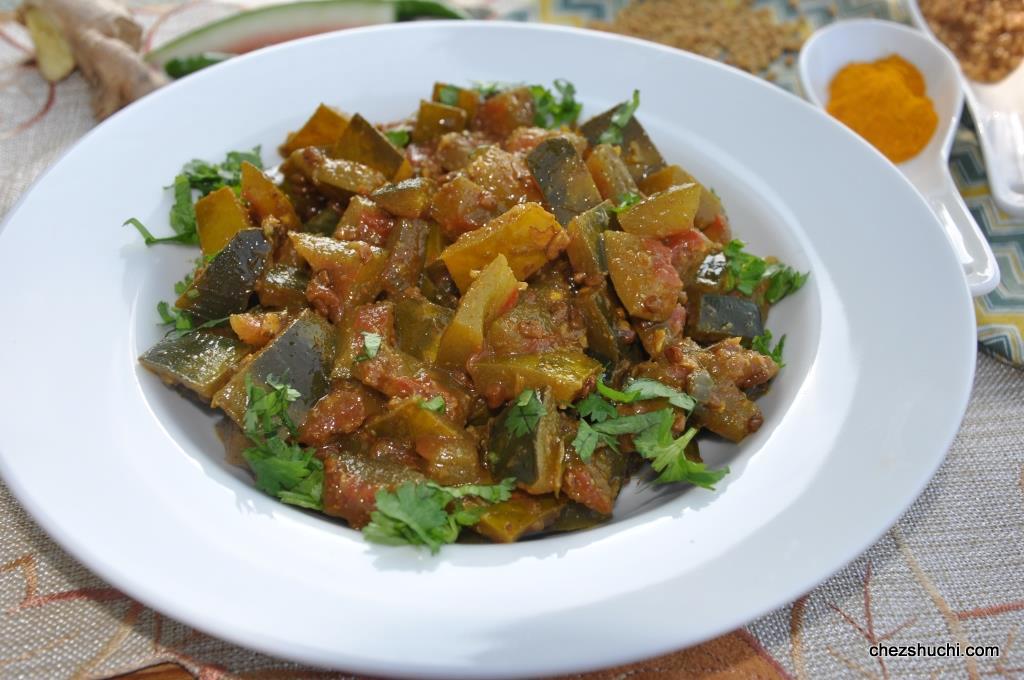 Preparation Time: 5 minutes
cooking time: 25 minutes
Approximately 60 calories in each serving
Ingredients (serves 4)
Watermelon rind about 4 cups
Green chilies 2
Ginger 1½ inch piece
Fenugreek seeds 1 tsp
Turmeric powder ½ tsp
Salt to taste/ 1 tsp
Red chili powder ½ tsp
Coriander powder 1½ tsp
Garam masala ½ tsp
Dry mango powder (Amchur powder) 1 tsp
Brown sugar 1½ tbsp
Oil 2 tbsp
Chopped coriander leaves 1 tbsp (optional)
---
Method of preparation:
After using the red fruit of watermelon cut watermelon rind.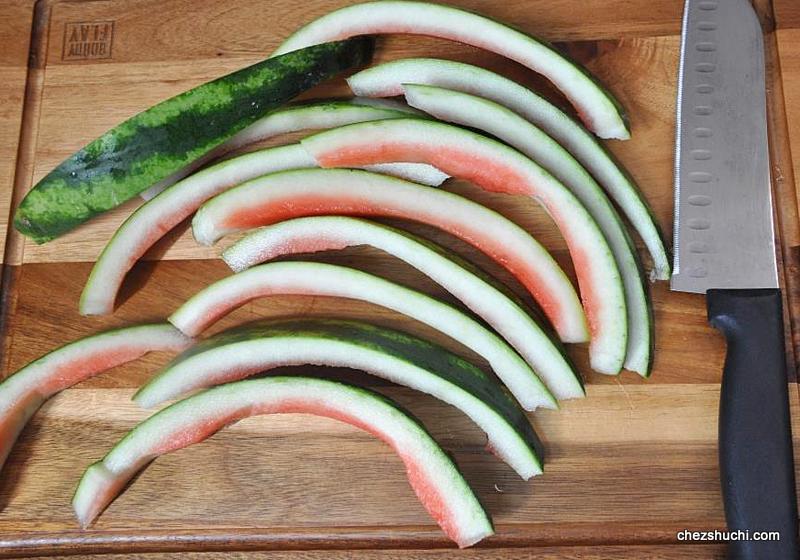 Cut watermelon rind into small about half an inch pieces.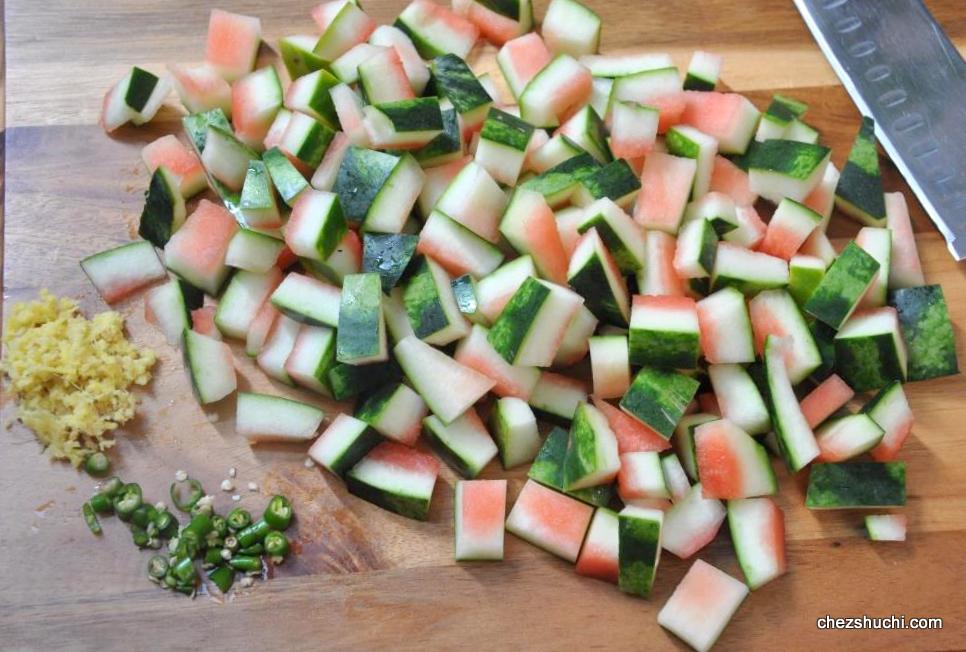 Wash and finely chopped green chilies. Wash, peel and grate the ginger.
In a wok heat the oil. Add fenugreek seeds. When seeds change the color, add ginger and green chilies. Fry for a few seconds and add turmeric powder.
Add watermelon rind pieces and mix well. Fry on medium heat for a couple of minutes.
Add salt, red chili powder and coriander powder. Mix well. Fry for a minute.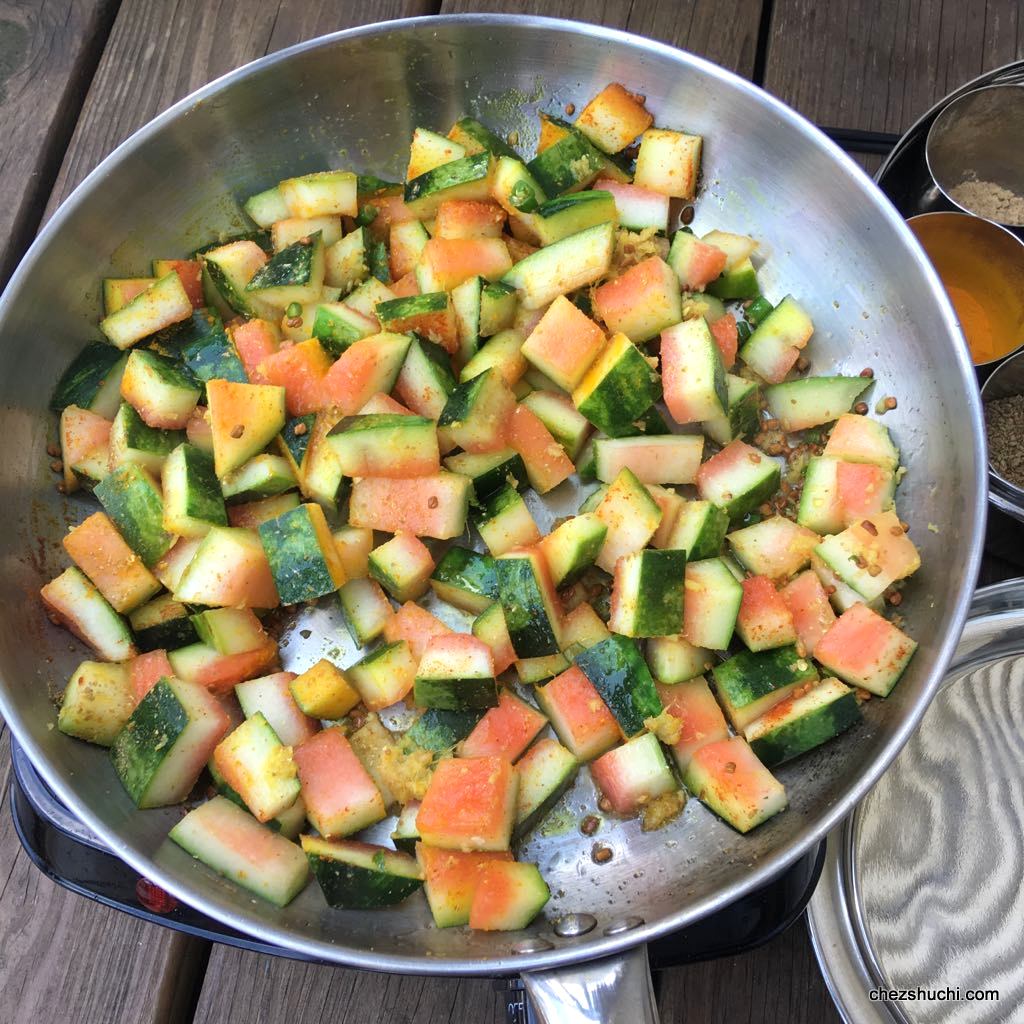 Cover the lid and cook until watermelon rind is tender. It takes about 20 minutes to cook the rind. If the rind is hard let it cook for some more time. It takes a while to cook the rind. The rind should be tender but not overcooked.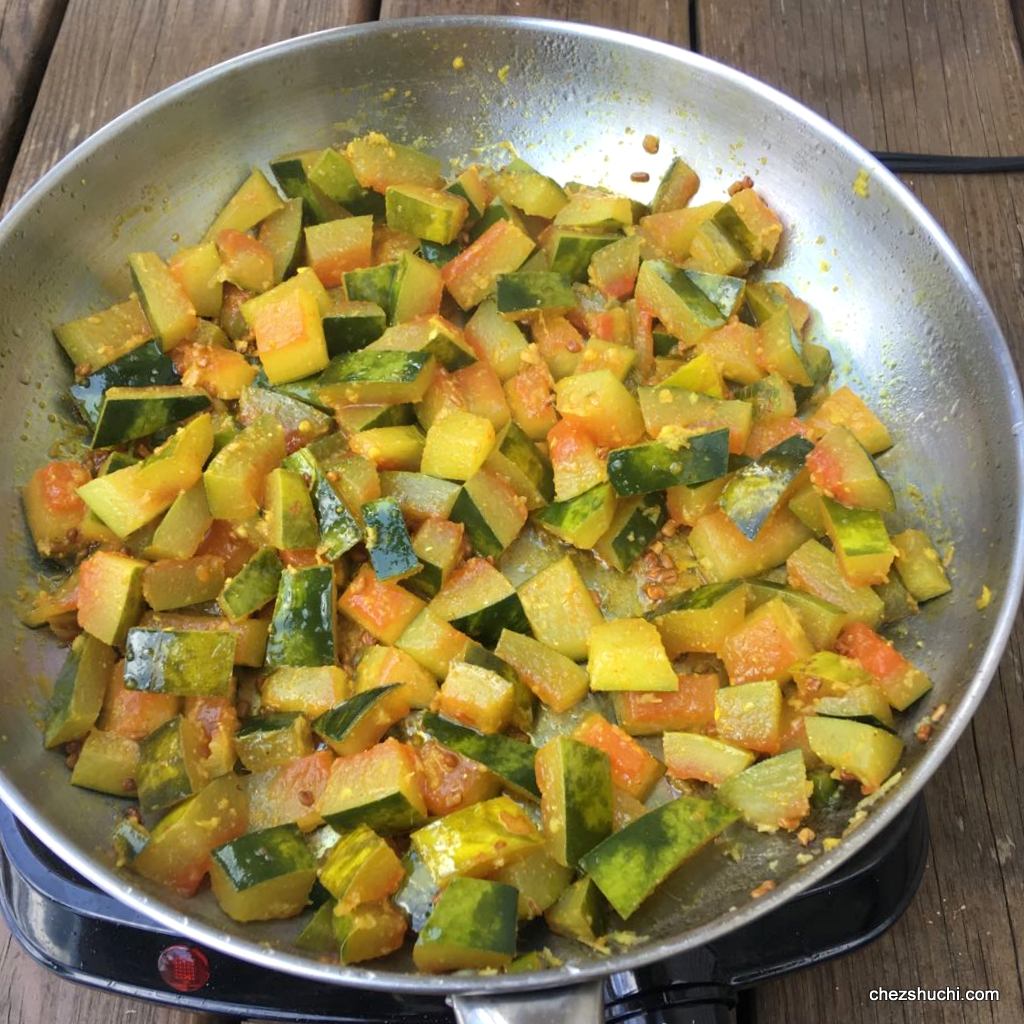 When rind is tender, add dry mango (amchoor) powder, garam masala and sugar . Mix well and fry watermelon sabji for a couple of minutes or till it absorbs the water left by sugar. Turn off the heat. Sweet and sour watermelon rind sabji is ready.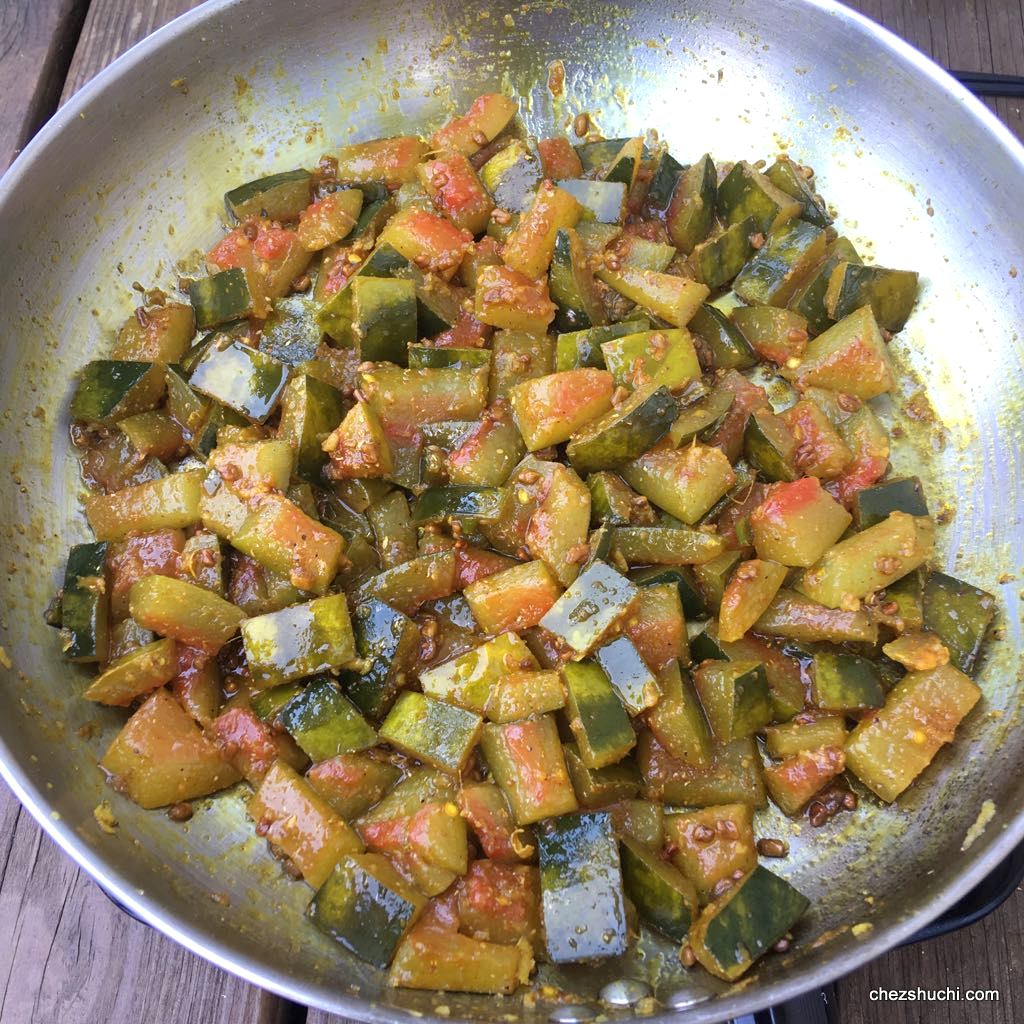 Garnish with chopped coriander leaves.
Serve Sweet and sour watermelon rind sabji with dal ki poori or kachauri or with dal chawal (lentils and rice).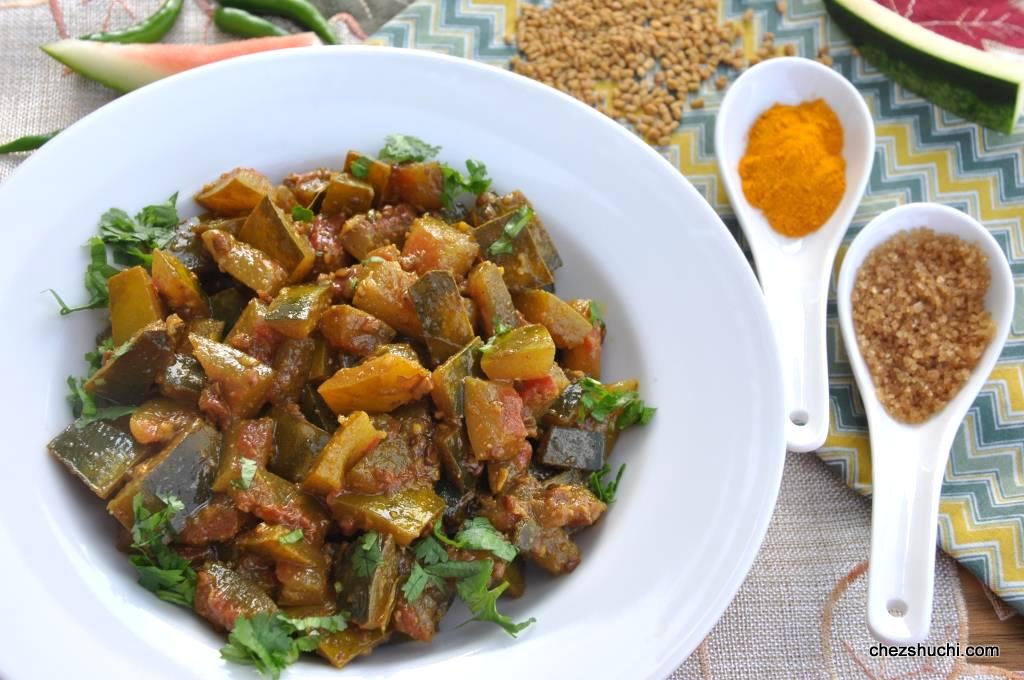 Some Tips/ Suggestions:
I use only home-grown watermelon's rind for cooking because I know its is 100% organic as I haven't used any pesticides in my garden. You can also use store bought organic watermelon's rind. Avoid using inorganic watermelon's rind.
In India, the same recipe is used to make green pumpkin (kaddu/ seetaphal sabji). Since we do not get kaddu here in the USA I also use zucchini which is easily available and tastes very good.
Wartermelon can be easily grown in home garden. You can grow them in ground and also in a pot. Read more about vegetable gardening.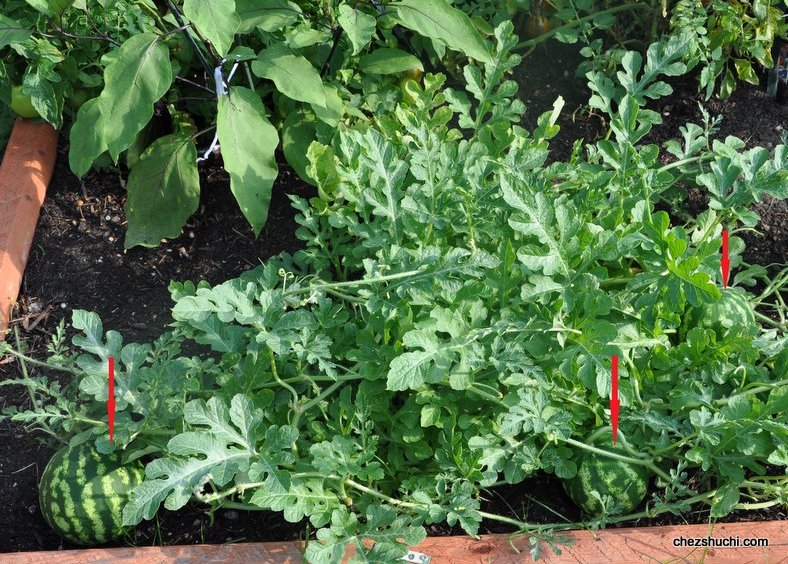 ---