Dal ki poori
हिन्दी में पढ़ें
Daal ki poori (deep fried Indian bread) is made with split urad dal (lentils). In order to make dal ki poori, soaked dal is grinded with spices and added in the flour. The dough balls are rolled and deep fried. Dal ki poori is somewhere in between regular poori and Kachauri. For this delicious poori I have made a dough with all the ingredients of a Kachauri. This is an easier and quicker recipe to make flavored poori and the resulting pooris are delicious. Make this dal ki poori for this festive and please do share your valuable comments. Happy cooking, Shuchi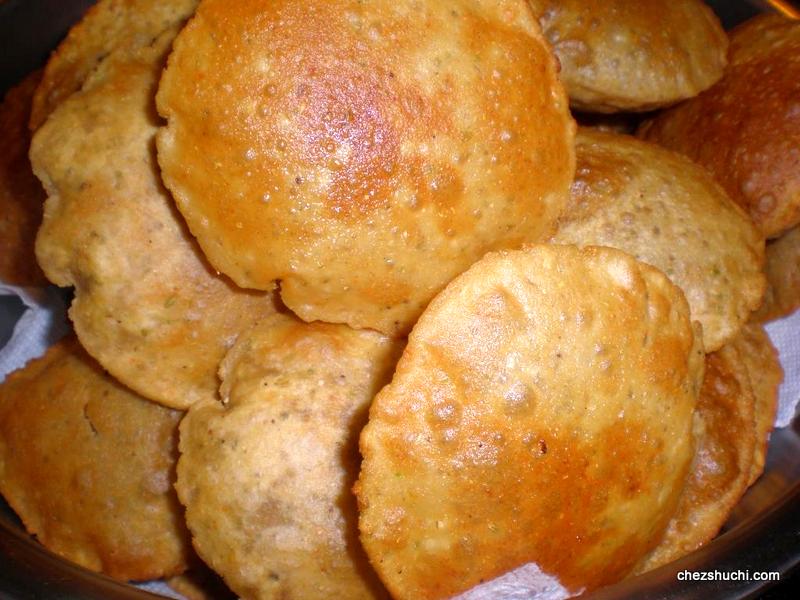 Preparation Time: 10 minutes
cooking time: 15 minutes
Approximately 100 calories in each poori
Ingredients (makes 16 pooris)
Wheat flour 1 cup
Urad dal   ¼ cup
Ginger ½  inch
Green chili 1
Asafotedia  a  pinch 
Fenugreek  powder  ¼ tsp
Salt  ¾ tsp
Red chili powder ½ tsp
Coriander powder   1 tsp
Garam masala ½ tsp 
Grounded Fennel     2 tsp
Oil  1 tbsp
Oil for deep frying
Method of preparation
Clean and wash the urad dal. Soak the dal in 1 cup of water for 3-4 hours.
Remove the stem of green chili and wash it. Peel, wash and cut ginger roughly.
Remove the water of the soaked dal. In a grinder take soaked dal, chopped ginger and green chili. Grind dal into a fine paste.
Mix all the spices, and 1 tbsp oil in the lentils (dal) paste.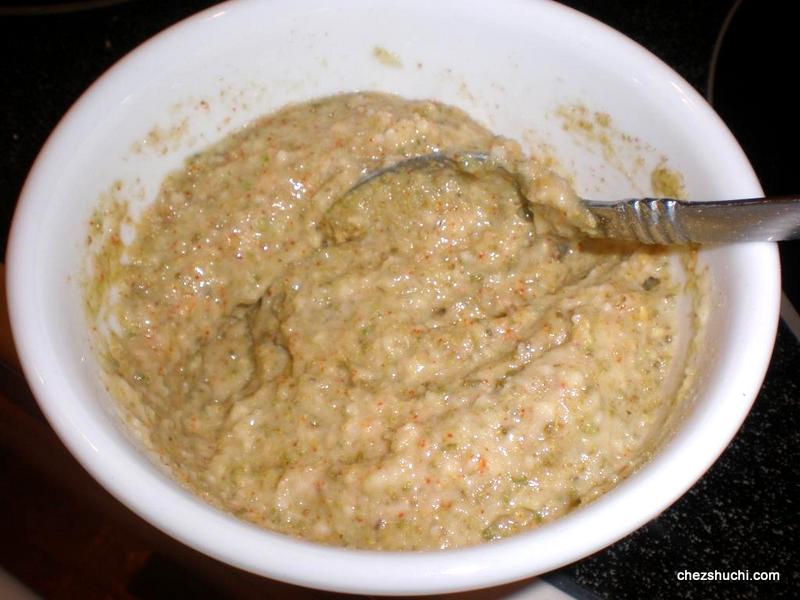 lentil paste with spices
Take flour in a bowl. Add lentil paste with spices, and mix very well in the wheat flour.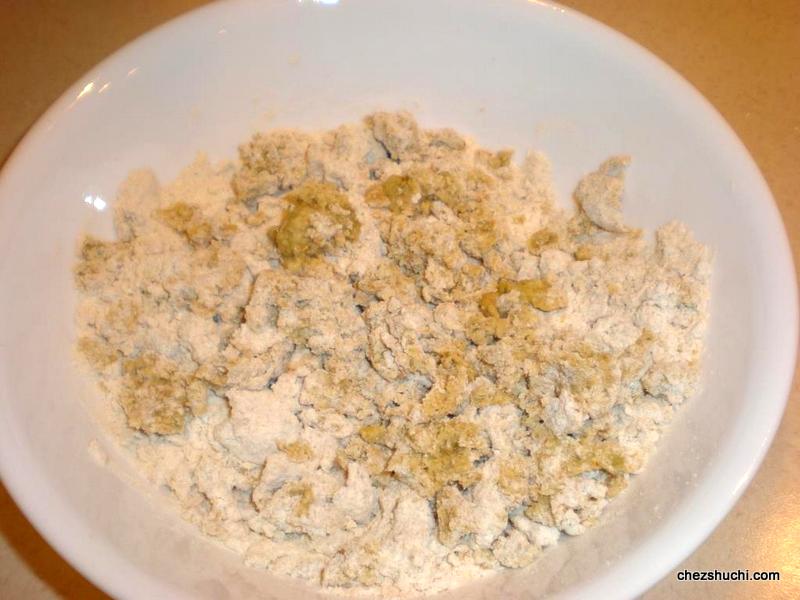 lentil paste added in flour
Add a very little water at a time and make a stiff dough. Cover the dough and leave it for 10 minutes.
Make 16 small rounds of the dough. Make the smooth by rolling between your palm.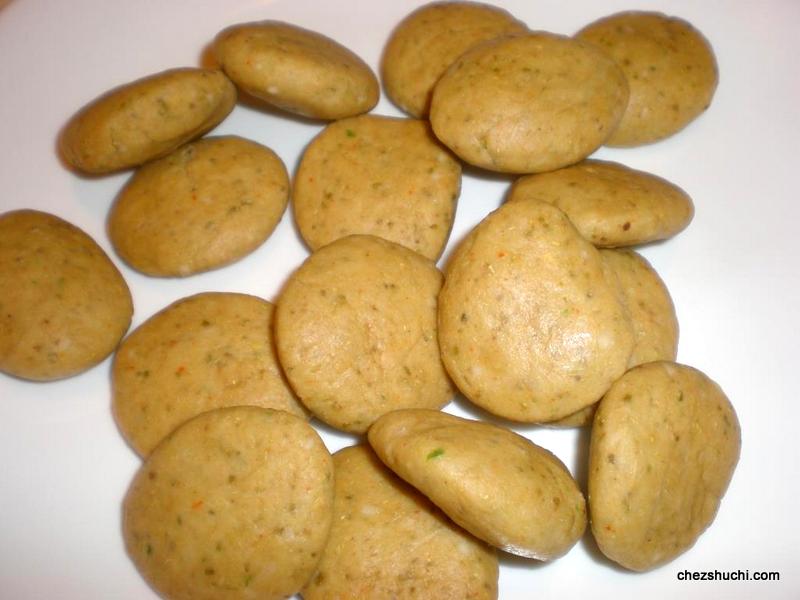 dough balls
Take a ball and roll it with the help of a little oil into about 2½ -3 inch diameter circle.
Rolled dal pooris
In a wok heat oil. When oil is hot, take one rolled poori and put it in the hot oil. Press the poori with the help of spotted ladle and when poori puffs up, turn the side. It takes about 35 seconds to fry a poori.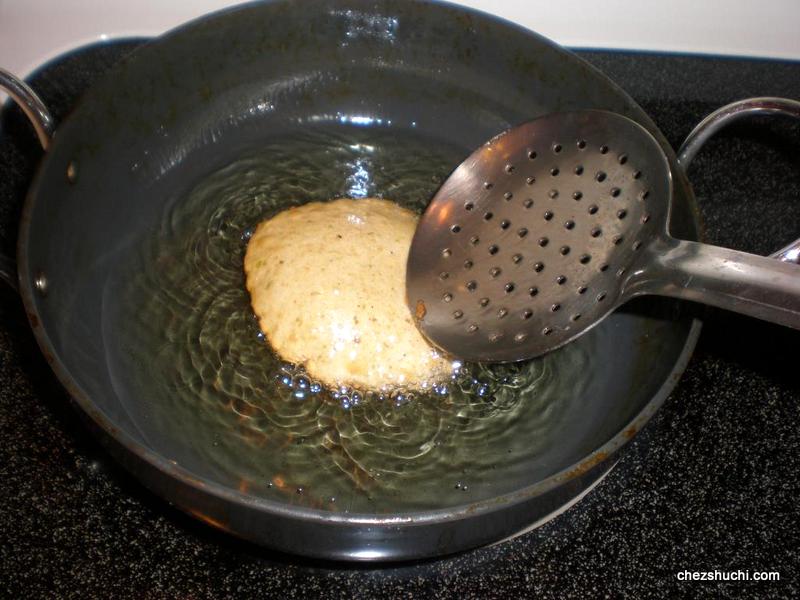 dal poori in the hot oil
Fry poori until golden red. If there is space in the wok and you are comfertable in handling more then one poori, you can fry two or three poori at a time.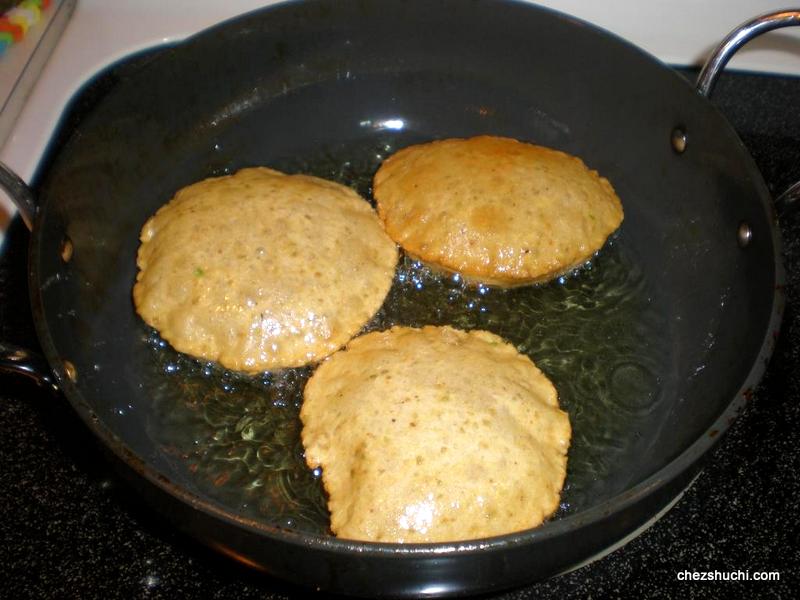 3 dal poori in the hot oil
Drain out the poori to the kitchen paper. Repeat the process with all the dough balls.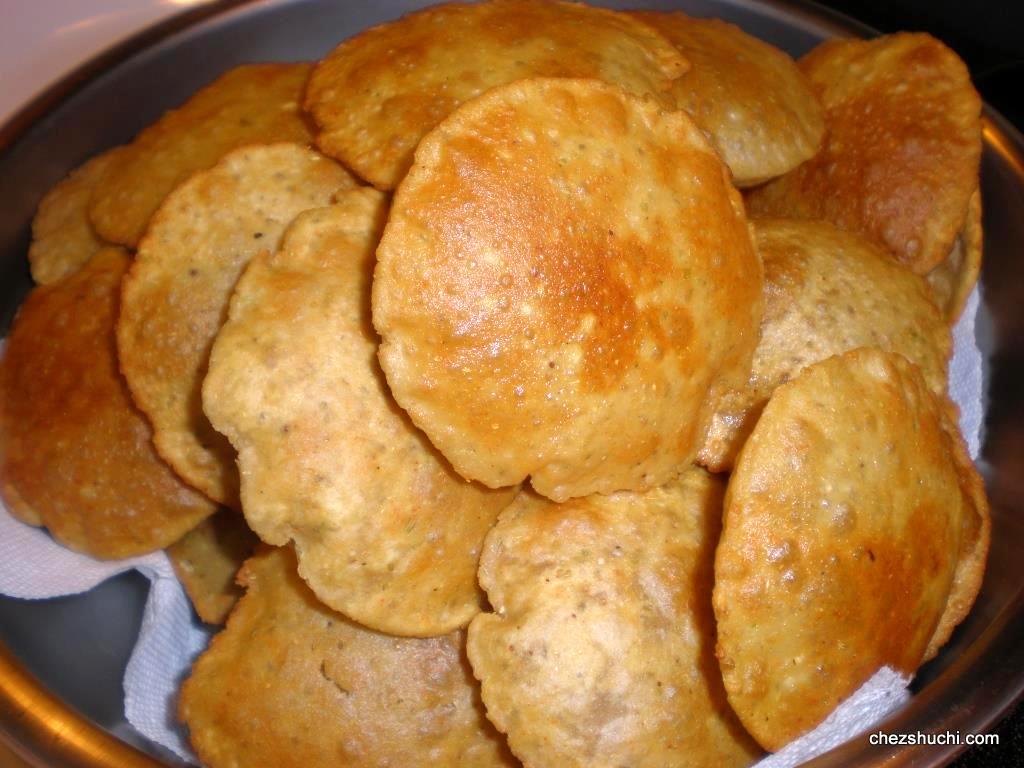 dal poori ready to serve
Dal ki poori are ready to serve. Serve delicious dal poori with any curry preparation or dry vegetables.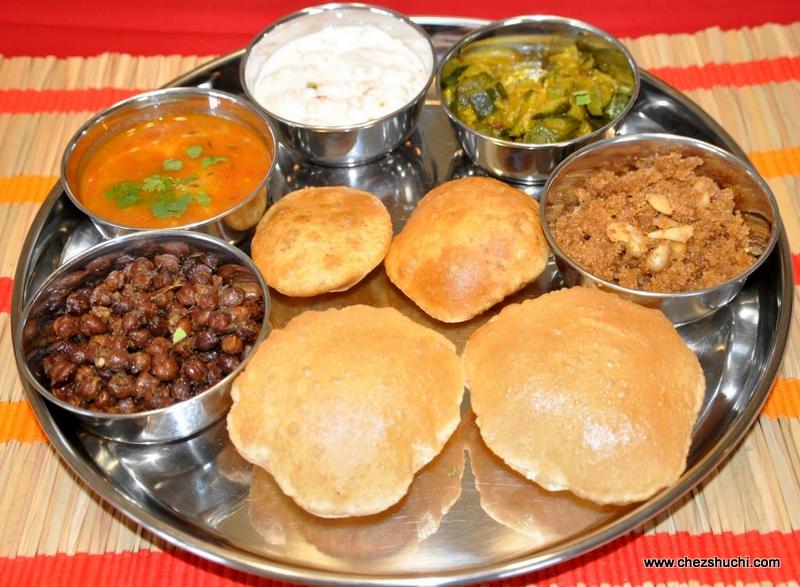 Some Tips/ Suggestions:
If you are serving pooris hot, then fry poori on medium-low heat to make them crisp. But if you are planning to serve later, please fry the pooris on medium-high heat to make them soft.
Make sure that the dough is medium stiff. If the dough is soft add a little more flour to make it a bit tight. If dough is right it becomes much easier to roll the dough balls.
In my kitchen, when I am deep frying,I prefer to use as little oil as possible since repeated use of fried oil is not healthy.
Two to four pooris can be fried at a time depending on your wok size.
---