हिन्दी में पढ़ें
Masala Kundru
Kundroo or Kundru is a tropical vegetable, grows in abundance in India. Kundroo is also known as tindora, little gourd, and its botanical name is Coccinia grandis. Kundru is rich in beta-Carotene. Read more about Kundru in Wikipedia. In America, kundru can be easily found in Indian/Asian store. Kundru is used in soups, vegetable preparations, letils etc. Here we are making a very simple, delicious and nutritious dry vegetable preparation with kundru. You can serve this vegetable with dal-rice or with roti/ paratha/poori. Try this vegetable preparation and please do share your comments. Shuchi .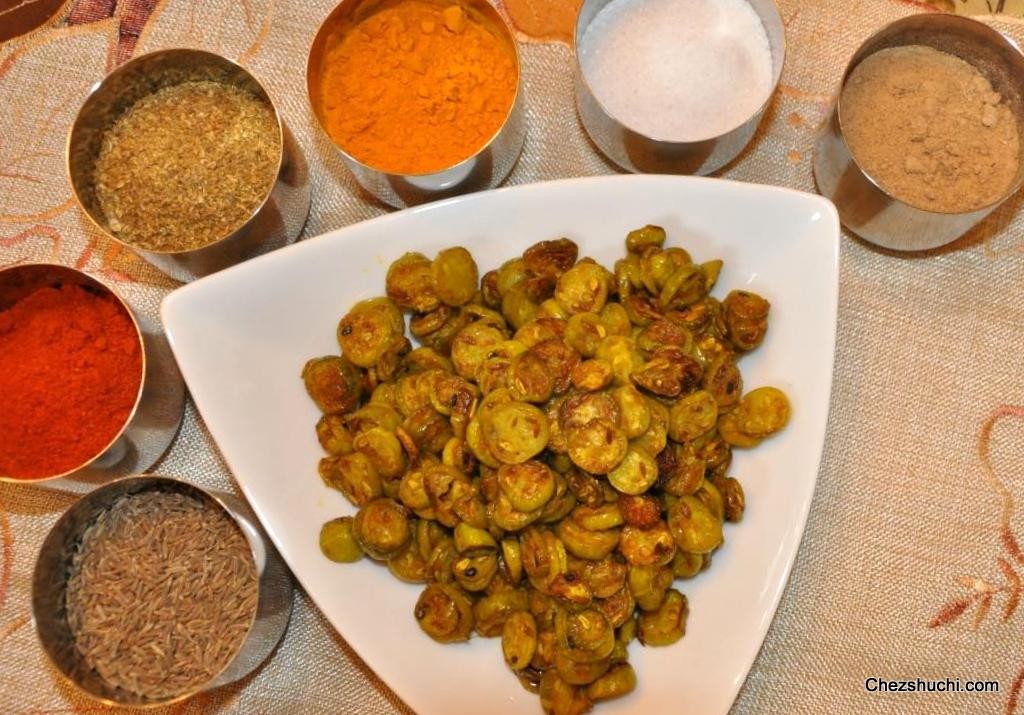 Ingredients (serves 4)
Kundroo 300 gms
Cumin seeds 1 tsp
Asaefotida (heeng)a couple of pinches
Kalaunji ( nigella seeds) ¼ tsp
Turmeric powder ¼ tsp
Red chili powder ½ tsp
Coriander powder 1½ tsp
Salt ¾ tsp
Dry mango (amchoor) powder ¼ tsp
Garam masala ¼ tsp
Oil 2 tbsp
---
Method of preparation:
Wash Kundrus. Wash them with kitchen towel.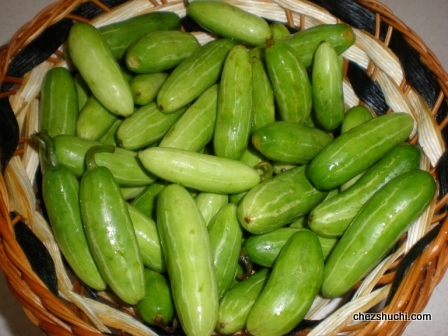 Remove the chip from both sides of the kundrus. Cut thin slices of kundru.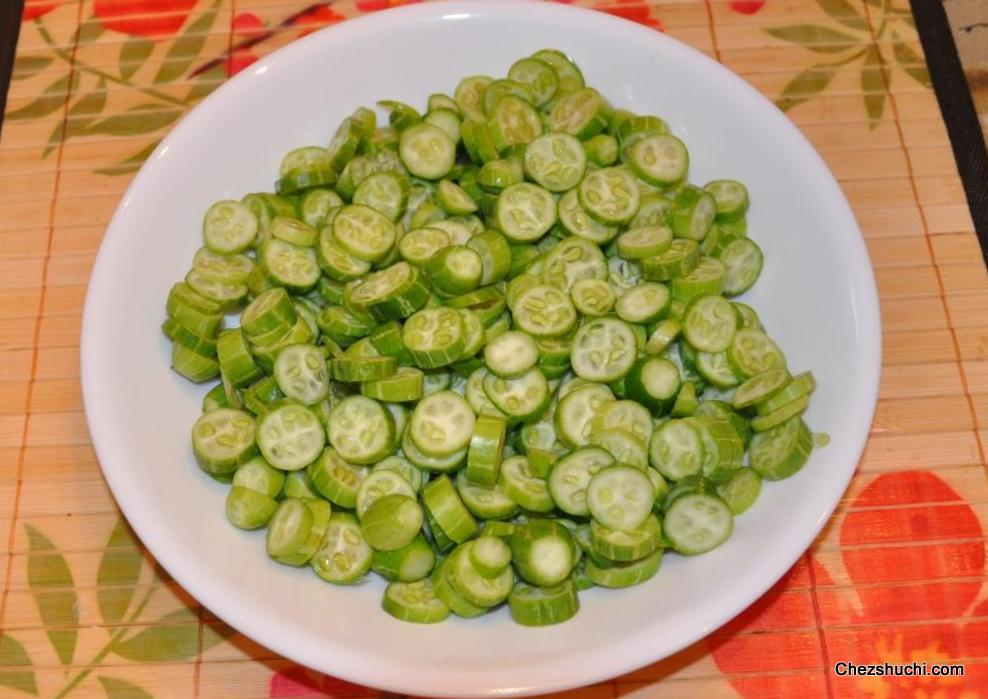 In a wok heat 2 tbsp oil on medium heat. Add cumin seeds and . When seeds change the color add asaefotida and kalaungi. fry for few seconds. Add turmeric powder. Mix in oil and add kundru. Mix well so that turmeric is well coated on kundrus. Add red chili powder, and coriander powder. Mix well and fry kundru for a couple of minutes on medium heat.
Add salt. Mix well and cover the lid and cook kundru until it is tender. It takes about 10 minutes to cook kundru.
Add dry mango (amchoor) powder and garam masala. Mix well and fry kundru for a couple of minutes. Turn off the heat. Masala kundru is ready.
Serve masala kundru with plain paratha or with dal chawal (lentils and rice).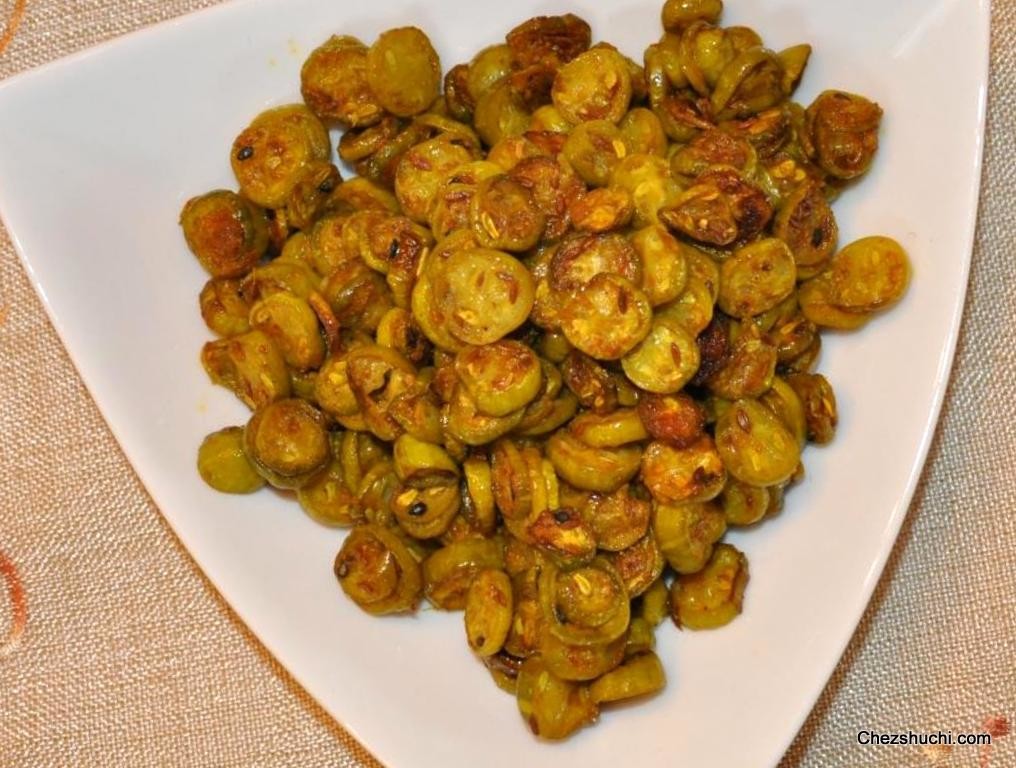 Some Tips/ Suggestions:
Thin and green kundrus are ideal. They taste more fresh and delicious.
Make sure to wipe off all the water contents after washing the kundru.
It is much easier and faster to cook raw kundru. It may take longer to cook kundru if they are hard and old.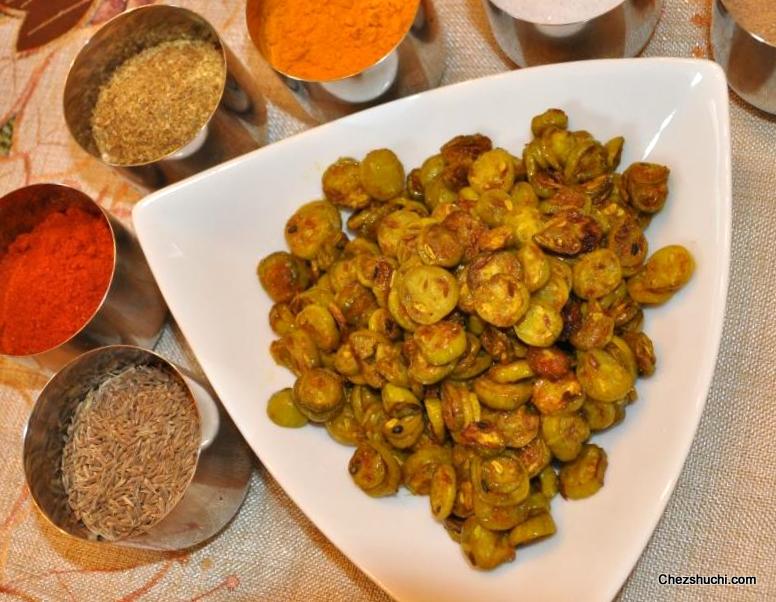 ---
Some dry vegetable preparations:
stuffed bhindi khatta meetha kaddu bhindi do pyaja
---