Bhindi do Pyaja
हिन्दी में पढ़ें
Bhindi is also known as Okra or lady-fingers. As the recipe name shows, bhindi do pyaja has lot of onion in it along with gram flour. Okras are good source of vitamin A, C ,K, and B6. They are also rich in calcium, magnesium and dietary fibers.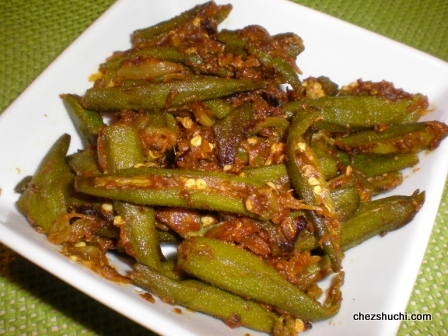 Ingredients

(serves 4)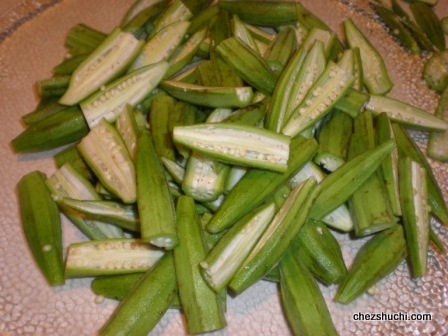 Okra (bhindi) 400 gms

Onion 1 big (about 200 gms
Gram flour(besan) 1½ tbsp
Green chilies 1-2
Cumin seeds 1 tsp
Carom seeds (ajwain) 1 tsp
Asafoetida 1 pinch
Turmeric powder ¾ tsp
Red chili powder 1 tsp
Coriander Powder 2 tbsp
Salt 1½ tsp
Garam masala ½ tsp
Amchoor powder  1 ½ tsp
Oil 2-3 tbsp
Small okras would be better for this recipe.
Method of preparation
Wash and remove the thick stem of green chilies. Split them into two parts.
Wash, and wipe off the extra water of the okras with the kitchen towel paper. Slice off the ends of the okras and split each okra into two halves.
Peel off, wash and cut the onions into fine julienns.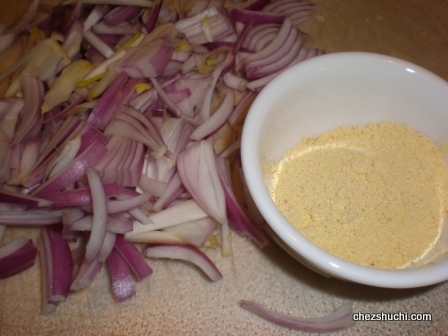 Grease a wok and fry the gram flour (besan) for about 2 minutes. Keep aside the fried gram flour.
Heat oil in a wok, add cumin and carom seeds. When seeds change the color, add asafoetida. Add sliced onions and fry until they become soft ( takes about 4-5 minutes on medium heat).
Add gram flour and fry for a minute. Now add turmeric powder, red chili powder, coriander powder and fry for 15-20 seconds. Add okra , and mix the masala well. Add salt and mix well again.
Cover the lid and cook until okras are done. (takes about 15-17 minutes on medium heat)
Add amchoor powder (dry mango powder), and garam masala. Mix well gentely, and fry for a minute. Turn off the heat.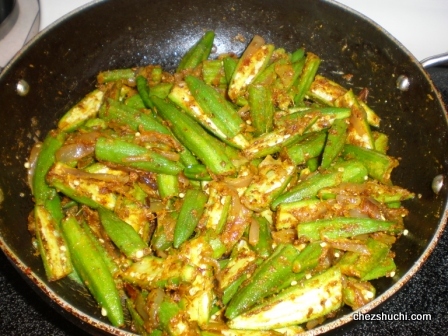 Delicious bhindi do pyaja is ready to serve
Serve with Roti or Plain Paratha.
Tip : This is a Vegan recipe!
---