Mini semolina Podi Idli
हिन्दी में पढ़ें
Podi idli is a delicious breakfast dish from South India. Freshly steamed idlies are tossed with a spiced mix called podi and pure ghee and then served hot. Idlies are steam cooked savory cakes made of a fermented batter like a rice and lentil batter, oat batter, ragi batter or any other grain or flour batter. Nowadays, idlies are one of the most popular breakfast foods throughout India.
Here we are making semolina (sooji/ rawa) Idlies. Usually, in South India, idlies are served with sambhar and chutneys for breakfast, however, one can make it for any meal. Idlies are very delicious, light and healthy as they are just steam cooked.
In my family everyone just loves South Indian food. I make idlies at least once a week. Idlies are my familiy's favorite lunch box meal. They are easy to carry and also easy to eat. Here I am sharing a recipe for mini semolina idlies, also known as button idlies, tossed with ghee and podi. Please do try this recipe and share your valuable comments. Happy cooking, Shuchi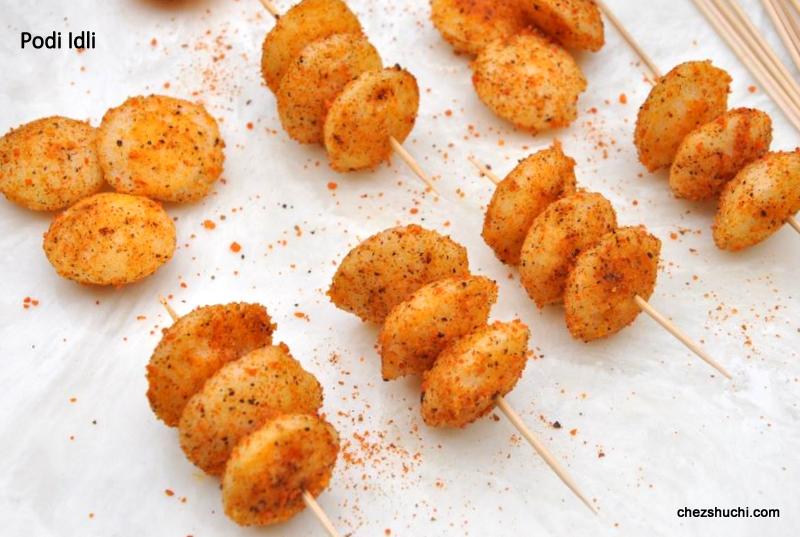 preparation time : 10 minutes
cooking time : 10 minutes
about 12 calories in each mini idli
Ingredients (makes 48 mini idlies)
Semolina (sooji) ¾ cup
Yogurt/curds ¾ cup
Chopped cashew nuts 2-3 tbsp
Oil 2 tsp
Salt ¾ tsp
Fruit salt (Eno/Alka-Seltzer) ¾ tsp
Ingredients for frying idlies
Special Utencil- Idli Stand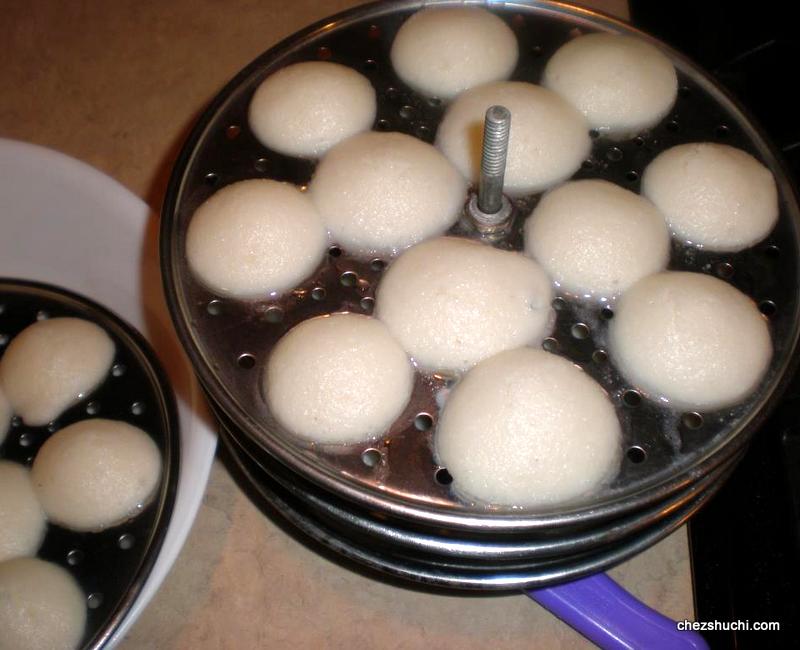 In this stand, 48 mini idlies can be made at a time.
This stand fits in a pressure cooker and also in big 5 quart sauce pans.
In India, microwaveable idli stands can also be easily found. You can also find idli stands online.
Method of preparation
In a bowl take semolina and salt. Add yogurt (dahi). Mix all the ingredients well to make a smooth batter. Add a little water if needed. Leave the batter aside for 10 minutes. During this time the semolina will absorb the yogurt.
Grease the idli stand. Keep aside.
Now check the consistency of the batter. If needed add a little water. The batter should resemble cake batter or pakaudi batter and it should be easy to pour.
Add chopped cashew nuts. Mix all the ingredients well.
Boil about one cup of water in the pressure cooker/sauce pan.
Add 1 tsp oil in the semolina batter. Mix well.
Add fruit salt and pour 1 tsp water on top of fruit salt (Eno/Alka-Seltzer). Mix well. With the help of small spoon pour a little batter in each section of the idli stand. Try to fill about ¾ of the space in each section.
Set the stand in the pressure cooker, and close the lid. Remove the whistle off of the lid as we want to steam-cook the idlis. Steam on high heat for 2 minutes, then reduce the heat and steam on medium heat for about 8 minutes.
After cooking, turn off the heat and let the idlies sit for about 2 minutes.
Take out the idlis from the stand with the help of knife or spoon.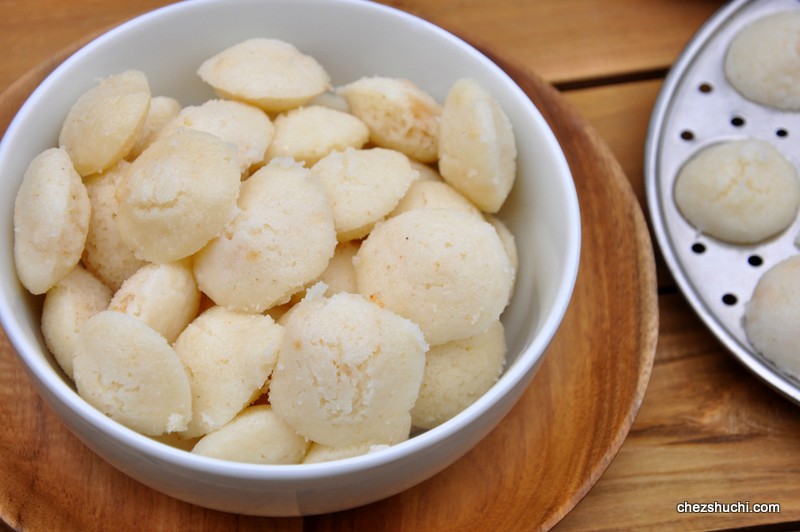 Steamed semolina mini idlies
Method for tossing the idlies with Podi
Heat a wok and add 2 tsp ghee. Add 2 tsp podi poder and the mini idlies. Toss well. Turn off the heat.
Idlis are ready to serve. These podi idlies are already so delicious and flavorful that they don't need any accompaniment. Still, if you wish, you can serve coconut chutney with podi idlies.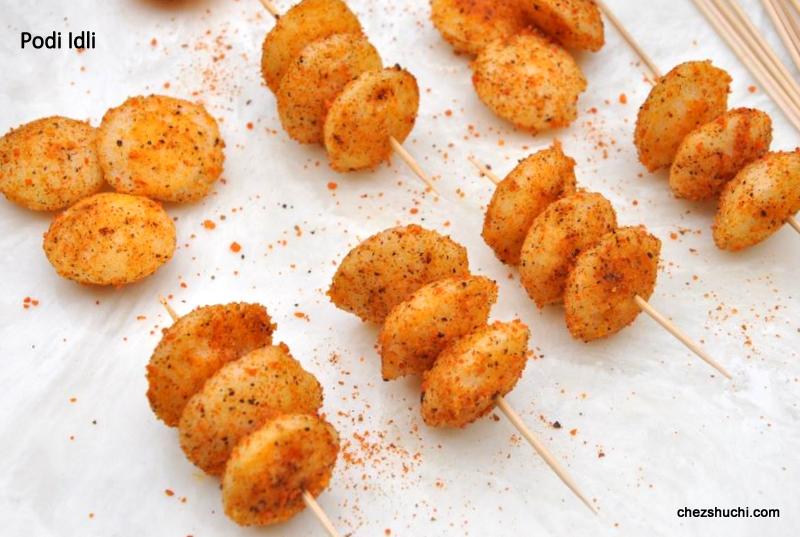 Some Tips/ Suggestions:
You can also add mustard seeds and curry leaves in the seasoning after heating the ghee.
The batter should be smooth and easy flowing. Whisk/mix idli batter only in one direction.
Instead of Eno you can also add baking soda.
Suggestions For Lunch boxes:
Podi idlies are ideal for kids' lunch box as well as adults' lunch. You can also pack coconut chutney in a small container with idlies. Also pack some fruits and a small piece of dessert as per your kids preference.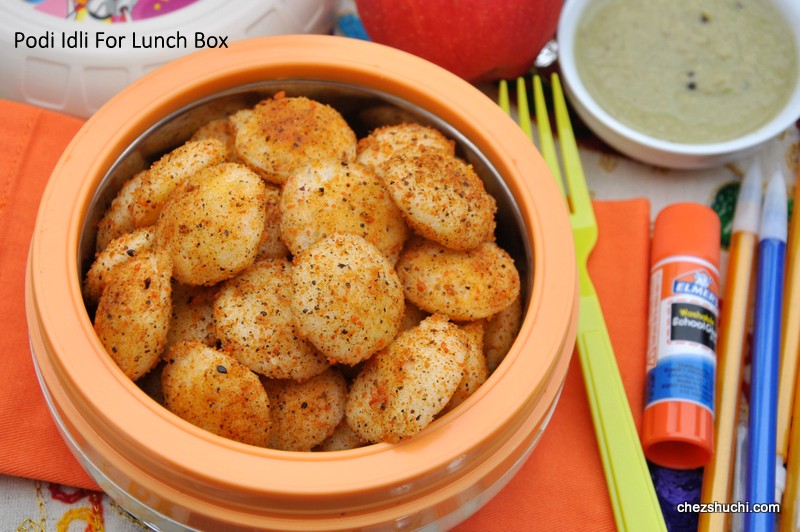 Recipe for Podi | Malgapodi
Malgapodi or idli podi, is a spicy South Indian spice mix traditionally served with idlis. In North India, malgapodi is often known as idli chutney powder. Malgapodi is also known as gun powder probably because it is a very spicy preparation. In some families malgapodi powder is served with desi ghee. read more....
---