Sooji /Rava Idli
हिन्दीमें पढ़ें
Idlies are very popular throughout India. Sooji Idlies are steam cooked savory cakes of fermented batter of Semolina (sooji/ rava ). Usually in South India Idlies are served with Sambhar and chutneys for the breakfast however one can make it for any meal. Idlies are very delicious and healthy also as they are just steam cooked. I often make idlies for the lunch box, kids just love them. They are easy to carry and also easy to eat. Please try this recipe and do share your comments. Shuchi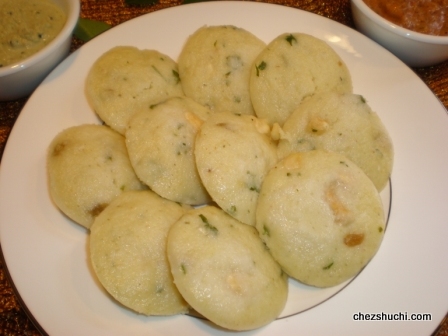 Ingredients

(makes 16)
Semolina (sooji)1 cup
Yogurt/curds 1 cup
Chopped coriander leaves 1 tbsp
Grated ginger 1 tsp
Green chilie, chopped 1
Chopped cashew nuts 2-3 tbsp
Raisins1 tbsp
Oil 2 tsp
Salt  1 tsp
Fruit salt (Eno / Alka-Seltzer) 1 tsp
Water a little bit
Special Utencil

In this stand 16 idlies can be made at a time.
This stand fits in pressure cooker and also in sauce pans.
In India, microwaveable Idli stands can also be easily found. You can also find idly stand online.
Method of preparation
Wash the raisins thoroughly.
Grease the idli stand. Keep aside.
In a bowl take semolina, salt, and yogurt (dahi). Mix well all the ingredients. Add a little water if needed. Leave the batter aside for 10 minutes.
Semolina will absorb the yogurt. Now check the consistency of the batter - it should be easy to pour.
Now add chopped cashew nuts, raisins, and chopped coriander leaves, grated ginger and chopped green chilies. Mix well all the ingredients.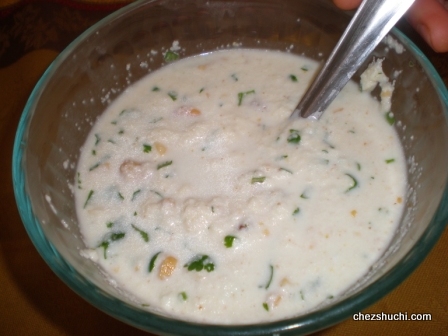 Boil about one cup water in the pressure cooker/ sauce pan.
Add 1 tsp oil in the semolina batter. Mix well.
Now add fruit salt and pour 1 tsp water on top of fruit salt (Eno/ Alka-Seltzer). Mix well for a minute. Now pour about 2 tbsp batter in each section of the idly stand. Take care to fill about ¾ of the space on the stand.
Set the stand in the pressure cooker, close the lid. Remove the whistle of the lid as we want to steam-cook the idlis. Steam on medium heat for about 12 minutes.
After cooking turn off the heat and leave the stand for about 2 minutes.
Now take out the idlis from the stand with the help of knife.
Idlis are ready to serve. Serve withSambhar,tomato onion chutney, andcoconut chutney.
Some Tips/ Suggestions:
You can also add mustard seeds seasoning in the batter for a change.
The batter should be smooth and easy flowing. Mix idli batter in one direction only.
Instead of Eno you can also add baking soda.
Suggestions For Lunch boxes:
Masala idlies are ideal lunch for kid's lunch box as well as adults. For that, cut each steam cooked idli into four pieces. In a nonstick pan heat about 1 tbsp oil, add 1 tsp mustard seeds when seeds stop crackling add 1 tsb sesame seeds. Now add curry leaves and 1 red chili broken into two parts.. Fry for a few seconds. Add idlies and little bit of red chili powder, salt and idly chutney powder. Mix well and fry on medium heat for a couple of minutes. Idlies are ready to go ! You can garnish it with chopped coriander leaves.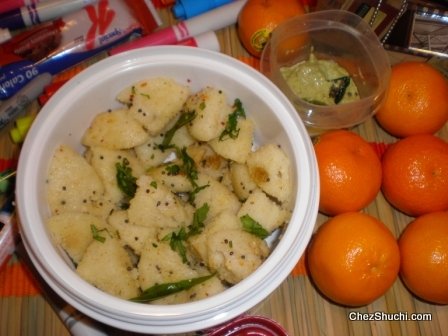 My daughter likes a hint of tomato chili sauce in her idlies so I add 2 tbsp. of tomato chili suace as well.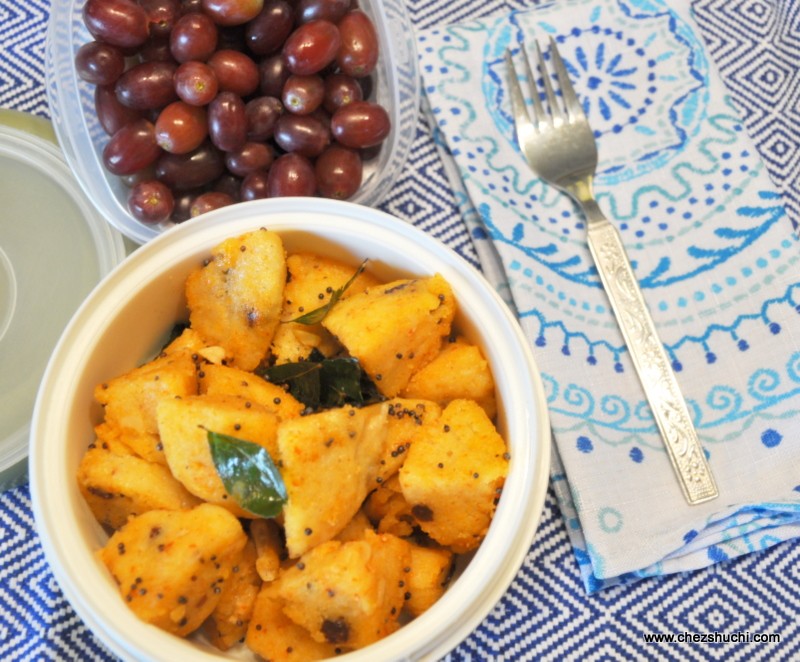 ---