Malgapodi
हिन्दी में पढ़ें
Malgapodi or idli podi, is a spicy South Indian spice mix traditionally served with idlis. In North India, malgapodi is often known as idli chutney powder. Malgapodi is also known as gun powder probably because it is a very spicy preparation. In some families malgapodi powder is served with desi ghee (clarified butter) to balance the heat of red chili. One can also serve this podi with uttapam, plain rice, dosa etc.
It may sound strange but I first tasted malgapodi with idli at a very dear Gujarati friend, Aparna's place. She makes traditional and outstanding South Indian food. We all loved it. My son became a big fan of malgapodi and ever since he always eats his idli with malgapodi and ghee. Now I always have to make sure that I have malgapodi at home if I am making South Indian dinner. Here is an easy to follow recipe for malgapodi. I have cut the amount of red chilies so it is not super spicy, however you can add more chilies if you wish to. Try this gun powder recipe and please do share your valuable thoughts. Happy cooking, Shuchi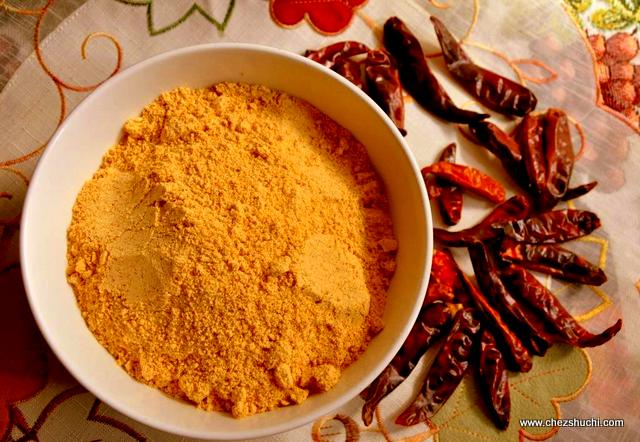 Preparation Time: 2 minutes
cooking time: 5 minutes
about 5 calories in each serving
Ingredients (makes about one cup podi)
White Sesame (white til) ¼ cup
Chana dal ¼ cup
Urad dal   ½ cup
Red chilies 15-20
Salt  1 tsp
Asafoetida (heeng) ¼ tsp
Method of preparation
Dry roast the chana dal for a couple of minutes. Add urad dal and roast for another minute. Add sesame seeds and roast for another minutes. Make sure that lentils and sesame is well roasted but not burnt.
Take out the roasted lentils and sesame.
Dry Roast red chilies for a couple of minute. When you roast whole red chili the entire area becomes very smelly and it may cause difficulty in breathing. If you have small kids and old people at home then avoid roasting whole red chili, instead use chili powder directly to the malgapodi mix.
Allow the roasted lentils, sesame and red chilies to cool at room temperature.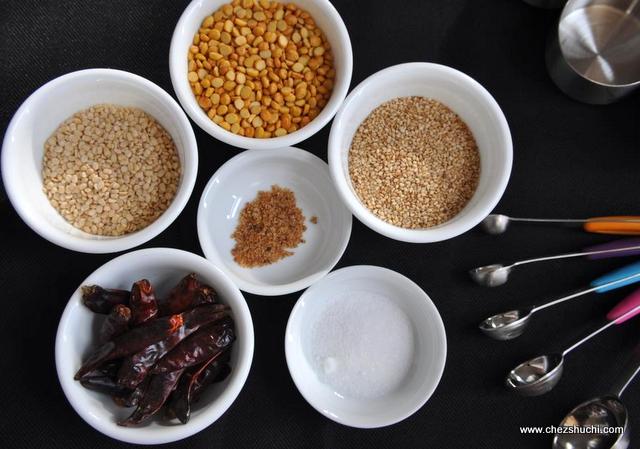 In a blender take sesame, chana dal, and urad dal (take red chilies also if you are using whole). Coarsely grind dry roasted dal, sesame, and red chili mixture in the grinder. Make sure that you do not over gring this mixture. A coarse podi mixture taste better.
Add salt and asafoetida and mix well.
Malgapodi is ready. Store this mix in a airtight container. Use as needed. You can store malagapodi for a couple of months.
Pour pure ghee at the time of serving. Serve spicy malgapodi with idli, uttapam or with dosa or with plain rice. It always enhances the flavor of food.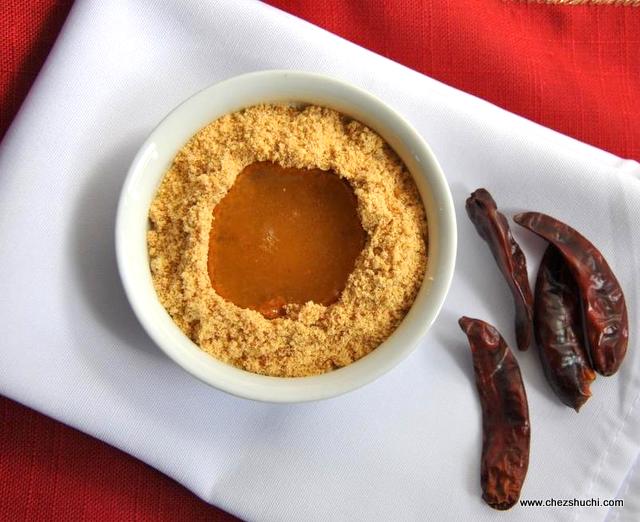 Malgapodi served with plain idly.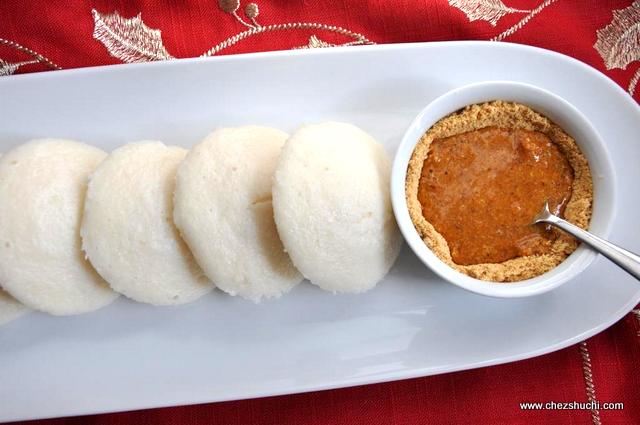 ---